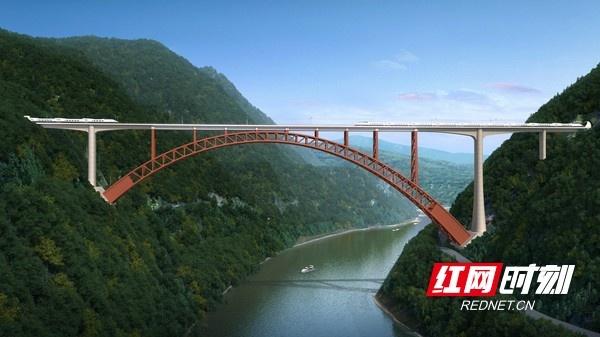 According to China Railway Construction Co., Ltd., the closure of Youshui Bridge on the Zhangjiajie-Jishou-Huaihua Railway was successfully completed on August 10. It marked that successful construction of the most difficult stage was completed for the world's largest asymmetric arch bridge for its span.

The bridge is located in Yongshun County, Xiangxi, Hunan Province, with a total length of 462 meters, crossing Lishui River Valley. The slopes on both sides of the valley are extremely steep. The designers skillfully used the topographical features to create a 292-meter asymmetrically supported CFST arch bridge with a main span of 292 meters. It crosses the valley and integrates with the environment. Due to the height difference of 43.5 meters on both sides of the arch, the design and construction side are closely coordinated. It is the first time that the two arches in the asymmetric arch bridge with the world's longest span are connected in China.

Zhangjiajie-Jishou-Huaihua Railway has a total length of 246 kilometers with a design speed of 350 kilometers per hour. It is planned to be completed and opened to traffic in 2021. The time of traveling from Huaihua to Zhangjiajie will be shortened from 3.5 hours to 1 hour.

Link: 湘西永顺:世界最大跨度不对称拱桥主拱合龙 全长462米