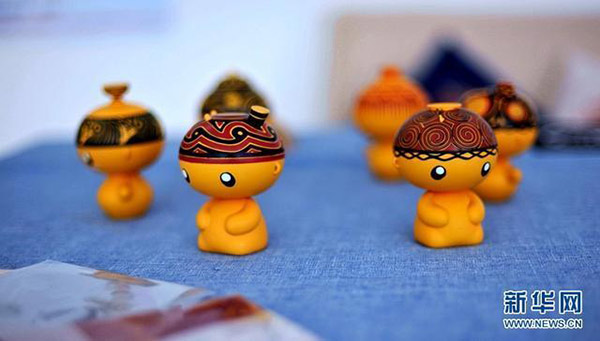 A cultural creative product displayed at a cultural festival in Dingxi city, Gansu province, Oct 15, 2018. [Photo/Xinhua]
  Cultural and creative products inspired by cultural relics preserved at China's museums have brought ancient culture closer to the people.
  Though the cultural relics on display to the public remain preserved in their glass cases, cultural and creative products of various kinds developed by museums are allowing people to bring a little piece of the cultural exhibitions back home.
  In Central China's Hunan province, the Hunan Museum has developed a series of products for health preservation purposes, such as fragrance pouches, aromatherapy products, tea and pillows, based on the health-preserving culture from discoveries at the Mawangdui tombs of the Han Dynasty (206 BC-AD 220), according to a Tuesday report from China Youth Daily.
  In the northwest province of Shaanxi, public transportation cards featuring signs of rare cultural relics kept by the Shaanxi History Museum, especially figurines of the Tang Dynasty (618-907), are among the best-selling creative products developed by the museum.
  Zhang Huiguo, deputy curator of the Shanxi Museum, was quoted as saying that greater efforts are being made by museums to meet people's growing demand for better cultural and creative products, which have evolved from replicas of relics' shapes and patterns to products with deeper cultural connotations.
  Wu Ming, chief of creative product development at the Beijing-based Capital Museum, said cultural and creative products to be developed by museums include not only products but also exhibition and eduction programs and more.
  "The denotation of cultural creativity is constantly expanding, and now every museum is seeking ways to reach younger audiences," Wu said.