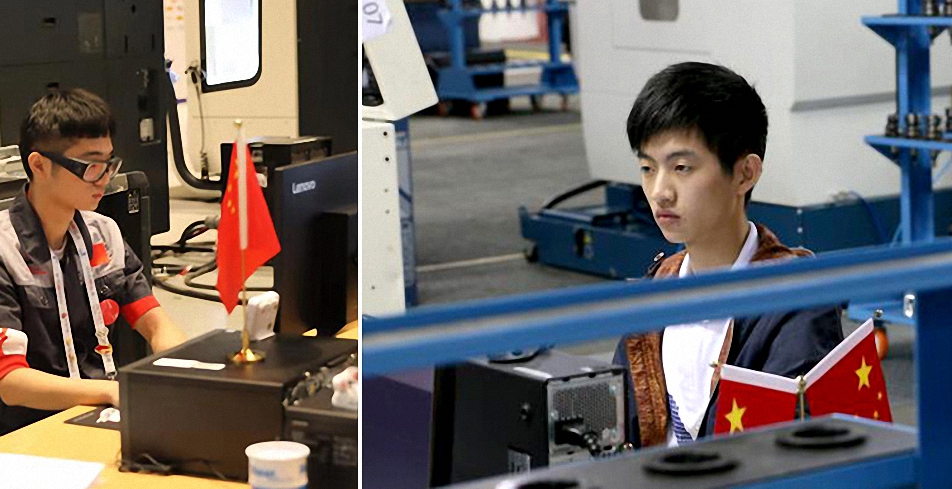 Zhang Zhibin (left) and Zhang Zhikun participate in the WorldSkills Competition in 2018. [Photo provided to China Daily]
  Chinese candidates for the 45th WorldSkills competition had their zeal drummed up at a morale-motivating conference held by the Ministry of Human Resources and Social Security in Beijing on Friday.
  The biennial WorldSkills competition will be held from Aug 22 to 27 in Kazan, Russia, and will involve about 1,355 candidates from 69 member countries and regions.
  At the conference, the candidates were encouraged to present high-quality performances through effort and composure. Working staff members, including coaches, interpreters and consultants, are encouraged to work closely with the candidates.
  Zhang Weiyu, from Changzhou Technician College in Jiangsu province, who will join the Industrial Mechanic Millwright project, said he felt honored and will strive to show his best performance.
  "Two years ago, my schoolmate Song Biao won the championship for the project in WorldSkills Abu Dhabi 2017, giving great inspiration to my life," he said. "I'm getting prepared and I think it's time for me to show up."
  Feng Weiyuan, president of Guangdong Machinery Technician College, said that during the competitions strong support will be given to candidates, ranging from weather information and accommodation to skills consultancy.
  He said that the college sent about five groups of teachers and students to Russia from May to July, getting them familiar with the climate, lifestyle and culture there, to help adjust the college's campaign or plans for the WorldSkills competitions.
  "As to the approaching games in Kazan, we've prepared three different outfits for our candidates, interpreters and skills consultants in case the weather changes," he said. "Also, we will prepare Chinese-style food like soups and porridge for the candidates."
  It's the fifth competition that China has participated in the delegation group, with 63 candidates joining the competitions, among whom 54 are male and nine are female.
  In 2020, the 46th WorldSkills will be held in Shanghai.