Hunan province has developed its culture, arts, media, and creative industries to create a high-profile image worldwide.
  Over the past decades, Hunan has cultivated a unique cultural and creative industry, which involves films and television, publishing, comics and animation sectors.
  China South Publishing and Media Group, restructured and reformed by Hunan Publishing Investment Holding Group, launched its initial public offering at Shanghai Stock Exchange in 2010. It was the first listed company in the Chinese publishing industry.
  The group has grown into one of the biggest media giants in Asia, gaining an international reputation.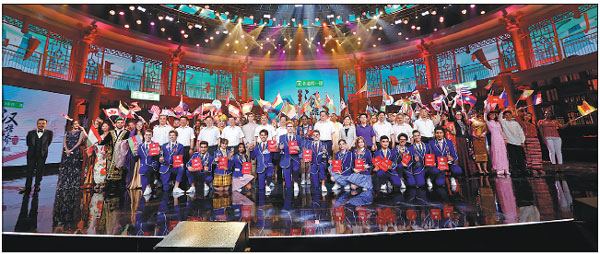 Winners of the Chinese Proficiency Competition for Foreign College Students, an annual event known as the Chinese Bridge held in Hunan, pose for a group photo. Provided to China Daily
  Hunan TV is one of the province's calling cards and has been a top-rated channel in China since 2003.
  It has produced high-quality programs including variety show Happy Camp and reality shows Super Girl, Singer, Super Vocal and The Sound, which had a large number of viewers across the world.
  Changsha, the capital of Hunan province, was granted membership of the Creative Cities Network launched by UNESCO in 2017. It was recognized as a City of Media Arts. Other winners of the title include Lyon in France, York in the United Kingdom and Austin in the United States. Changsha is the first city in China to be awarded the prestigious UNESCO title.
  Du Yue, secretary-general of the National Commission for UNESCO in China, said the city has done an excellent job promoting cultural development and has become internationally competitive in this area.
  Local authorities are advancing the construction of cultural industrial parks and arts towns. The move will encourage mass participation in cultural events and integrate local culture with urban development, the authorities said.
  According to local statistics, there are more than 10,000 companies in the cultural and creative industry in the city.
  The Malanshan (Changsha) Video Cultural and Creative Industrial Park was established in Changsha in 2017 to promote the construction of cultural innovation platforms.
  To date, the park has attracted more than 2,000 video production companies and provided jobs for more than 30,000 people. Its video cultural and creative industry created an output value of more than 35 billion yuan ($5.07 billion) last year.
  Jian Guijun, deputy director of the administrative committee of the park, said that the park will expand by 200,000 square meters next year.
  This will create employment opportunities for 20,000 people, Jian added.
  A 150-meter-high building of TVZone Media, the Hunan startup design plaza and three 198-meter-high skyscrapers at Mango Malanshan Square will begin construction or operation in the near future. These will become new cultural landmarks along the Liuyang River.
  Jian said the park is attracting more startup project initiators. In the next three to five years, the park is expected to cultivate one or two unicorn enterprises or startup companies with an estimated value surpassing $1 billion.
  Hunan and Changsha governments have vowed to provide financial support to selected companies and professionals at the park. The financial aid is expected to reach 5 billion yuan in the next five years. High-level professionals will be provided with up to 2 million yuan in bonuses and housing subsidies. Project funding is valued at up to 10 million yuan.
  Innovation has given a new lease of life to the traditional firework industry in Hunan province.
  The city of Liuyang is home to about 1,000 companies producing all types of fireworks. An estimated 90 percent of the globe's pyrotechnics are designed and produced in China, with the majority in Liuyang.
  A large number of Liuyang fireworks have been sold to other countries. Europe, Southeast Asian countries and the United States are among major export markets.
  Hunan exported 217,000 metric tons of fireworks in 2018, an increase of 16.5 percent from 2017. It earned the province a record 3.27 billion yuan from the overseas sales, up 20.8 percent year-on-year. The province contributes 57.3 percent of Chinese firework exports.
  Local firework companies said that exported firework orders increased significantly last year. Many were from a growing number of new buyers.
  For example, Zhaofeng firework trade company exported 13,000 tons of fireworks last year, 8.5 times more than 2017.
  In recent years, Liuyang fireworks have featured technological and cultural creativity.
  Equipped with an intelligent spray machine featuring zero emissions, intelligent ignition technology and digital firework text-forming technology, Liuyang fireworks have become a popular cultural product.
  According to the Hunan Provincial Department of Culture and Tourism, there were more than 600 Liuyang firework displays staged at home and abroad last year, across more than 40 countries and regions.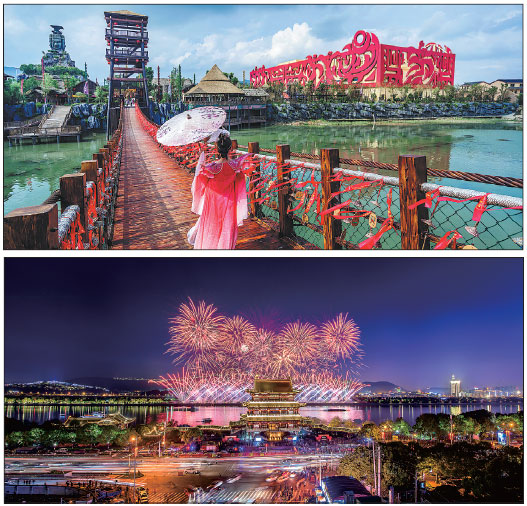 Top: A Western Zhou Dynasty (c.11th century-771 BC) themed cultural park in Ningxiang, Hunan province, is a shining example of the combination of culture and tourism. Above: Against a firework show, a pavilion named after renowned poet Du Fu in the Tang Dynasty (618-907) and built in an ancient architectural style stands at the Xiangjiang River. Photos Provided to China Daily