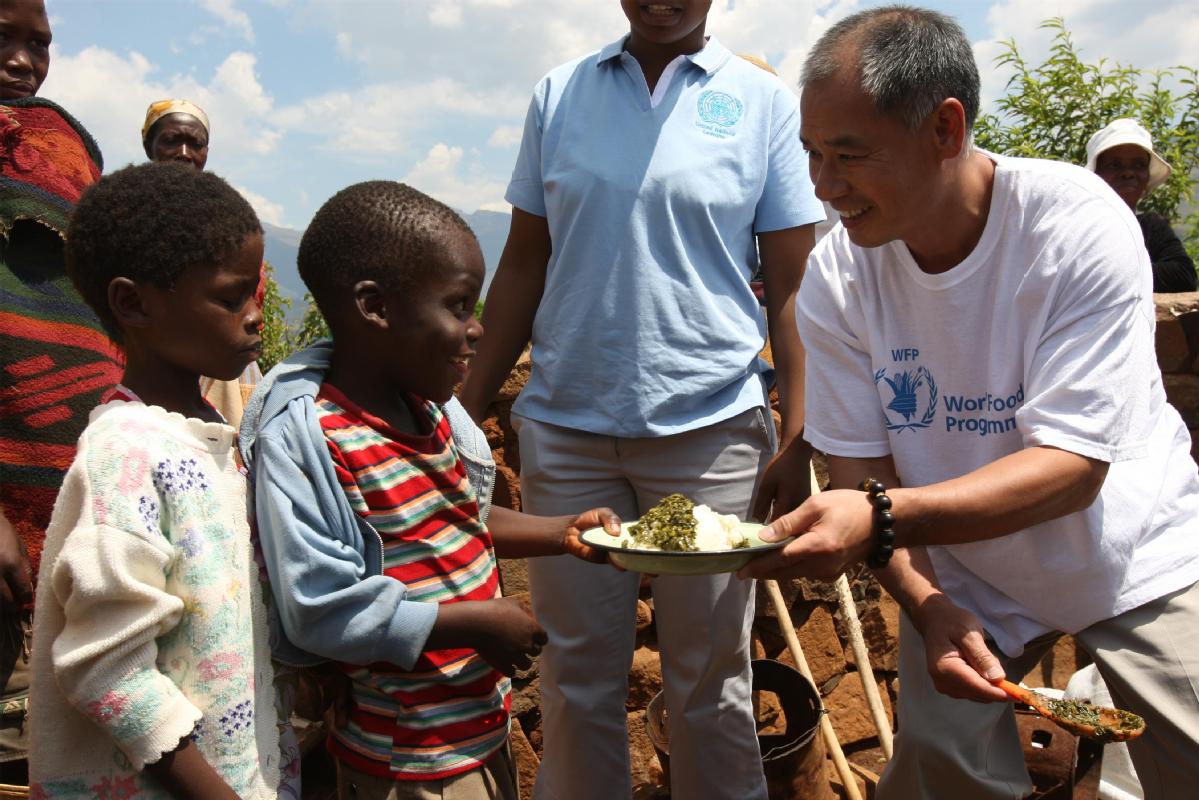 Li Ning, the UN World Food Programme's goodwill ambassador against hunger, feeds children in Lesotho, southern Africa, in 2008. CHINA DAILY
  Issues tackled include malnourished children, population growth, refugees
  Editor's note: With this year marking the 40th anniversary of United Nations' agencies operating in China, this story looks at how their roles have evolved amid the country's rapid development.
  Meng Yutong, a 30-something part-time events hostess, was playing the WeChat game Animal Restaurant when she suddenly saw Xiao Hong, an animated figure, appear in the virtual eatery.
  "I feel so hungry. Can I have something to eat?" asked Xiao Hong, a skinny little girl with a broad smile.
  As she was treated to a bowl of virtual noodles, Xiao Hong dropped several cartoon hearts on the ground before saying: "The noodles were really delicious. Thank you so much, but many of my friends are still starving. Can you help us?"
  Meng, who is from Beijing, collected several hearts, wondering at first if they were a special reward connected to the game, which is played free of charge. But instead, she had just unknowingly helped donate nutritious meals to hungry children in Xiangxi Tujia and Miao autonomous prefecture, Hunan province.
  Participants in Animal Restaurant are given more hearts for generosity to hungry patrons, but there is a limit to how many hearts they can accumulate over a given period.
  The image of Xiao Hong represents millions of children in less-developed areas of China, with the overall aim of appealing for more people to help them.
  The campaign has been jointly launched by the UN World Food Programme and WeChat.
  Animal Restaurant players can voluntarily take part in the charitable activity to collect hearts. After the number accumulated by everyone taking part in the game from Aug 27 to Monday reached the required 99.99 million, two enterprises - Xiangnian Food Co and the Yonghui Superstores chain - donated 500,000 nutritious meals to Xiangxi.
  According to The State of Food Security and Nutrition in the World 2019 - a report released by the UN, although China has made remarkable progress in improving nutrition, there are still more than 6.9 million children age 5 and younger experiencing slowed growth and malnutrition. Most of them live in poverty-stricken areas.
  Since 2017, China has carried out a plan to provide micronutrient supplements for infants and children up to 24 months old. Rural students ages 6 to 15 can also enjoy free school meals under the National Student Nutrition Improvement Program.
  "But currently there is no plan to improve nutrition for preschool children ages 3 to 5," said Qu Sixi, representative of the World Food Programme China Office.
  In May last year, the WFP started its three-year Preschool Nutrition Improvement Pilot Project in two poverty-stricken counties - Yongshun and Longshan - in Xiangxi. The project is aimed at offering healthy, balanced meals for children at 25 local kindergartens and preschools.
  Hunan's experience and the model used there will also be applied in the Guangxi Zhuang autonomous region next month, allowing more preschool children in poverty-stricken areas access to nutritious meals, Qu said.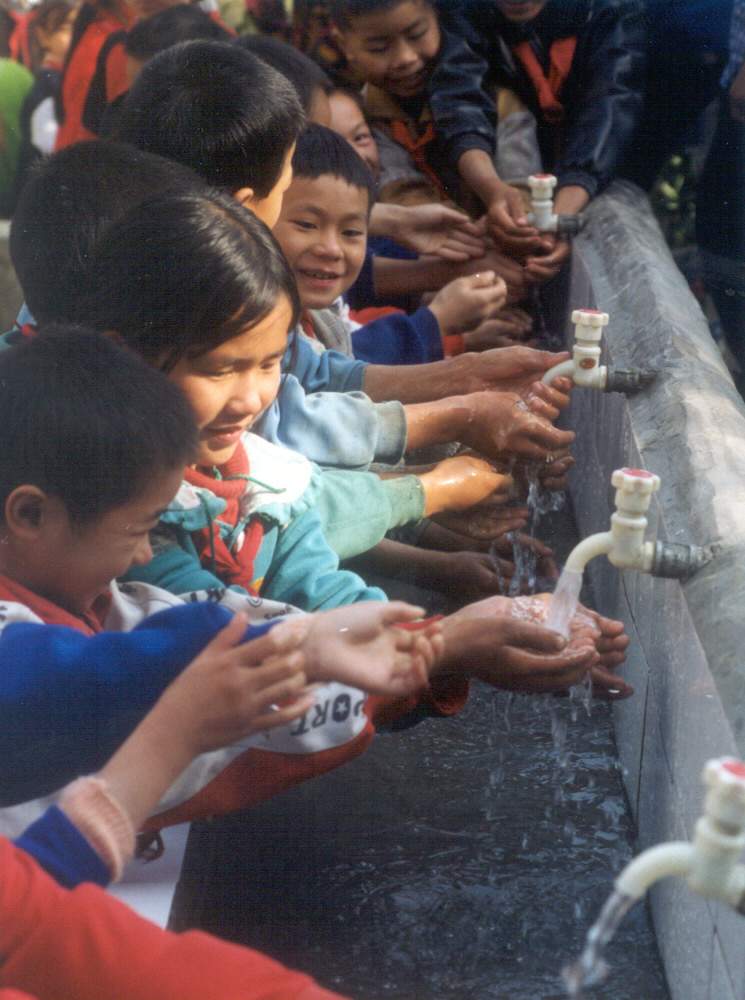 Children enjoy clean water in Guizhou province thanks to an agricultural development project conducted by the local authorities and the WFP in the late 1990s. CHINA DAILY
  This is just one of the innovative projects the WFP is carrying out in China. It works closely with the central government to share knowledge and best practices to reduce poverty, as well as sharing the country's expertise in ending hunger around the world.
  When the agency arrived in China 40 years ago, more than one-third of the population was hunger-stricken.
  As the food assistance branch of the UN and the world's largest humanitarian organization, the WFP's operations in China increased rapidly, becoming the agency's largest globally within a decade.
  But the office also realized that China wanted to avoid depending on international food aid, so it focused on development assistance and helping people to feed themselves.
  For example, Gansu province has always experienced droughts, and harsh weather conditions make it difficult to grow food.
  To solve the problem, the WFP launched an aid project in Gansu with investment of $18 million. With professional assistance, farmers were able to build an irrigation system, which increased agricultural production and improved infrastructure.
  On completion in 1995, local food production had risen by 6.38 times compared with 1989, according to the WFP.
  In spring 1998, torrential rains caused the worst flooding in China since 1954. Areas along the Yangtze River were seriously damaged and millions of residents affected.
  "The office also helped victims of the 1998 floods to recover," Qu said. "We responded with an emergency food aid project for people affected in Anhui, Hebei, Hunan and Jiangxi provinces, and contributed about $88 million."
  But Qu said that from 2005 to 2016, WFP China was relatively quiet. "This was the time when China made great progress in ending hunger thanks to its rapid development," he said.
  It was also a period when the country moved from being a recipient of WFP aid to becoming a significant donor to the agency's global operations, Qu added.
  In March 2016, the WFP signed a memorandum of understanding with the government to renew and strengthen their partnership for ending global hunger. The agency hoped China could share with other countries its experience and achievements in reducing poverty and malnutrition.
  Qu said an upcoming project will involve WFP China selecting dozens of young farmers from Zimbabwe to come to China for three months.
  They will have the chance to receive comprehensive training, from agricultural and solar technology to e-commerce. If they decide to start a business, the office will provide funding and send an instructor if needed.
  Based on the memorandum, WFP China developed a Country Strategy Plan for 2017 to 2021 with a budget of $29 million. The plan is in line with several national priorities, such as the 13th Five-Year Plan (2016-20) and the Food and Nutrition Development Plan (2014-20).
  "We are now working with different ministries, departments and academic and research institutes, as well as companies and organizations in various fields and projects," Qu said. "There is broad scope for further cooperation between the WFP and China. We want to do something good for the world."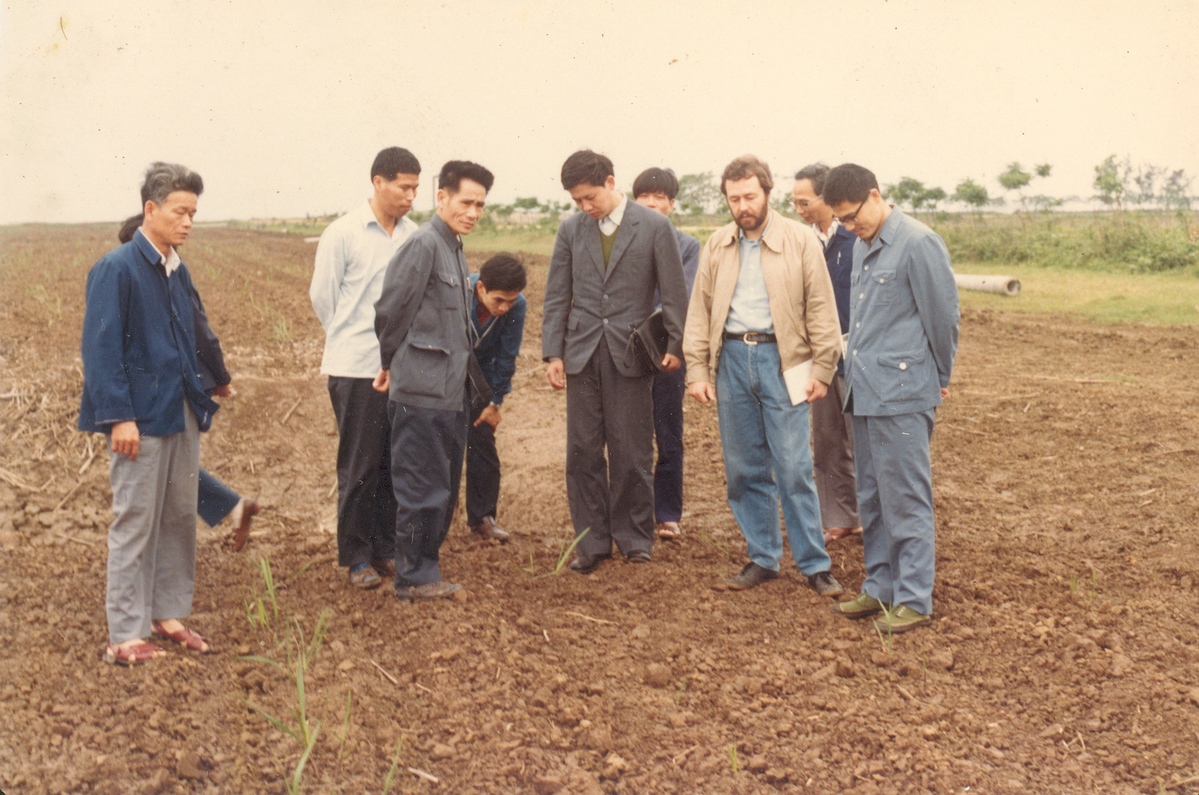 The WFP Office in China launches a wetland restoration project in Guangdong province in 1982 as part of an emergency food assistance program for people affected by natural disasters. CHINA DAILY
  UN Population Fund
  The UN Population Fund, or UNFPA, was introduced in China in 1979, just after the start of the country's reform and opening-up policy. At the time, the nation was also facing a serious challenge - its continually-expanding huge population.
  At the time, the primary task of UNFPA, the UN's sexual and reproductive health agency, was to work with China to collect and use population data for further development.
  Babatunde Ahonsi, the agency's representative in China, said it supported setting up institutions and personnel training so that the country could make up-to-date population data available for policy planning.
  With UNFPA's support, China gained a better understanding of its population size and demographic trends. Modern demographic analysis techniques helped the country to conduct its first modern census in 1982.
  The agency also acted as a bridge connecting China and the global community in academic exchanges.
  It invited international experts to China to give training to staff members from the National Bureau of Statistics, enabling the census to be conducted.
  The population fund also selected young Chinese experts and scholars and sent them overseas for further studies.
  Ahonsi said: "UNFPA contributed to the establishment of a population studies system in China. There are currently more than 20 major university departments offering courses in demographics in China, which have benefited from the efforts UNFPA made at the time."
  In the 1990s, UNFPA's work began to focus on reducing maternal mortality and providing high-quality maternal, child health and family planning services to grassroots communities.
  In cooperation with the UN Children's Fund and World Health Organization, UNFPA supported the integration of family planning with maternal and child health services and the building of facilities in 305 counties in 26 provinces, municipalities and autonomous regions.