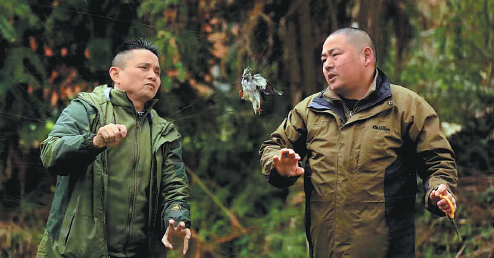 Nie Luomin (right) and a volunteer try to release a trapped bird from a mist net in Chengde, Hunan province. [Photo provided to China Daily]
  To protect birds, Nie Luomin helps educate people to not kill them, despite some confrontations
  For 13 years, Nie Luomin has lived a double life. During the day, the 47-year-old works as a loader in a shoe factory in Changde, Hunan province.
  After the working day ends and on weekends, Nie becomes an environmental guardian who prevents poachers from hunting birds.
  He has gained the name" Lunatic" from grudgeful farmers whose attempts to catch wild birds he has stopped.
  Nie's volunteer work is to mainly remove mist nets. He patrols the villages to search and remove them or rushes over to the spot with nets directly after receiving messages from other volunteers.
  To date, Nie has dismantled more than 1,800 bird nets in Changde and rescued more than 2,000 wild birds of various species. However, as his removal of the nets affected the profits of some farmers, he has faced some tough situations.
  In May 2017, Nie was besieged by farmers in Junshanpu town when he was removing mist nets in a field. The farmers were angry because they used the nets to catch birds and protect their crops from damage.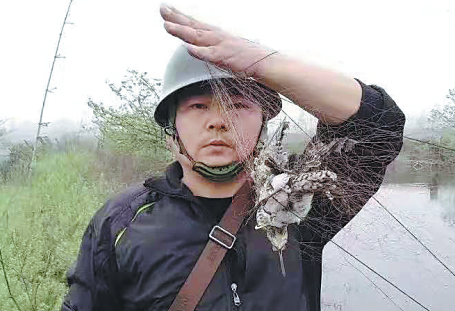 Nie shows a bird killed by a mist net. [Photo provided to China Daily]
  "I was wearing a helmet while working on the nets that day," Nie said.
  "My outfit and behavior made me look like a gangster. So, they had a verbal confrontation with me until the police came 15 minutes later and told them that setting up the nets was illegal."
  In addition to the farmers who treated the birds as a nuisance, Nie said there were two other groups of people killing the birds. The elderly in rural areas hunted the birds for money and idle young people killed the birds to eat or out of fun.
  "Farmers account for about 70 percent of the hunters, so I've been trying to educate them to properly deter the birds, not kill them," he said.
  "As for other people, I have to stop them one by one. I am not afraid of confrontation because protecting birds is protecting our living environment."
  Nie embarked on his volunteer work in 2006 when he happened to find hundreds of birds stuck to mist nets near his home in Changde. He waited nearly a whole day until the people who erected the nets appeared.
  "The poacher from Kaili was stationed in Changde with his partners to hunt and sell wild birds. He thought I was a buyer and wanted to sell me a sparrow for 5 jiao (7 cents), but I reported them to the city government immediately," he said. Kaili is located in Guizhou province.
  The professional bird poachers escaped, but all the nets were removed.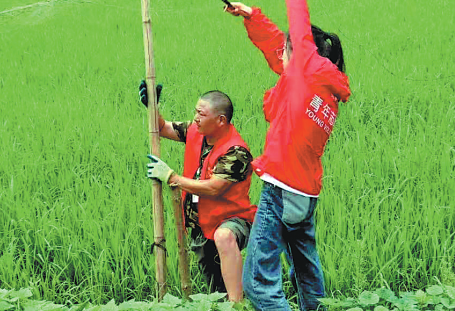 Nie (left) and a volunteer dismantle a mist net set up in the paddy fields in Changde. [Photo provided to China Daily]
  After that incident, Nie said he found that the government was supportive so he decided to volunteer for environmental protection activities.
  "Although several people dislike or even hate me doing this, the Changde city government, forestry bureau and forestry police gave me the confidence and support to stop those illegal activities," he said.
  "For years, my parents have not understood or supported me, but I don't care. I will move along the road to environmental protection because I like green mountains and rivers. I believe that I am saving all the people on earth, including myself and my family. I am single and I love to find joy among the mountains and waters."
  In 2017, he was given an award by a local environmental NGO for his efforts to protect wild birds.
  Now, Nie has begun focusing his efforts on the safety of water resources. In the past two years, he has collected evidence and reported many violations such as illegal pearl farming, electric fishing and river blocking to government departments.
  Nie has also helped form WeChat groups of more than 400 people-mostly made up of students from local colleges-to inform each other of illegal hunting activities.
  "Only those who really care about public welfare and the environment can unite together for this work," Nie said.
  "We are not doing this for profit, it is just for our own conscience. And we will be a good helper for the local government and act as its eyes."