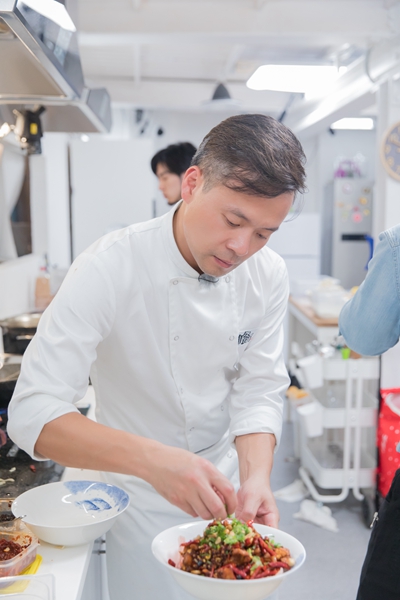 Chef Lin Shuwei devises a cold tomato dish and a braised eggplant dish that incorporate Sicilian flavors.[Photo provided to China Daily]
  The culinary landscape of a sleepy Italian town is changed forever when a TV crew arrives to open a pop-up Chinese restaurant in a little-known beauty spot, Li Yingxue reports.
  There's not a single Asian restaurant in Taormina, a small hilltop town on the east coast of the Italian island of Sicily. But for a few short weeks in June, the locals were able to enjoy the sumptuous flavors of Chinese food at a pop-up restaurant opened by a state banquet chef and four Chinese actors.
  Even though the restaurant was only open for a short period, its legacy was passed on through a recipe book given to the chefs of the local Michelin-starred restaurants in the hope that the essence of Chinese cuisine would remain on the island.
  From June 5 to 26, they were shooting the third season of the Chinese celebrity reality show, Chinese Restaurant, which is currently airing on Hunan TV.
  The 12-episode third season stars actors Huang Xiaoming, Qin Hailu, Yang Zi and Wang Junkai, and chef Lin Shuwei-the first professional chef on the show.
  The show was conceived in March 2017 to promote Chinese food and culture. It made its broadcast debut just four months later, becoming an overnight social-media sensation.
  "We want the world to learn more about Chinese culture, and food is a carrier of that," says Xia Qing, the show's producer. "Opening a Chinese restaurant enables people to experience Chinese food, enjoy its hospitality and, through this, learn more about modern China."
  After the success of the show's first season, which was filmed in Koh Chang, Thailand, the second season ventured further afield, opening the restaurant in Colmar, France. The first two seasons were also broadcast in the United States, Singapore and Malaysia. According to Xia, after the first season, a number of foreign countries and regions contacted the crew, inviting them to establish the Chinese restaurant in their respective locales.
  "We tried to pick locations in countries involved in the Belt and Road Initiative, and the places we chose have to be beautiful tourist destinations but not ones that are already popular with Chinese travelers," she says.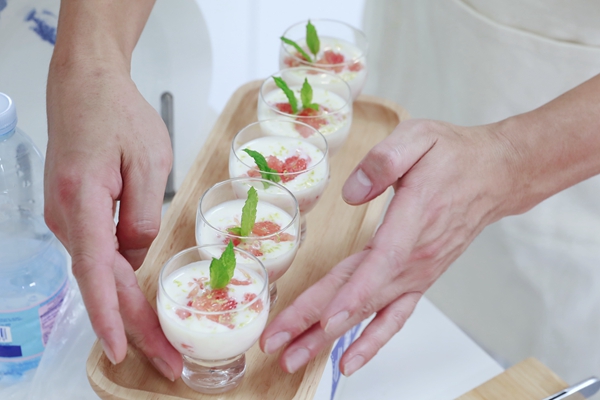 A grapefruit-yogurt dessert created by Lin.[Photo provided to China Daily]
  Since Colmar is located close to the French border with both Germany and Switzerland, and Taormina is visited by tourists from all around the world, the crew thought the region would be a good place for Chinese cuisine to reach the widest demographic.
  The series is also helping to boost tourism in the host cities. According to Wang Tian, director of the show, tourism to Koh Chang and Colmar, particularly among Chinese travelers, has increased significantly since the program aired.
  According to Wang, the lack of Chinese restaurants in Taormina presented a unique challenge in season three, and the nearest supermarket selling Asian ingredients and spices was over 60 kilometers away.
  "Also," she notes, "the location of the restaurant was in the mountains this season, unlike in Colmar, where the restaurant sat at the entrance to the city, where it naturally attracted visitors," she says.
  The shooting lasted 21 days and was nonstop, Wang says. "We merely documented their lives during this period. There was no script, and we would not interfere in the running of the restaurant."
  The participation in the show of chef Lin, who used to cook for state banquets, is a highlight of the third series. Wang says that the crew wanted to present a higher-level of Chinese cuisine to the local people of Sicily, and Lin was selected from dozens of popular chefs from across China.
  "Chef Lin's charm is not eclipsed by any star, and his dishes are delicious," says Wang.
  Lin, 42, grew up in Xiamen, Fujian province, and joined the culinary world in 1991. He learned Cantonese cuisine, before focusing on Sichuan cuisine after moving to Chengdu, Sichuan province, nine years ago. Lin can also cook Huaiyang and Beijing cuisines thanks to his vast experience across China.
  He currently works as the executive chef at a five-star hotel in Chengdu. Lin had to leave his kitchen for nearly a month to shoot the reality show. But the chance to teach a wider audience about Chinese food was too good to pass up.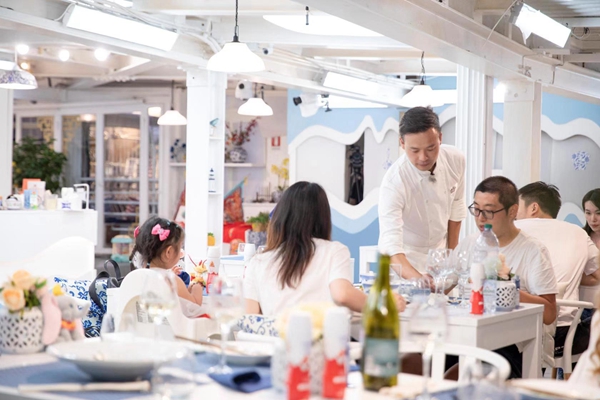 The 12-episode third season of the celebrity reality show, Chinese Restaurant, is airing on Hunan TV.[Photo provided to China Daily]
  He packed his own knives and some other tools of his trade, including a special toothpick.
  After arriving in Taormina, Lin and the other guests were invited as guests of honor at a dinner hosted by the town's mayor. During the meal, Lin noticed the local people's love of tomatoes and eggplants. He later devised a cold tomato dish and a braised eggplant dish that incorporated local flavors and tastes.
  "For instance, I found local people like to drink coffee, so I adapted the sauce for sweet-and-sour pork to carry more of a coffee flavor," he explains.
  At one sitting, a diner with a gluten aversion came to the restaurant, and Lin designed a menu especially for him-fried rice and soup. "He ate all the food," says Lin, who regards an empty plate as the ultimate compliment for any chef.
  One diner from the United Kingdom pleaded with the crew to shoot the next season of Chinese Restaurant in his hometown after he sampled Lin's dishes and even offered to wash the dishes if they did so.
  Many diners became regular customers over the course of the 21 days, and Lin enjoyed talking with them about the flavors of Chinese cuisine.
  "I told them that I was just a common chef in China, and that there are many better chefs than me, so they should come to China to try the food."
  Lin also talked with the chefs at local Michelin-starred restaurants, teaching them how to make shrimp with tea leaves, fried rice, and pork with sweet-and-sour sauce.
  Lin has formed the impression that people overseas still don't know enough about Chinese cuisine.
  "We should encourage more young chefs to go abroad and open up Chinese restaurants," he says.