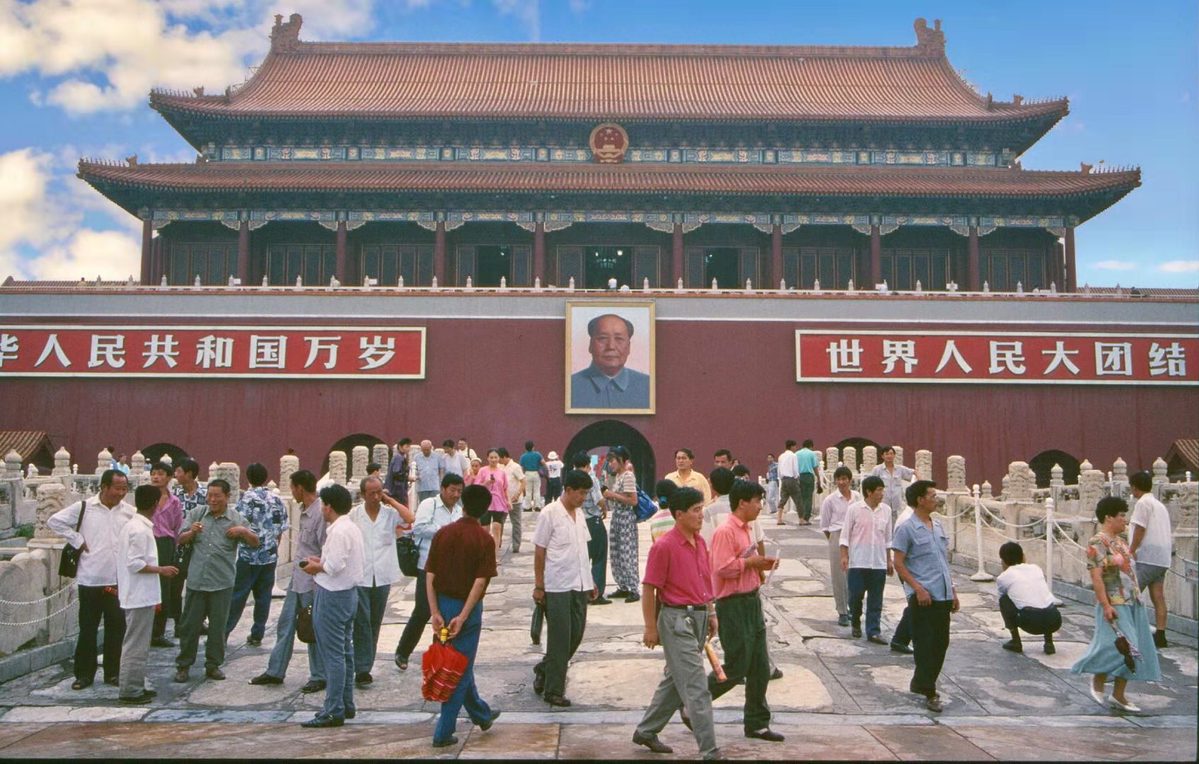 Tian'anmen Gate - entrance to Forbidden City - 1996 [Photo by Bruce Connolly/chinadaily.com.cn]
  For China travelers such as me, certain iconic locations are instantly recognizable. The large portrait of Mao Zedong positioned on the Tian'anmen Gate leading into Beijing's vast Forbidden City is such. In 1987 it became one of my first shots of the city.
  To the south stretches the enormous expanse of Tian'anmen Square. I remembered photographs of very large crowds during the 1950s and 60's staring earnestly towards the Gate. For it was there that Mao Zedong proclaimed the founding of the People's Republic of China on Oct 1, 1949.
  Pedestrian underpasses lead below Chang'an Dajie, the Avenue of Eternal Peace, towards the square. That July day in 1987 I walked across its vastness simply watching people. Gone were the crowds from earlier days; instead it was mainly family groups, mostly wearing white cotton clothes, some flying kites, others having their photographs taken, just happy being there.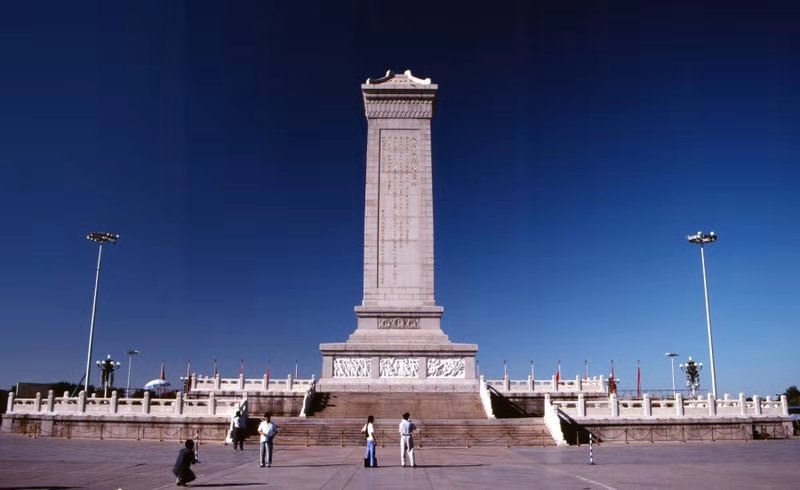 Monument to the People's Heroes Beijing 1998 [Photo by Bruce Connolly/chinadaily.com.cn]
  Much of today's Tian'anmen Square was transformed after 1949 into what we see today. Previously there ran a ceremonial avenue along which Imperial processions would head towards Qianmen or 'Front Gate'. It followed the historic north-south axis line on which Beijing was laid out.
  I reached the 36-meter-high Monument to the People's Heroes, an obelisk of Qingdao granite, completed in 1958. Calligraphy by Mao Zedong and Zhou Enlai adorns its facade.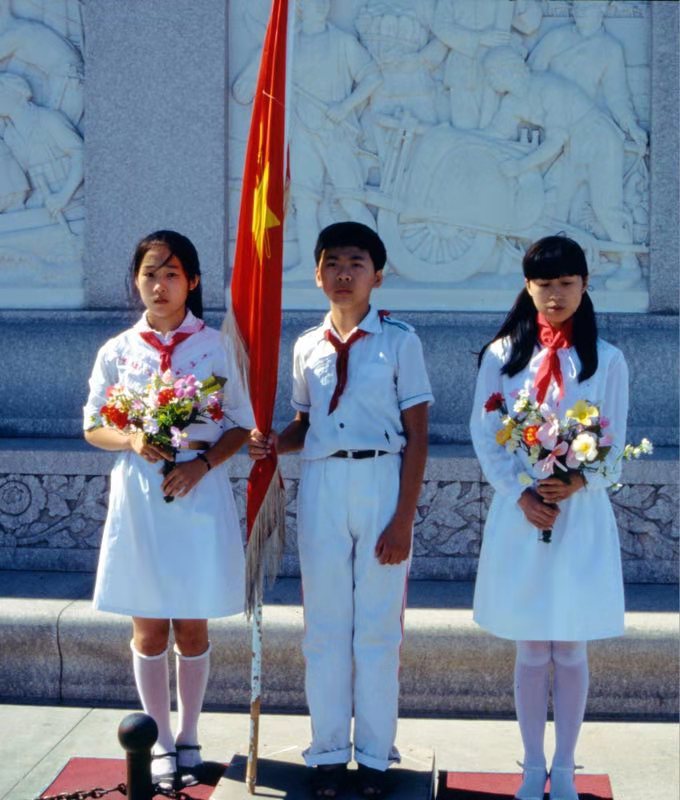 Ceremonial occasion at Monument to People's Heroes Beijing 1987 [Photo by Bruce Connolly/chinadaily.com.cn]
  Walking up to the balcony around its base, I noticed schoolchildren on ceremonial duty. On either side of the square were two of the great buildings erected for China's 10th anniversary celebrations in 1959. To the west is the Great Hall of the People, venue for the National People's Congress, and on the eastern side, what today is the world's third-most visited museum, the National Museum of China. The enormity of such buildings, their sheer size while realizing how quickly they were constructed, held me in awe.
  Between the obelisk and the museum, a seemingly endless queue snaked around the square, leading to the north entrance of the 1976 Mao Zedong Mausoleum. I was amazed at how people would wait patiently in line under that very hot sun for maybe an hour or even longer. Later I would join them passing through its silent, indeed somber interior. Outside are several interesting sculptures depicting both civilians and servicemen created in an art style particularly common in China during the 1950s and '60s and known as 'socialist realism'.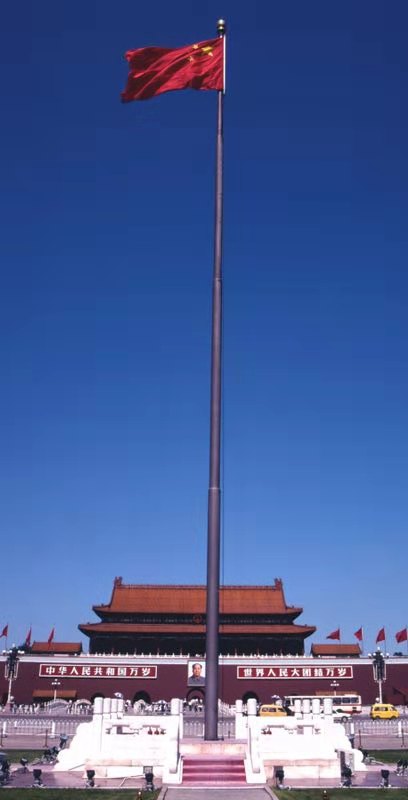 National Flag of China south of Forbidden City Beijing 1996 [Photo by Bruce Connolly/chinadaily.com.cn]
  Directly facing Tian'anmen Gate, a tall flagpole rising from a marble stand carries China's national flag. Every day at dawn or sunset large crowds gather from across China and beyond. They come to observe the flag's ceremonial raising and lowering by a group of highly professional servicemen. It is easy to feel the importance, the significance of that locale for the nation
  Prior to 1949, Beijing was a walled city crisscrossed by narrow alleys or hutongs. Long, wide and straight Chang'an Avenue was laid out in the 1950's, passing directly in front of the Tian'anmen Gate. Its design was to provide adequate space for the very large parades, such as that planned for Tuesday to mark China's 70th anniversary. There are no overhead wires for buses or pedestrian bridges (there are underpasses). This allows high vehicles carrying displays to move unhindered during the ceremonies.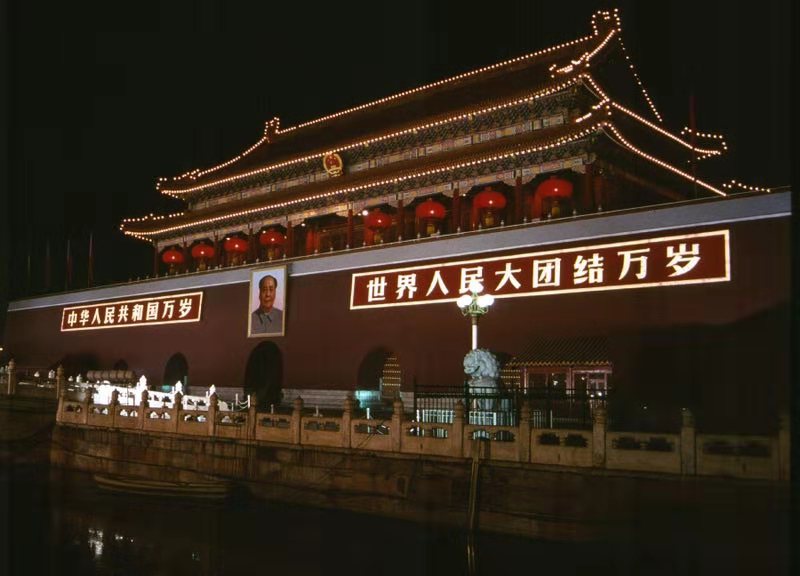 Tiananmen Gate Beijing 1996 [Photo by Bruce Connolly/chinadaily.com.cn]
  In September 1999, in the run-up to the 50th anniversary parade, evening rehearsals would take place along Jiang Wai Dajie. I enjoyed going down to a location outside the Friendship Store where it was possible to watch the large convoys passing in slow formation. Spectacular but also very noisy! Unfortunately, I missed that final parade, having to return to the UK! However, during 1994 in Scotland I had watched a production directed by Chen Kaige, filmed by Zhang Yimou, The Big Parade. It focused on the intensity of training by an army team hoping to be included in one such grand display.
  The podium of Tian'anmen Gate provides an extensive view across the square stretching south towards Qianmen. It is a place of great significance and if visitors go to Beijing's Capital Museum there is a special room recreating scenes from 1949 through photographs and sound recordings from 70 years ago.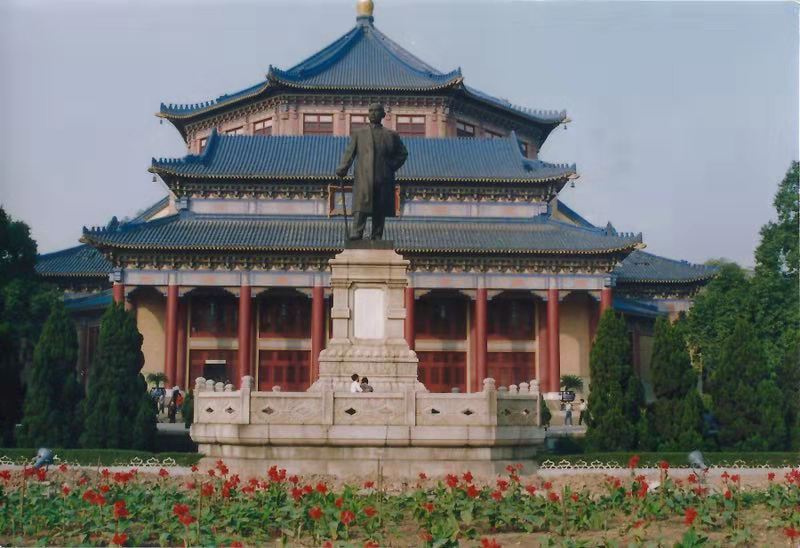 Dr. Sun Yat-sen Memorial Hall Guangzhou 1992 [Photo by Bruce Connolly/chinadaily.com.cn]
  In 1987 I left Beijing by train on a journey south to Guangzhou. At that time, announcements were made about every city we stopped at. At Changsha, I learned about the nearby town of Shaoshan, the birthplace of Mao Zedong. Although never visiting it personally I delighted in going to a 'Shaoshan Family Restaurant' in Beijing and experiencing the delicious, spicy cuisine famed in that part of Hunan!
  Guangzhou then was only a brief overnight visit before continuing onto Hong Kong. Returning to work and live in that bustling metropolis for a year in 1992 I familiarized myself with its history, particularly people and events important for China prior to 1949. Dr. Sun Yat-sen, referred to as one of the 'Fathers of Modern China', was born near Zhongshan, south of Guangzhou. A grand octagonal-shaped memorial hall dedicated to him is situated in the heart of the city within a beautiful parkland area.
  Peasant Movement Institute Guangzhou 1992 [Photo by Bruce Connolly/chinadaily.com.cn]
  The Peasant Movement Institute is within a former Ming-dynasty temple, again in central Guangzhou. Founded by Mao Zedong in the 1920's and today a museum, it was where trainees received education in the methodology of peasant movements. There were beautiful gardens, such as the Huanghuagang Commemoration Park, which memorialized a failed uprising led by Dr. Sun Yat-sen in 1911 against the Qing dynasty.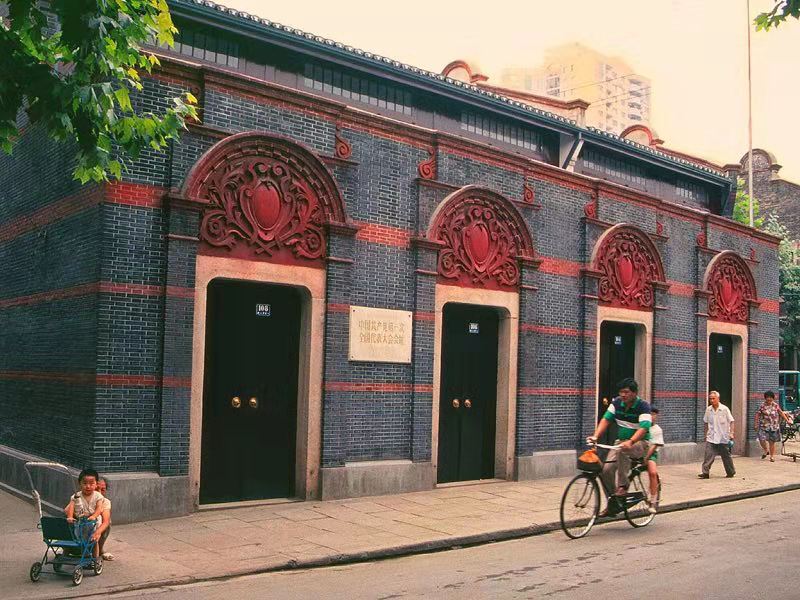 First Meeting House Shanghai 1996 [Photo by Bruce Connolly/chinadaily.com.cn]
  This was for me part of developing a greater understanding of China. In Shanghai, for example, upon first arriving in 1996, I headed straight to Xingye Road within the Xintiandi area. It was home to a two-story traditional Shikumen building, completed in 1920 and renowned as the site of the First National Congress of the Communist Party of China held on July 23, 1921. Today it is a 'must-see' attraction, particularly for domestic tourists and overseas Chinese visitors, along with passionate followers of China's story, such as me. In Shanghai, there are spacious garden parks incorporating, for example, Longhua Revolutionary Martyr's Cemetery. In Nanjing, I would take in the Sun Yat-Sen Mausoleum rising up in forested Zijinshan, the Purple Mountain.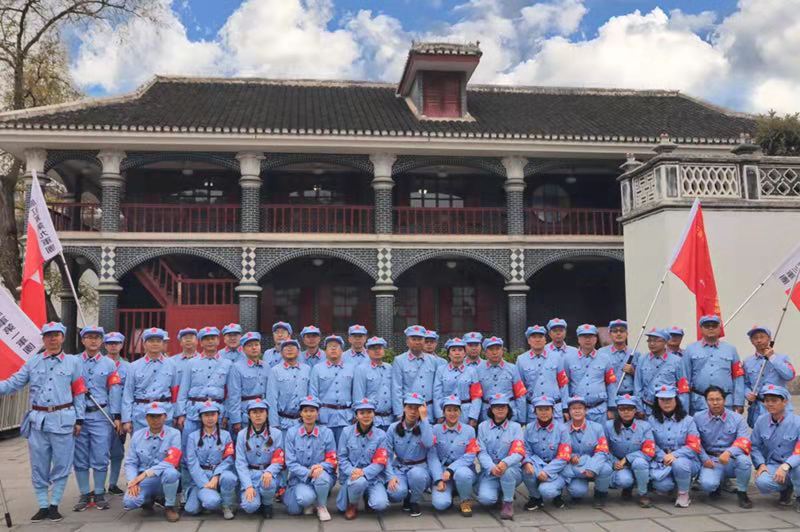 Remembering the Long March at Zunyi 2017 [Photo by Bruce Connolly/chinadaily.com.cn]
  Guizhou more recently proved a very fulfilling experience during the autumn of 2017. Zunyi City is home to a carefully restored, two-floor building where Mao Zedong was elected to the leadership of the Communist Party of China in 1935. This took place during the legendary Long March from East China's Jiangsu province towards Yan'an in the northwestern province of Shaanxi.
  Personally there is still so much to both discover and explore across China, but on the way, I feel it is important to learn more of the history as I go along. The country is large, diverse and indeed complex that for many of us it can take a lifetime to even try to understand it, but that is something I feel is important to strive for, and indeed have found it a pleasurable aim to keep adding to as I travel around this vast land.