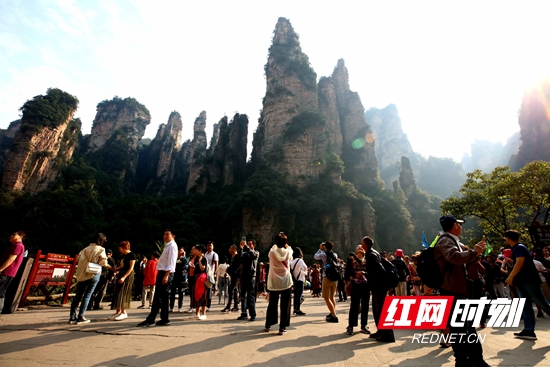 Zhangjiajie received 3,350,500 tourists during the National Day holiday, with an increase of 18.12 %. The tourism income is 2.586 billion yuan. There were no congested incidents, no major travel-related complaints, and travel-related safety incidents.
Wulingyuan scenic spot, Tianmen Mountain Scenic Area and Grand Canyon Scenic Area received more than 100,000 visitors respectively. Wulingyuan scenic spot received 195,300 tourists; Tianmen Mountain received 182,100 tourists; the Grand Canyon received 112,200 tourists.
Tianzishan cableway of Wulingyuan scenic area, Huangshizhai cableway, sightseeing tram, Bailong elevator received 85,000 passengers, 46,000 people, 70,000 people, and 171,000 people respectively. The facilities show the scenery of Zhangjiajie to tourists with effective guiding. In addition, there are other scenic spots having tens of thousands of tourists, including Jiutian Mountain, Huanglong Cave, Baofeng Lake, Tujia Folk Cultural Garden, Xibu Street, The Charm of Zhangjiajie performance, etc.
Link:"十一"黄金周,张家界市共接待游客343.05万人次