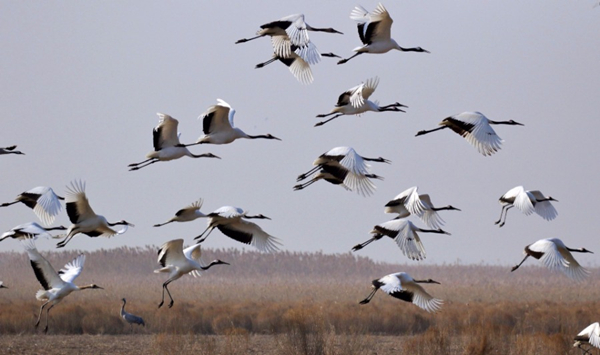 Red-crowned cranes are seen at a national nature reserve in Yancheng, East China's Jiangsu province, Jan 15, 2018. [Photo/Xinhua]
  The national forestry authority urged local governments to strengthen the protection of migratory birds and remove threats to their safety as migration season continues.
  According to a notice posted on the State Forestry and Grassland Administration's website on Tuesday, local authorities have been asked to gather accurate information about the species of migratory birds in local territories and the state of their habitats.
  Actions should be taken to patrol and guard the birds' habitats and to clear up nets, traps and poisonous bait set up to hunt them.
  Local governments have also been asked to advance efforts on making wildlife protection a part of officials' performance assessments, a move to push officials to take action in the sector.
  Since migration season began in September, there has already been a high number of criminal cases involving the hunting and eating of wildlife.
  Unlawful activities-including the illegal transportation, killing and selling of migratory birds along migration routes-have been uncovered recently, the notice said.
  Forestry and grassland administration of Jiamusi, Heilongjiang province, on Monday cracked down on two hidden dens that were illegally trafficking wild birds at a flower-bird-fish market.
  Apart from the two dens, local police investigated a warehouse and rescued thousands of birds trapped inside upon receiving tips from volunteers.
  Wildlife protection volunteers found two vendors at the market selling various species of nationally protected wild birds on Monday morning. They immediately called the police and reported the activity to the wildlife protection department of the administration. Law enforcement officers arrived at noon and seized more than 400 live birds, including songbirds and larks. A total of 158 dead birds were found in one of the two stores.
  Local forestry authorities should better coordinate with departments responsible for public security, customs, border defense and transportation, according to the notice. They have been asked to check the illegal production and sale of clap nets, as well as social media, courier services and e-commerce platforms to obtain clues that may lead them to illegal activities related to the catching and selling of wildlife.
  The State Forestry and Grassland Administration said it will publicize major cases of harming wildlife, including migratory birds, and local governments that are found at fault will be held responsible.
  "Winter season is an important period for migratory birds' protection. Different from previous notices, the latest one emphasized coordination with other departments and stricter enforcement of related laws," said Niu Shan, a staff member of China Wildlife Conservation Association.
  "The notice also encouraged social involvement in the protection of migratory birds," Niu said. He estimated that 188 teams and 16,000 volunteers nationwide would participate in protection work in the winter season.