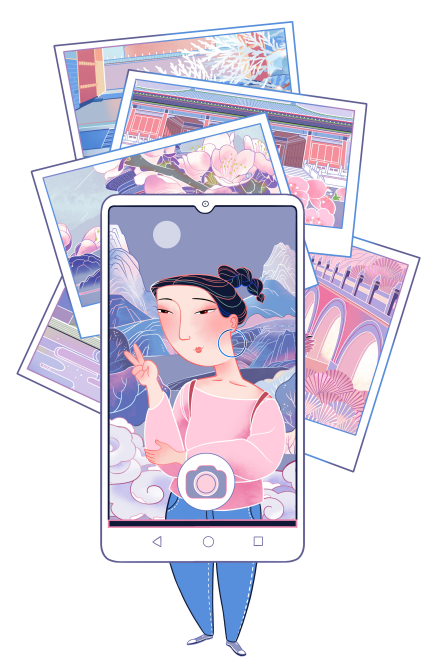 Editor's note: Wanghong are scenic spots, or tourist destinations, that have won themselves a name after being repeatedly mentioned online. And the craze for visiting such cyber celebrity destinations shows no sign of waning. During the National Day holiday, people were willing to line up for hours to taste food or see sights that had become hot talk on social media. Two experts share their views with China Daily's Yao Yuxin. Excerpts follow:
  Online footprints show upgraded consumption
  During the National Day holiday, a netizen-endorsed crayfish restaurant in Changsha, capital of Central China's Hunan province, had more than 7,000 reservations on the waiting list leading to it becoming a trending topic and arousing discussions on social media.
  The initial endorsers of such online celebrity hotspots are motivated to recommend them to others after enjoying their own self-motivated visits and they post details of their experience on social media networks, attracting others who hope to emulate their experience.
  As a large number of Chinese people like to leave an online footmark during a trip to prove they have been to a place, numerous posts in praise of a place soon turn these destinations into cyber celebrities, enticing many, especially young people, to visit even if it means waiting for hours in long lines as the visit may burnish their image in front of their friends and give them topics of conversation.
  Such cyber celebrity destinations have become more prevalent with the growing popularity of livestreaming and short videos, which make posts more immediate.
  In the search of fame and fortune, a number of cities, notably Chongqing and Xi'an, have sought to take advantage of the wanghong phenomenon by publishing a series of videos on Douyin, a short-video platform.
  The success of cyber destinations offers inspiration for traditional tourist spots to pay more attention to the integration of real sightseeing and the virtual world.
  The thriving of cyber celebrity places is also a sign of the upgrading of consumption in China, where an increasing number of people have the wherewithal to spend on experiences.
  Yet celebrity fame can be brief, and the popularity of places may prove short-lived unless they make quality products and services their first priority.
  Sun Jiashan, a researcher with the Chinese National Academy of Arts
  Short shelf life without innovation
  Actually, cyber celebrity attractions can be regarded as a superstar places that people have a fascination with. Given the praise lavished on these locations online, potential visitors draw the conclusion that there must be something unique about these destinations and the growing endorsements for them build confidence that they can be trusted.
  This means that with a good idea and content, the coordination of marketing and word of mouth can create for a place a virtuous cycle of increased popularity and consumption. Such branding may make people more willing to tolerate inconveniences such as over-crowding and raised prices.
  But the high expectations of such cyber celebrity destinations mean they need to ensure the quality of their products and services they offer consumers if the popularity is not to be short-lived.
  And since people quickly tire of things, continual innovation is necessary. If each time there is something new to be experienced it will encourage people to make return visits.
  For instance, a scenic spot could promote the integration of local culture and tourism, or introduce high-tech such as using virtual reality for a treasure hunt, or developing night tours.
  Chen Shaofeng, a professor of cultural studies and entertainment at Peking University