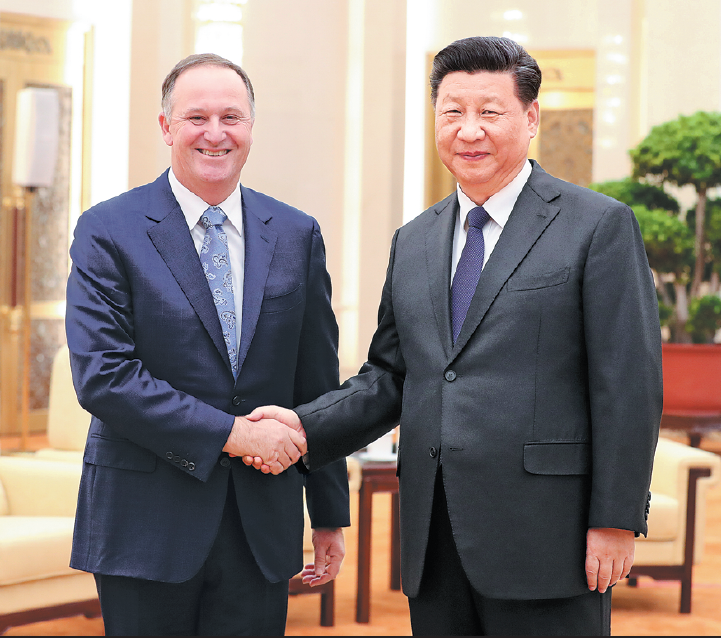 President Xi Jinping meets with former New Zealand prime minister John Key at the Great Hall of the People in Beijing on Wednesday. FENG YONGBIN / CHINA DAILY
  President Xi Jinping said on Wednesday that China welcomes all countries and their companies to seize the opportunity of its development to better realize win-win results.
  He made the remark when meeting with John Key, a former prime minister of New Zealand, at the Great Hall of the People in Beijing.
  The situation in the world is undergoing profound and complicated changes, Xi said. "China has an even stronger desire, not a diminished desire, to engage with the outside world," the president added.
  China will stick to the path of peaceful development, and its door will be opened even wider to the outside world, he said.
  Xi said that Key actively contributed to the China-New Zealand relationship when he served as the country's prime minister and that he hoped Key would continue to help enhance exchanges and cooperation between the two peoples.
  Key congratulated the country on the 70th anniversary of the founding of the People's Republic of China, saying the celebrations on Oct 1 were remarkable.
  China's development is an opportunity for the world, and history will finally prove Xi's vision and great leadership, Key said, adding that he believed the Belt and Road Initiative, proposed by Xi, will succeed.
  Key also expressed his willingness to play an active role in promoting mutual understanding and cooperation between New Zealand and China.
  Key served as the 38th prime minister of New Zealand from 2008 to 2016. He made seven official visits to China during his term of office.