奔流不息的瀑布、古朴精美的吊脚楼,如天作之合般造就了"挂在瀑布上的千年古镇"——芙蓉镇,成为数万网友神往心驰的湘西仙境。
Furong Town, a thousand-year-old town, has a picturesque landscape of rushing waterfalls surrounded by the quaint stilted building. It seems a wonderland that tens of thousands of fans will go for.
9月22日,2019年湖南国际文化旅游节开幕式发布"湖南省首批十大特色小镇"名单。其中,湘西州永顺县的芙蓉镇就榜上有名,被评为民族风情小镇。
The list of the First Batch of Ten Characteristic Towns in Hunan Province was released on September 22 during the opening ceremony of the Hunan International Cultural Tourism Festival in 2019. Furong Town of Yongshun County, Xiangxi Prefecture was listed as the national town of folk customs.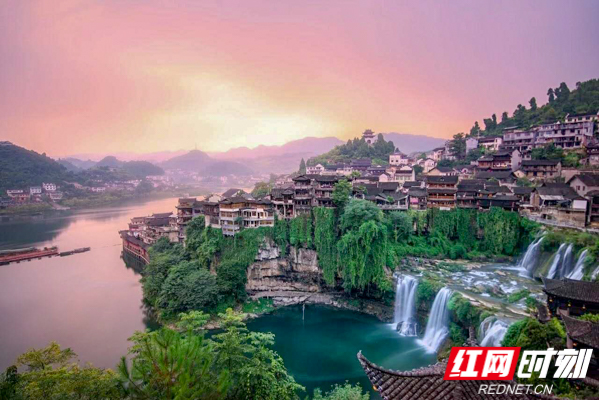 1986年,著名导演谢晋拍摄的《芙蓉镇》上映,影片大热,捧红了刘晓庆,捧红了姜文,拍摄地永顺县王村也因之露出芙蓉面,住进了全国观众心里。
In 1986, the famous movie Furong Town (Fu Rong Zhen) made Liu Xiaoqing and Jiang Wen the hottest stars in China. Wangcun Village, the filming place of Yongshun County, also was known for its landscape by national audiences.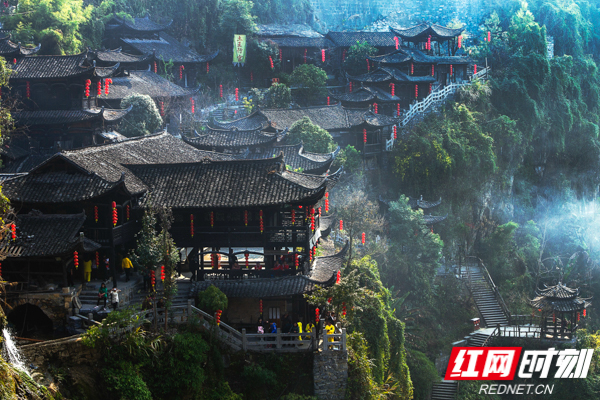 大瀑布、青石板街、土家吊脚楼形成一幅精妙绝伦的人文与自然和谐的山水画卷。
The falls, stone streets and Tujia stilted buildings form a beautiful landscape of harmony between humanity and nature.
芙蓉镇原名王村,是公元1135年之前的土司古都,是一个拥有两千多年历史的古镇,西汉时期称酉阳,唐代称溪州。因得酉水舟楫之便,上通川黔,下达洞庭,自古为永顺通商口岸,素有"楚蜀通津"之称,享有酉阳雄镇、湘西"四大名镇"、"小南京"之美誉,又因千年瀑布穿镇而过,吊脚楼群挂在悬崖,被誉为"挂在瀑布上的千年古镇"。
Furong Town, formerly known as Wangcun, was the ancient capital of Tusi ancient town before 1135. It was an ancient town with a history of more than 2,000 years. It was called Youyang in the Western Han Dynasty and Xizhou in the Tang Dynasty.
2007年,当地政府为了大力发展旅游业,将王村改名为芙蓉镇,大大提高了芙蓉镇的知名度。
In order to vigorously develop its tourism, the local government renamed Wangcun to Furong Town in 2007, which greatly enhanced the popularity of the movie Furong Town.
2019年8月,芙蓉镇今年接待游客量已突破100万人次。刚刚过去的国庆黄金周,芙蓉镇接待游客10.7万人次,同比增长140%,增速惊人。截至目前,芙蓉镇今年已接待游客150万人次。
Till August 2019, Furong Town received more than 1 million visitors in 2019. In the National Day holiday, Furong Town received 107,000 tourists, up 140% of the period of the last year. As of now, Furong Town has received 1.5 million visitors this year.
Link: 小镇大业看湖南丨山水如画,一座挂在瀑布上的千年古镇