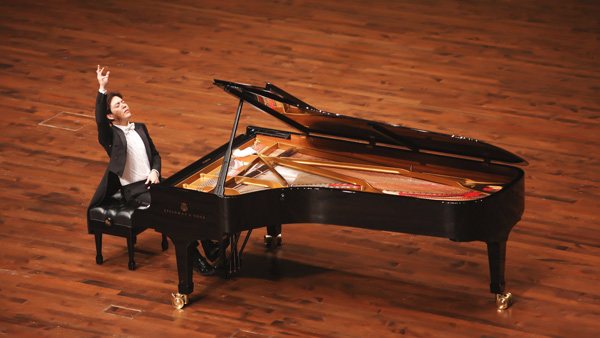 Li Yundi performs in Changsha, Hunan province, in September during his world tour, Sonata. [Photo provided to China Daily]
  In the midst of a 100-city tour, Chinese pianist Li Yundi reflects on how his interpretation of his favorite composer's music has evolved over the years, Chen Nan reports.
  In the middle of the largest world tour of his career, Chinese pianist Li Yundi turned 37, on Oct 7.
  The tour, which kicked off on June 2 with a concert in Hohhot, Inner Mongolia autonomous region, will see him visit 60 Chinese cities and 40 cities abroad and will last through 2020.
  Titled Sonata, the tour features repertories including Schubert's Piano Sonata in A Major, D 664 Op 120, Chopin's Piano Sonata No 3 in B Minor, Op 58, and Rachmaninov's Etudes-Tableaux, and Piano Sonata No 2 in B-flat Minor, Op 36.
  "I want to present my music to as big an audience as possible. My birthday wish was to enjoy music with a new understanding and to share that music with more people," Li says.
  "Preserving my inner child is as important to me as being a musician. When I play music, I stay curious."
  Before each concert, Li rehearses for about three hours. He also goes to the gym, before sleeping for about two hours to prepare for each concert.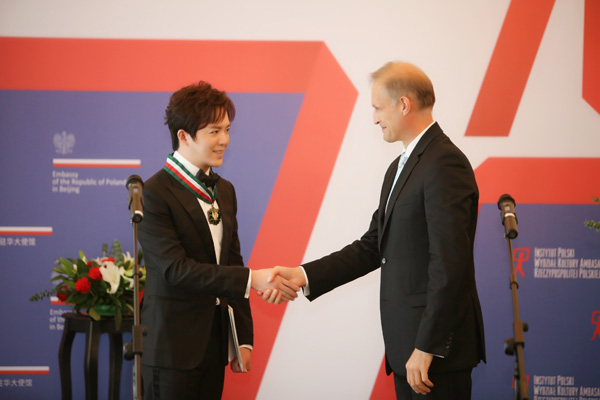 Li is recently awarded the Gold Medal for Merit to Culture by Wojciech Zajaczkowski, Poland's ambassador to China, in Beijing. [Photo provided to China Daily]
  Besides his live performances, he is giving master classes to young music learners during the tour.
  "There are many new concert halls popping up around the country and I have not performed in many of the cities before," says Li.
  "Every moment before I walk onto the stage, I see the lights through the stage door and hear the applause of the audience. I have no idea what is going to happen, which makes me nervous and excited."
  The repertories the pianist chose to play during the tour reflect his growth and transformation as an artist, he says.
  Many enthusiastic young people attended his concerts, and shared with him their own understanding of the pieces, which he calls "impressive and encouraging".
  "I told them to enjoy music and not to force anything. Let the music speak for itself," Li says.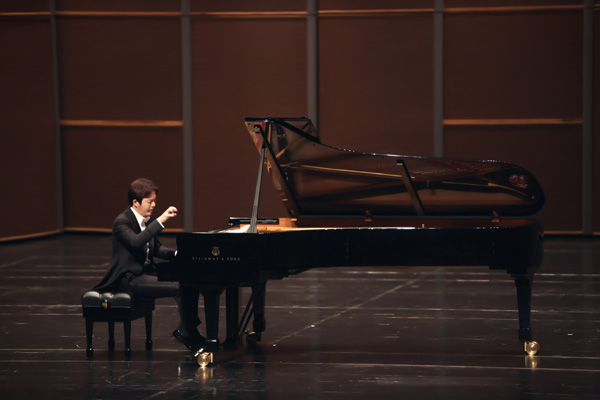 [Photo provided to China Daily]
  During the ongoing tour, Li is playing pieces by three musicians, Shubert, Rachmaninov and Chopin that, according to the musician, "represent different music styles and eras".
  Since he started studying the piano, Chopin has always been one of Li's favorite composers.
  In 2000, at the age of 18, Li became the first Chinese-and the youngest-winner of the International Fryderyk Chopin Piano Competition, through which he was propelled into the international spotlight.
  "When I was a child, I was interested in Chopin's music because it is mysterious. Now, while growing up, I have discovered different colors of his music, especially the composer's patriotism about Poland," Li says. "Though I have played Chopin's music for years, I still want to bring out something different and to deliver my understanding of the composer's music to the full extent."
  Li was awarded the Gold Medal for Merit to Culture-Gloria Artis, by the Polish government in Beijing on Oct 10. The medal, instituted in 2005, is a Polish departmental decoration in the arts awarded by the Ministry of Culture and National Heritage of the Republic of Poland. Li was awarded the silver medal of the same award nine years ago.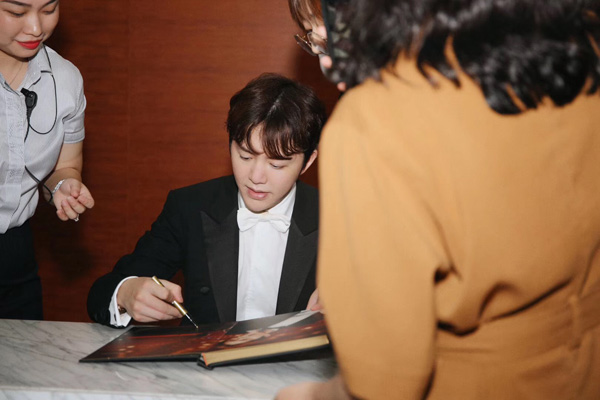 [Photo provided to China Daily]
  "Li Yundi is one of the best interpreters of Chopin's music, as his playing is poetic and lyrical. He is an ambassador of not only Chopin's music, but also of Polish culture," says Wojciech Zajaczkowski, Polish ambassador to China, in Beijing.
  Shortly before winning that first award, in 2003, Li made his debut in the United States at the Carnegie Hall, where he performed Chopin's Piano Concerto No 1.
  He gave an all-Chopin recital at the Royal Festival Hall in London in 2016, with four ballades and 24 preludes.
  He has also released albums of the composer's music, including Chopin: Preludesin 2015 and Chopin: Balladesin 2016.
  As coming full-circle, Li was one of the jurors at the 17th International Fryderyk Chopin Piano Competition in 2015.
  Li picked up the baton for the first time in 2017, leading the Warsaw Philharmonic Orchestra on a five-city tour of China, playing two Chopin's concertos: Concerto for Piano and Orchestra No 1 in E Minor and Concerto for Piano and Orchestra No 2 in F Minor.
  When Li celebrated his 34th birthday in Warsaw, performing Chopin's concertos with the Warsaw Philharmonic Orchestra, the orchestra played Happy Birthdayfor the pianist at the end of the recital, delighting Li with the surprise.
  With his hectic schedule of touring, Li is also working on his new album, which, he says "is to be released soon".