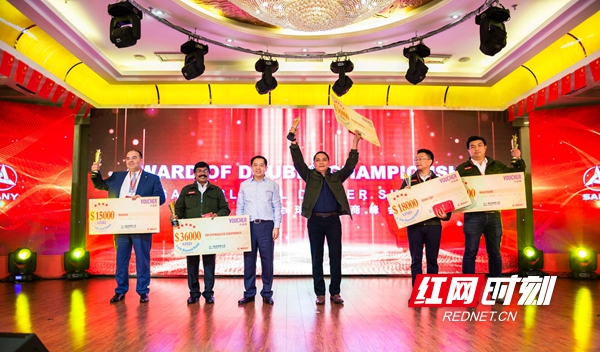 Xiang Wenbo, Director of SANY Group and President of SANY Heavy Industry, presents honors to global dealers.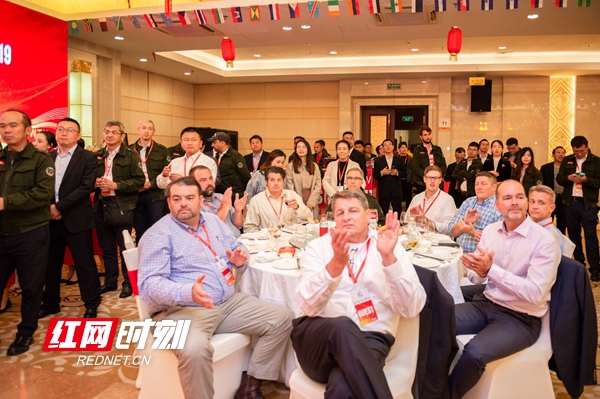 More than 400 representatives of SANY dealers from nearly 100 countries and regions attend the Summit.
SANY has made numerous achievements in international development in 2019. According to the SANY Global Dealers Summit held in Changsha on October 29, SANY made 7 billion RMB revenues in the first half of this year in the international market, rising by 15% YoY thanks to the continuous improvement of brand cognition and product competitiveness; it is expected to make more than 2.5 billion USD sales revenues in the whole year, thus climbing to a new level.
Statistics show that in the past three years, SANY overseas CAGR has reached 20%, whose annual profit growth has been standing at more than 30%. Its sales volume has exceeded ten billion RMB for six consecutive years. It has achieved the first export share in nearly 30 major countries. SANY not only ranks No.1 in the export scale and growth rate. Even more, SANY's per capita productivity and profit rate have reached the leading level in the world.
It is worth noting that in 2019, SANY has maintained rapid growth in high-market markets in the USA, Europe, Australia, and Russia while consolidating its market position in India, Southeast Asia, Africa, and other traditional core country markets.
Data reveal that from January to September this year, SANY India made nearly 1.5 billion RMB sales, an increase of about 20% YoY. Its products are exported to Africa, the Middle East and other regions in the world. The"India strategy" is making remarkable results. SANY Indonesia sales approached 1.8 billion RMB, growing by 25% YoY. At present, there are over 500 SANY machines working in Qingshan Industrial Park, Jakarta-Bandung high-speed railway and Virtue Dragon nickel mine among others.
In the United States, SANY has made sales of nearly 800 million RMB, an increase of 84% YoY. Besides, it has made great progress in localization and product adaptability. SANY Europe realized an increase of more than 50%. In BAUMA this year in Germany, SANY launched 13 all-new excavators. In addition, SANY sales in Australia and Russia have risen by 67% and 100% respectively this year.
At present, SANY's concrete machinery ranks first in the world. The sales of SANY mining machinery are expected to top the world. Besides, SANY also takes the leading place in the industry in exporting piling machinery, truck-mounted hoisting machinery, and port machinery, etc.
Zhou Wanchun, Director of SANY Heavy Industry International headquarters, introduced SANY's international development strategic plan. According to the plan, SANY Group will focus on key markets to make breakthroughs, develop new products and channels, improve the level of digitalization and service, and strive to build SANY into a world-class leading enterprise in five years.
More than 400 representatives of SANY dealers from nearly 100 countries and regions, such as the United States, Germany, France, India, Kuwait, Thailand, Indonesia, etc., attended the Summit.
Link: 三一近3年复合增长率20% 今年销售收入或将破25亿美元