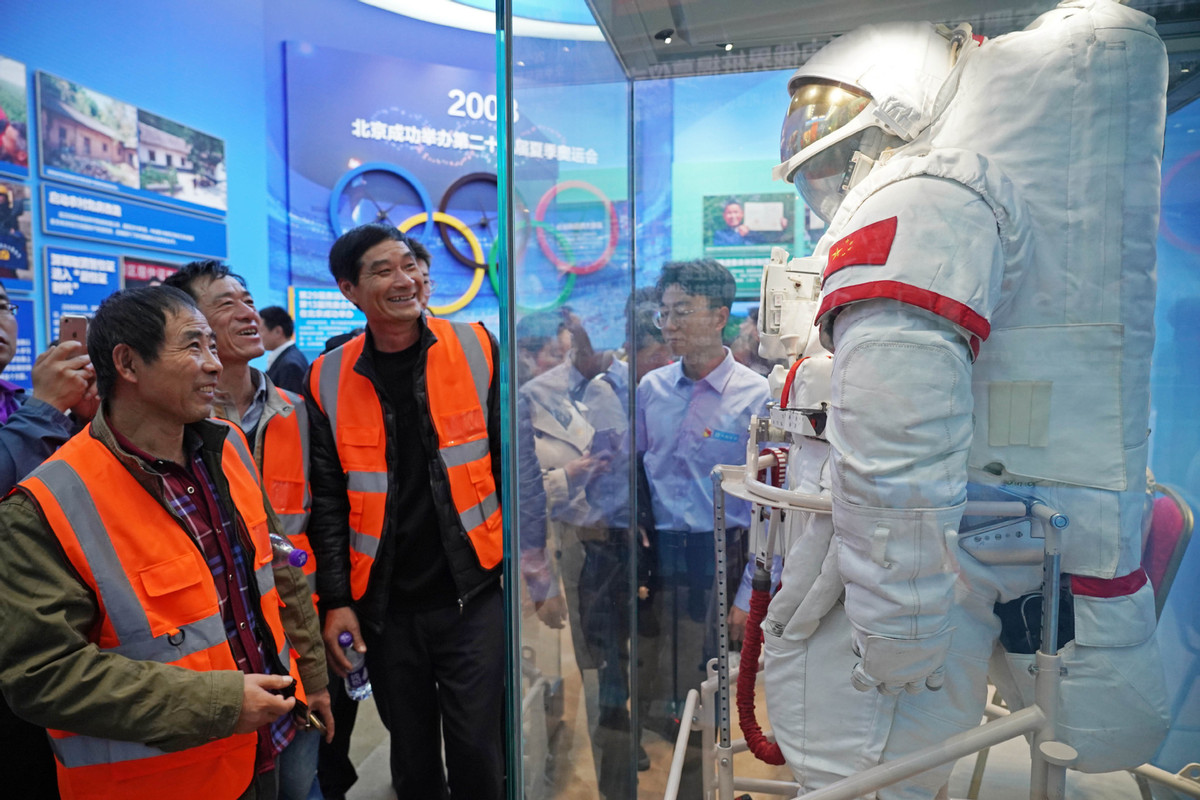 Visitors gather at the exhibition that marks the 70th anniversary of the founding of the People's Republic of China and shows many of China's science and tech achievements in Beijing on Oct 18, 2019. [Photo/Xinhua]
  BEIJING - Ms. Mao's mind started wandering into the past when she saw a green-clad Jiefang truck displayed in the vast Beijing exhibition hall.
  "When I graduated from college at the age of 21, I took a Jiefang truck from Nanchang (capital of East China's Jiangxi province), to other cities in Jiangxi for the internship," recalled Mao, who's in her 70s.
  The only alternative transport at the time was walking, but the truck still took two days to travel about 100 km across the rugged mountain roads.
  Produced from 1956, Jiefang trucks were the first domestically-made motor vehicles after the People's Republic of China was founded in 1949.
  The exhibition in Beijing, marking the 70th founding anniversary of the People's Republic of China, showcases many of China's scientific and technological breakthroughs.
  ON THE MOVE
  Jiang Zhen, 38, has also seen spectacular advances in transport.
  "When I went to college 20 years ago, I could only take a bus to Beijing from my hometown Dalian (Northeast China's Liaoning province), and it took a whole night. But with the high-speed train, the journey is only four and a half hours," said Jiang.
  China's rapid development of the domestic transport network now has railways and expressways extending to mountains, deserts, and plateaus.
  The Qinghai-Tibet Railway, the world's highest and longest plateau railway, was put into operation in 2006. During the construction, Chinese researchers and engineers overcame the challenges of permafrost, lack of oxygen and fragile ecology, achieving many technological breakthroughs.
  At the end of 2018, China's railway network totaled more than 131,000 km, and high-speed rail exceeded 29,000 km.
  Chinese researchers are still exploring transport possibilities for the future.
  This May, the high-speed maglev test train with a design speed of 600 km per hour rolled off the assembly line in Qingdao, East China's Shandong province.
  In May 2016, China's first medium-and-low speed maglev line with a design speed of 100 km per hour, fully supported by its own technology, started operation in Changsha, capital of Central China's Hunan province.
  By the end of this August, the Changsha maglev service had traveled a total of 3.07 million km and carried more than 10 million passengers.
  Compared with traditional subway trains, the maglev is quieter, cheaper and has more flexibility in route planning. Researchers are confident it could be an effective option for urban rail transit in the future.
  DEEPER INTO SPACE
  Jiang took her 10-year-old son and her parents to the exhibition. Her son, long accustomed to high-speed rail, showed more interest in the spacecraft.
  A series of prototype models -- "Dongfanghong-1," "Fengyun-1," "Shenzhou-1" and "Chang'e-1" -- recorded the constant development of China's aerospace industry.
  In 1970, the Dongfanghong-1 satellite was launched into orbit on the Long March-1 carrier rocket, making China the fifth country able to send a satellite into space independently.
  In front of the re-entry capsule of Shenzhou-1, volunteer guide Yang Wantao, an energy and power engineering major at Tsinghua University, was explaining the operation mechanism of the capsule.
  China's first unmanned experimental spacecraft, Shenzhou-1 was launched in 1999.
  "Visitors show great interest in its name and role. I tell them that it took seeds of green pepper, watermelon and tomato, and other crops into space, and verified the key technology and system design of the spacecraft," Yang said.
  In 2003, Shenzhou-5, China's first manned spacecraft took Yang Liwei into space.
  The name of Yang Liwei was deeply imprinted on the mind of Jiang's son. Obsessed with aerospace, he hopes to witness in person more of China's space explorations.
  In the past five decades, China has launched more than 200 spacecraft and made innovations in both unmanned and manned flight, as well as in-capsule experiments and spacewalking.
  "The exhibition is of great significance, especially for us who were born after 1990. It teaches us about China's development that we couldn't personally experience," said Yang Wantao.
  LIVING LONGER, SMARTER
  In front of the "1965" exhibition hall, a father was explaining to his child a complex but ordered molecular model of crystalline bovine insulin, which was first synthesized by Chinese scientists in 1965.
  As the world's first biologically active, synthesized crystalline protein, it represented a great stride forward in the quest to understand life and unveil its secrets, and ushered in the era of synthetic proteins.
  Medical breakthroughs, like the separation of chlamydia trachomatis, the discovery of artemisinin, as well as the cure of acute promyelocytic leukemia, were also on display with models, videos and augmented reality technology.
  Progress in medical science and the health insurance system have greatly improved China's healthcare, with average life expectancy rising from 35 in 1949 to 77 in 2018.
  The development of computer technology and artificial intelligence is leading to smarter living too.
  In a hall featuring a household of the future, the TV, air conditioner, refrigerator, induction cooker, and other electric appliances were all connected to and controlled by an intelligent central system. The appliance functions were projected onto the walls.
  Exhibition worker Xie Xin showed visitors the functions of a smart refrigerator: voice control, touch screen and automatic display of the expiration dates of food items.
  Other innovations developed independently in China included the 3D human body health tracker, a robot handling daily chores, a smart desk, and a driverless bus.
  "I have been retired for over 20 years," said Ms. Mao. "Having witnessed the rapid development of China's science and technology, I've experienced an increasingly better life."