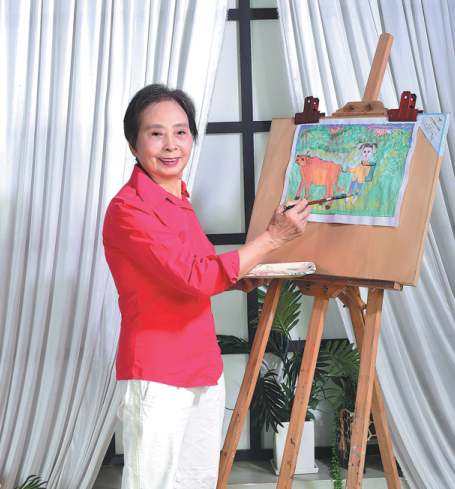 Yang Peilian paints at her home in Ningxiang, Hunan province. [Photo provided to China Daily]
  After learning to paint only five years ago, an 80-year-old retired village teacher had her artwork displayed at Beijing's renowned 798 Art Zone in September.
  Yang Peilian from Ningxiang, Hunan province, is self-taught, but her paintings in a naive style have received favorable comments from critics and professional painters.
  Du Dakai, professor of art and design at Tsinghua University, said that her work showed "heavenly" clarity along with childlike fun. Yan Xinyuan, a folk artist, said Yang's paintings display precise attention to depictions of daily life while maintaining a spiritual quality.
  Yang has produced about 300 oil paintings. She favors flowers, animals, childhood images, nature and scenes from fables as her subjects.
  "I am old and had no work to do after retirement. I had to do something to enrich my everyday life; that's the proper way to live," Yang said.
  Born into a large, poor family, Yang is one of the four girls and two boys. Her parents were farmers. Despite her impoverished upbringing, she received seven years' education and became a primary school teacher of literature and math and then a principal in her hometown.
  She had one girl, Liu Qunwei, and two boys. Liu teaches literature at Capital Normal University in Beijing. Yang's oldest son works in education in Changsha, Hunan, and her younger boy is a painter and designer.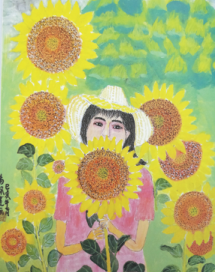 One of Yang's oil works. [Photo provided to China Daily]
  How it began
  For Yang's 70th birthday, her daughter gave her a computer as a gift. After learning how to use it, she began writing her autobiography which she later printed.
  In one section of the book, Yang struggled to describe a handmade mill. Instead, she drew a black and white illustration of the mill and included it on the page.
  Liu said: "I told my mother that if she couldn't explain it well in her writing, she could paint it. Reading and typing on a computer was also harming her eyes."
  Yang Peilian's first art work, the mill, didn't look so good without color. Once she filled it with color, she found her talent because she had "an excellent sense of color", Liu said.
  After that, Yang switched from the pen to the paintbrush, painting her favorite animals, scenery and scenes from her childhood.
  At the beginning of her life as an artist, she copied images of tigers shown in the TV show Animal World.
  In 2015, Yang painted a tiger walking down from a mountain and gave it to her husband, who was once very domineering.
  "He is just like the tiger who used to be strong but gradually loses his power," Yang said. "As he ages, he can no longer do anything harmful to me."
  Liu said Yang also learned animal composition by observing farm animals. Yang also drew on her childhood memories for inspiration, such as herding cattle or painting herself smiling in a field of sunflowers wearing a pink T-shirt and yellow and white hat.
  "When I was a child, I didn't have cosmetics or colorful clothes, which I loved a lot," Yang said.
  "I lived in a poor and remote village where people didn't know too much about beauty or art. So I won't say that I have talent, but what I will say is that my paintings are true and natural."
  Rising star
  In addition to her everyday imagery, Yang also likes to let her imagination take flight, painting babies in clouds and winged pigs in trees.
  Her talent was first noticed by her neighbors and relatives who wanted to buy her paintings to decorate their homes.
  However, they would only offer 100 yuan ($14) for a painting. Yang declined the offers, saying it took her a lot of time to complete the artworks. She said she would rather give them away than sell them at such a low price.
  Today, Yang only sells her work to people who appreciate her art, with smaller paintings fetching 5,000 yuan and larger works commanding up to 10,000 yuan.
  Last September, her paintings were discovered by Du, the professor from Tsinghua University, when he attended a gathering with Liu who showed him images of her mother's works stored on her phone.
  "Du was stunned by my mother's talent and said that even professional painters should learn from her," Liu said.
  "He also encouraged my mother to draw more. The exhibition at 798 was hosted by Professor Du."
  Yang has no plans to stop painting and intends to draw further on her childhood memories, even difficult ones.
  "I was born during the war years when bombers would come and attack my hometown," Yang said. "That's an unforgettable memory. I will paint my memories as long as I am healthy, and leave more treasures for my children."