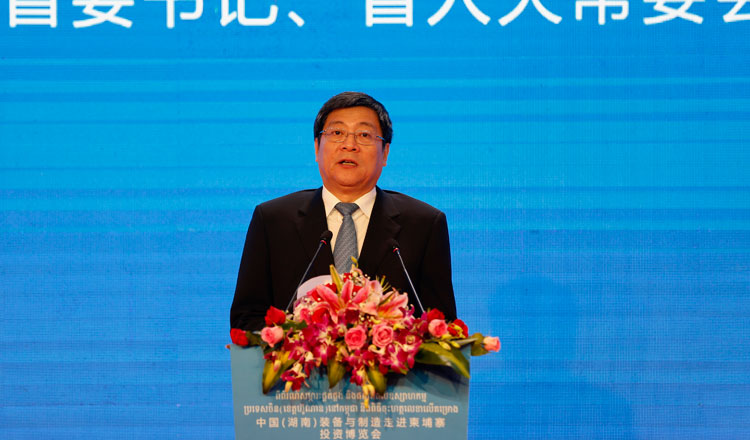 Du Jiahao, Secretary of the Community Party Committee of Hunan, led the delegation of Chinese businesspeople at the event yesterday. KT/Siv Channa
Companies from the Chinese province of Hunan met yesterday with local firms and public officials at an event aimed to boost trade between Cambodia and China.
Hundreds of company representatives from Hunan, in Central China, attended the Hunan Investment Promotion and Machinery Expo yesterday. The delegation was led by Du Jiahao, Secretary of the Community Party Committee of Hunan.
Speaking at the event, Cambodian Minister of Public Works and Transport Sun Chanthol said that the event was the perfect forum to connect businesses from Hunan and Cambodia, share information and seek investment opportunities.
"Peace, political and macroeconomic stability has helped build a strong relation between Cambodia and China. This relation was strengthened even further with the launch of the Belt and Road Initiative by China in 2013. The project has contributed enormously to the development of the Cambodian economy in recent years," Mr. Chanthol said.
He said China has become a major partner to Cambodia on trade, investment, and tourism since the launch of BRI.
Mr Chanthol pointed out that China was responsible for about 70 percent of all foreign direct investment flowing into the country last year.
"This is the result of the cooperation between the leaders of our countries," Mr Chanthol said.
By last year, China had provided $2.8 billion worth of soft loans to Cambodia to build infrastructure, particularly roads, bridges, and ports, he said.
"The Belt and Road Initiative and the establishment of the Asian Investment and Infrastructure Bank, of which Cambodia is also a founding member, have also supported the development of hydroelectric dams, ports, and special economic zones in Cambodia," the Cambodian minister noted.
Mr Du also highlighted the role the BRI has been playing in the promotion of cooperation between Cambodia and China and in enhancing the flow of investment from Hunan to the Kingdom.
He said there are 37 companies from Hunan investing in Cambodia, accounting for a total capital investment of about $500 million. More than 30,000 people from Hunan are working in Cambodia.
Mr. Du noted that Hunan companies attending yesterday's event were mostly interested in investments in manufacturing, agriculture, and tourism.
Wang Wentian, Chinese Ambassador to Cambodia, said the event will encourage more Chinese investors to consider Cambodia.
"The event today is the result of cooperation between the two countries and serves as an important platform to encourage Chinese enterprises from Hunan to cooperate with Cambodia," Mr. Wang said.
"I firmly believe that, because of this event, more investors from China will consider Cambodia as an investment destination."
The expo ended with a signing ceremony for several memoranda of understanding to boost cooperation between the government and the private sector.
Bilateral trade between Cambodia and China last year totaled $6.6 billion, up from $5.5 billion in 2017.