HNCEG has completed major developments across the continent
  Hunan Construction Engineering Group has become a major force in Chinese foreign aid projects in Africa, thanks to its remarkable assets in design and construction.
  Founded in 1952 in Central China's Hunan province, the State-owned enterprise, also known as HNCEG, is estimated to have industrial value worth 100 billion yuan ($14.21 billion).
  The group specializes in design, engineering investment and construction operations.
  In 2016, the company began building a wrestling competition venue in Senegal, one of China's largest projects of its kind in the country.
  Located on the outskirts of Dakar, capital of Senegal, the wrestling ground was completed in 2018 and is the first modern wrestling stadium in Africa. It covers an area of 18,000 square meters and is designed to seat 20,000 people.
  Senegal native Amadou Cisse, 53, joined the construction project in 2016.
  He said he was proud to take part in the construction of the long-awaited venue and was moved by Chinese people who taught locals technical expertise.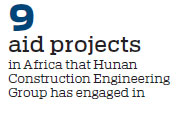 During the construction period, HNCEG also launched a series of charitable activities offering necessities and cash donations to disadvantaged households, helping local communities to improve facilities and building children's soccer grounds for local schools.
  Ye Xinping, chairman of HNCEG, said the group attaches equal importance to economic and social benefits in the construction of its projects.
  HNCEG also insists on providing one-to-one technical guidance to local staff members in a bid to improve their abilities in operation and management, Ye said.
  The wrestling competition venue project won Ye the National Order of the Lion, a distinguished award for the group's contribution to Senegal.
  It is an honor to demonstrate HNCEG's efforts in expanding in overseas markets and its active participation in the construction of the Belt and Road Initiative, the group said.
  In September, the presidential palace in Burundi was officially opened, which is another landmark completed by HNCEG in Africa.
  The project was the biggest Chinese foreign aid project in Burundi at a total cost of 147 million yuan, according to the group.
  HNCEG said it used materials that comply with China's implementation standards and organized training for new employees on the project.
  In addition, the project created more than 300 job opportunities for locals, according to the group.
  To date, HNCEG has engaged in nine foreign aid projects in Africa worth 896 million yuan. It has also participated in six international engineering, procurement and construction projects with contracts worth 820 million yuan.
  The group said it has realized an annual output value of more than 200 billion yuan.
  It has been listed among the top 500 Chinese enterprises for 15 straight years, and has won 104 Luban Prizes over the past 19 consecutive years. The prize is China's top award in the construction industry.
  In 2018, the group ranked 211th on a list of top 250 international contractors.
  The rankings were released by Engineering News-Record, a United States-based weekly magazine focusing on the construction industry.
  In October, the group held the inauguration ceremony for a new engineering subsidiary, marking the group's move into building port infrastructure.
  "In the next five years, we will implement a strategic development plan focusing on innovation, transformation and upgrades," Ye said.
  "To enter the list of Fortune Global 500 companies in the sector, the company will improve its efficiency and development quality to become an integrated service provider covering sectors including design, consultancy, financing, construction, operation and maintenance," he said.
  Wu Hao contributed to this story.
  liangkaiyan@chinadaily.com.cn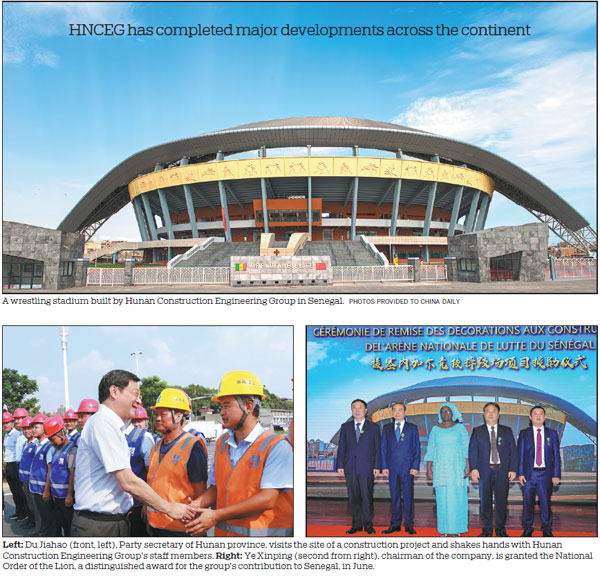 (China Daily Global 11/28/2019 page7)