Rural folk earn extra income from the nighttime show about fictional idyllic setting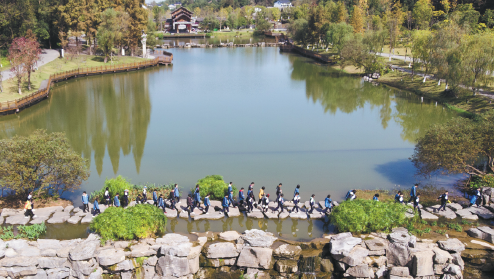 By offering visitors idyllic rural scenery and a live-action show, Taohuayuan Scenic Area in Changde, Hunan province, has become a popular tourist attraction. [Photo/Xinhua]
  The only instruction shepherd Liu Mingxiang received after starting his new job as a part-time performer was "be yourself".
  Up to four times an evening, Liu and his son herd goats along the riverbank in Changde, Hunan province, in 1-minute "performances" not much different from what they do for work during the daytime.
  Liu earns only 9,000 yuan ($1,280) a year from working as a shepherd. But by moonlighting in the live-action show about life in an ancient paradise called Peach Blossom Garden, the family makes an additional 44,000 yuan in annual income.
  "Without having to learn how to act, I just needed to be myself-a shepherd-and it lifted me out of poverty," the 52-year-old Liu said.
  Peach Blossom Garden, or Taohuayuan, is based on the writings of Tao Yuanming, an illustrious poet during the Jin Dynasty (265-420), who described a secluded land, where people led an idyllic existence removed from wars and turmoil.
  Though the story did not mention the location of Taohuayuan, Changde claimed it as its own by building a resort carrying the name, and staging 70-minute performances where the poet's dreamland comes to life.
  To provide audiences with an "authentic experience", 95 percent of the troupe's 360 cast members are local farmers, said Zhang Jianfeng, general manager of the company that arranges the performances.
  There is no actual show with a storyline. Villagers gather on the riverbank in the evening with their goats, horses, cormorants, ducks and chickens. As boats carrying the audience pass by, some villagers cast nets from fishing boats and others drive a large flock of ducks into the river.
  "Performers only need to be present here during the show, and for the rest of the day, they can do their farmwork," Zhang said.
  Every three months, 10 percent of the performers are changed so more locals can benefit from payments, Zhang said. Since it began in 2017, a total of 645 shows have been staged, employing more than 1,200 people and lifting 100 households out of poverty.
  Gao Liping had been struggling to make ends meet after losing his job at a construction site due to his deteriorating eyesight. The show offered him a role as a bespectacled rural teacher.
  "I really hope the shows can go on for as long as possible, as it provides much-needed income for people like me," said Gao, who earns 1,580 yuan every month from the shows.
  Some villagers see the performance as more than a source of extra money. Wen Guohua, who wears a bamboo hat and straw sandals in the show performing as an animal wrangler and fireworks lighter, said he once aspired to be a movie star like Bruce Lee or Jackie Chan.
  "Though my show time is only two minutes, I've spent a lot of time thinking how to make my rendition more convincing," the 51-year-old farmer said.
  To guarantee the riverside show is undisturbed by floods or drought, the municipal government is moving the construction of a dam 200 meters downstream to ensure safe water levels.
  The case of Taohuayuan is just a small part of China's anti-poverty campaign, which lifted 82.39 million rural residents out of poverty from 2013 to last year, roughly equivalent to the population of Germany.
  With the goal of eradicating absolute poverty before 2021, grassroots wisdom and unique approaches have taken root across the country after the government encouraged targeted poverty alleviation programs suited to local circumstances.
  Liu said with the extra income, coupled with a government subsidy, he built a new 90-square-meter house in August. "This is something I could hardly imagine before working in Taohuayuan," he said.
  Changde's tourism industry has also received a boost thanks to the performances. Last year, the resort received over 2.1 million visitors and reaped tourism revenue of over 820 million yuan.
  "More city folks are yearning for a return to a more idyllic and natural life, which makes us realize the vast poverty-reduction potential in rural show business," Zhang said.
  "We are expanding the river theater into a larger pastoral one, so we can provide positions for more villagers in the future."