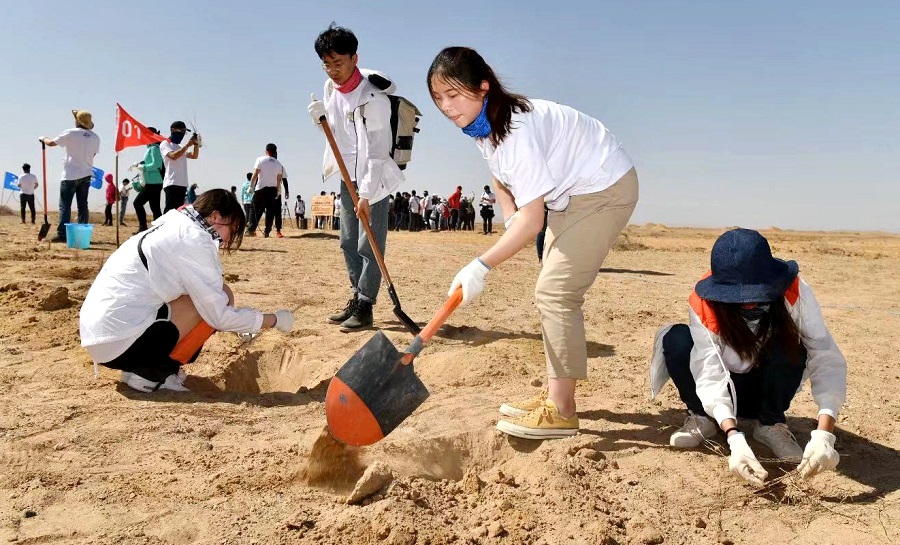 Volunteers plant trees during a charity activity in a desert in Gansu province in April. CHINA DAILY
  Yang Yuanqiang experienced pain and discomfort from infections after his body rejected a lung transplant. However, he was quickly overjoyed by the kindness of strangers.
  In March, more than 300,000 yuan ($42,000) was raised for the 63-year-old by nearly 5,000 people via Fun in Funding, an online fundraising platform.
  Since it was established in 2014, the platform has helped more than 2.5 million families by raising over 25 billion yuan for medical treatment, its website said.
  Philanthropy in China is expanding and evolving rapidly, with domestic donations quadrupling from 2009 to 2017 to reach $23.4 billion, according to a recent report by the Asian Venture Philanthropy Network, a social investor platform in Singapore.
  Charity has long been embedded in traditional Chinese culture.
  However, according to the Philanthropy in China report, donations have soared since 2008, when a magnitude 8 earthquake hit Sichuan province.
  Private wealth
  As China shifts its economic structure and accelerates development, the accumulation of private wealth has boosted philanthropy nationwide.
  Donations by the super-rich are vital for the country's charity sector, as bequests from private individuals dominate its growth, the report said.
  From April 1, 2017 to March 31 last year, China's top 100 philanthropists donated $3.3 billion, up by 33 percent from the previous year, according to the Hurun Philanthropy List 2018.
  The notion of generosity has long been instilled in the Chinese mindset, and in addition to tycoons, regular individuals are making vital contributions.
  Last year, more than 21,000 pieces of information related to fundraising were published on 20 registered online platforms, attracting more than 8.46 billion clicks and reads, according to the Ministry of Civil Affairs.
  Meanwhile, Charity in China, an official information disclosure platform for charitable organizations, estimates that the country has more than 5,200 registered charitable institutions.
  Improved ecosystem
  As charitable causes proliferate, an improved ecosystem for philanthropy is becoming more important.
  The Charity Law, which came onto the statute books in 2016, has been effective in the formalization and professionalization of philanthropy, according to the report. The law also provides guidelines for organizations to clarify charitable status, and increases transparency by requiring them to disclose information.
  Tencent, which has a major online fundraising foundation, has established a public organization to verify and supervise the platform, according to Zhai Hongxin, secretary-general of the Tencent Foundation. The public even has access to annual reports and financial reports on the platform.
  Chen Yidan, who launched the foundation, said: "China has entered a golden era of philanthropy. The environment is good for the development of donations, as the country has continuously improved related laws and regulations."
  Technology
  China's strength in science and technology is also driving the rise in charitable donations.
  Cutting-edge technologies, such as artificial intelligence, are making philanthropic donations easier and more diverse than ever.
  For example, Alipay users can join a range of philanthropic activities, including donating secondhand items or blood, and planting trees.
  More than 55 million trees have been planted by over 400 million people through an online charitable activity initiated by Alipay, according to Ming Hongwei, from Alibaba's Social Philanthropy Department.
  In 2016, the first blockchain philanthropy program was officially launched on the Alipay Philanthropy platform, making fundraising twice as efficient as before, Ming said.
  However, Yang Fangfang, professor at Xiamen University's School of Public Affairs in Fujian province, said fundraising platforms need to be operated more professionally and stronger controls and credit systems are still needed.
  "Online fundraising platforms should improve their supervisory mechanisms and professional operations, and collaboration between platforms should be strengthened to manage and prevent crises affecting public trust," Yang Fangfang said.
  Chen, from the Tencent Foundation, said, "With more and more young people paying attention to donations, philanthropy has become a lifestyle and culture in China."