Yang seeks help from a passerby while looking for an address on a rainy day. [Photo by Huang Yaping for Chinadaily.com.cn]
  Although deaf, Yang Tao is among the top five for being punctual, positive feedback and the high delivery volume among over 50 workers at the Weilaicheng Meituan food deliveray station in Changsha, Hunan province, Sanxiang City Express reported on Tuesday.
  Due to his weak hearing, Yang depends on mobile navigation to reach his destinations. Smiling, nodding, gestures and typing on his mobile phone are the main ways he communicates with people.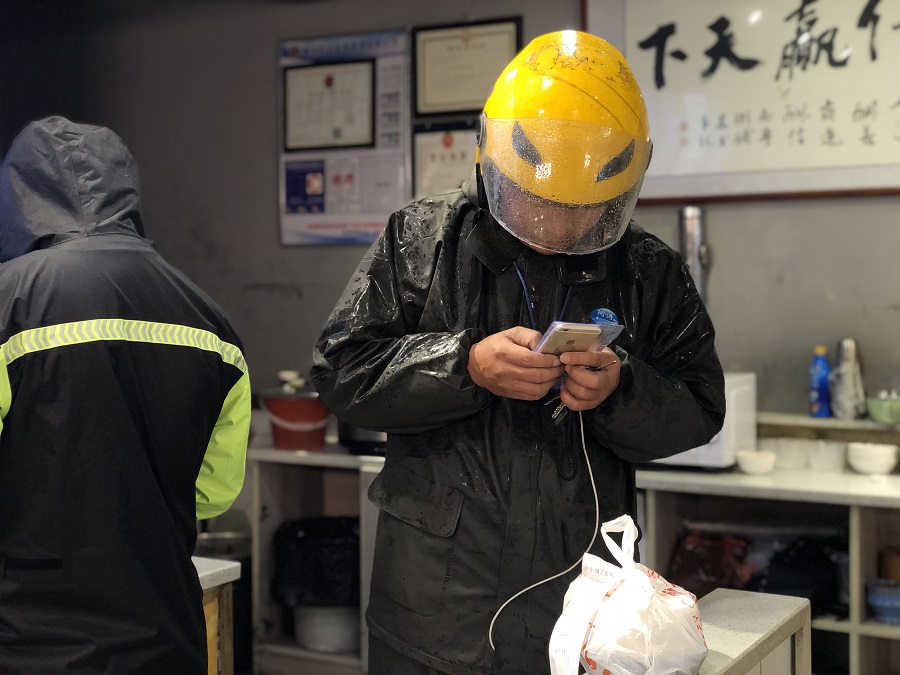 Yang Tao looks for the meal he needs to deliver at a restaurant. [Photo by Huang Yaping/chinadaily.com.cn]
  When he has no orders to deliver, Yang walks around the area where he delivers food to get familiar with each route.
  After a day's work, Yang prefers to video call his girlfriend. He now has around six-digits of deposits in Chinese renminbi at banks, he said proudly.
  His dream is to buy a house, settle down with his girlfriend in Changsha, and work hard together for their future.