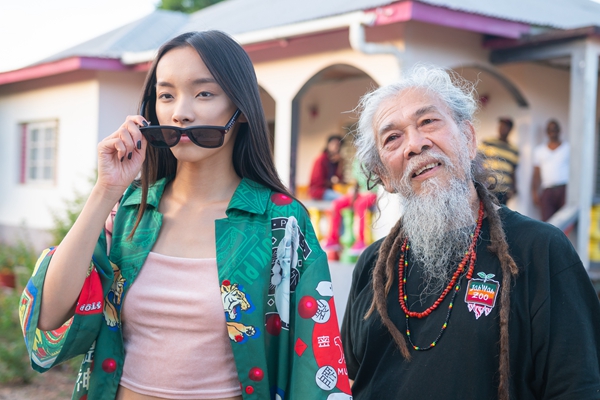 Chinese singer-songwriter Liu Boxin (left) is featured in an episode investigating the appeal of dreadlocks and reggae music culture.[Photo provided to China Daily]
  Master documentary maker switches from food to young people as he offers an appetizing glimpse of an evolving culture that is setting a trend, Chen Nan reports.
  A master documentary maker of food, and the culture surrounding it, Zhu Lexian's appetite for change has been whetted by the tempting menu of highlighting youth trends.
  A veteran producer of more than two decades, Zhu's documentaries, such as A Bite of China, a popular Chinese food program on China Central Television, and Once Upon a Bite, streamed by online platform Tencent Video, have gone beyond a core audience to offer a taste not just of cuisine but of contemporary society.
  Now it's time for a new morsel.
  Zhu took up a position as the head of the documentary studio at Tencent Penguin Pictures and opted to serve up a different subject for viewers to digest.
  After more than a year of preparation and filming, Zhu produced an eight-episode documentary series, Generational Gravity, which premiered on Tencent Video on Nov 28.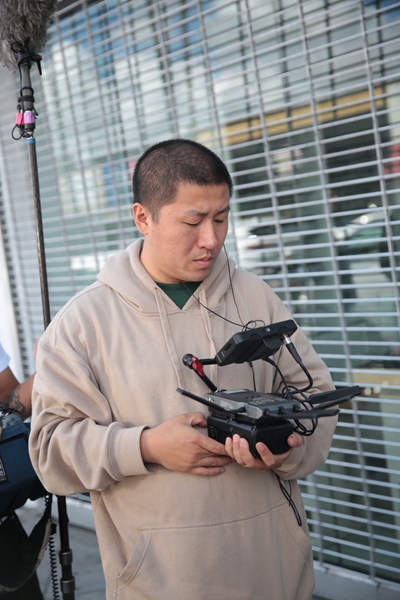 Sun Yu, director of the first two episodes on street culture of the documentary series, Generational Gravity.[Photo provided to China Daily]
  The first episode received in excess of 2.3 million views for its premiere.
  The number of daily views of related posts among Sina Weibo's trending topics has reached over 56 million.
  Featuring young people from 11 countries, the documentary has four key subjects of interest to the global young generation-street culture, beauty and makeup, hair styles and party culture.
  It targets, in general, those who were born after 1990 and after 2000 in particular.
  "I am not a trend follower so it's a hard topic for me," says Zhu, who graduated from the Communication University of China with a major in radio and television journalism in 1996.
  "But I am very interested in the younger generation, not only Chinese but also young people from around the world.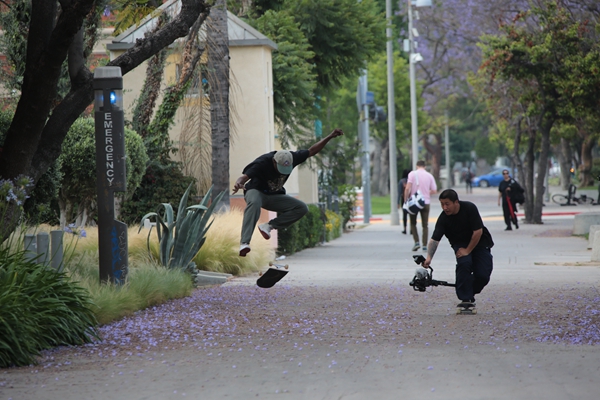 Director Sun Yu filming skateboarders in Los Angeles.[Photo provided to China Daily]
  "We've noticed that more and more young people, despite different cultural backgrounds, embrace and share similar lifestyles. We want to put those people on screen to speak for their generation."
  The first episode of Generational Gravityfocuses on a diverse group of young people in Los Angeles, the United States.
  One is singer-designer Victor Ma, 23, who was born in New York and rose to fame after coming second in the hit Chinese reality show,The Coming One, in 2017.
  "Many fashion brands, which are embraced by young people across the world, started by catering to the skateboarding and hip-hop cultures," says Ma in the show. "Let's start with exploring Los Angeles."
  Ma knows the city's culture as he attended high school there and fell in love with hip-hop culture.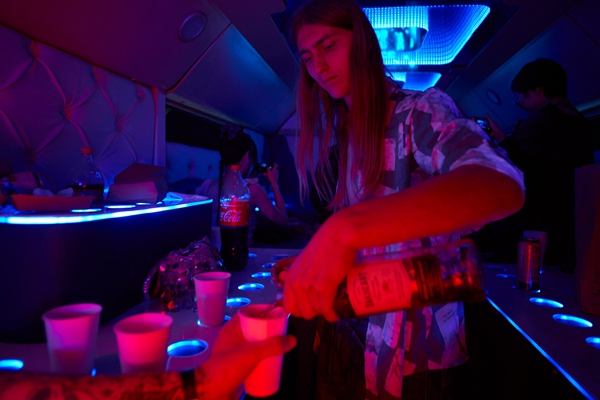 A scene from the episode that highlights young people's party culture.[Photo provided to China Daily]
  Many iconic places in the city are featured in the show, such as Fairfax Avenue, known for trendy streetwear stores, and the Santa Monica Courthouse, an iconic skateboarding location.
  Sun Yu, director of the first two episodes on street culture, says: "You can see lots of young people lean against the walls and snap photos of their outfits to post on Instagram while waiting for hours outside the shops to buy clothes and shoes. It's a scene which you could also see in Beijing. "The same pair of shoes could be popular both in Los Angeles and in Beijing. It's an inevitable evolution of the world, having a new generation of young people declaring their identity and living a lifestyle through street culture."
  Born and raised in Beijing, Sun, 32, grew up listening to hip-hop music and is a big fan of H.O.T., a South Korean boy band.
  He wears loose pants, sneakers and hoodies like any other trendy young person walking the streets of the capital.
  It is not the first time that Sun has turned his camera on street culture. Last year, he directed a 13-episode documentary, Only Street Dance, covering the art form in Guangzhou, Guangdong province; Chengdu, Sichuan province; Shanghai and Beijing.
  |<>|
[NextPage]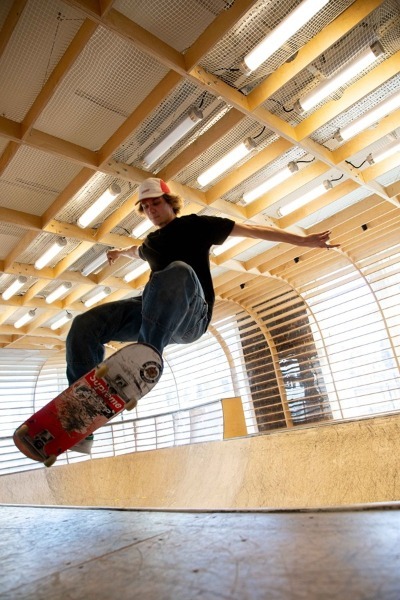 An American youngster displays his skateboarding skills on the streets of Los Angeles.[Photo provided to China Daily]
  In Generational Gravity, he features a number of skateboarders, who helped build a thriving and vibrant skate scene, including Hu Tianyou, a professional skateboarder and fashion brand owner; Raph Cooper, co-owner of a Beijing-based company, Society Skateboards; and Xia Jiahuan, a co-founder of SoleStage, a leading limited-edition sneaker reseller.
  Xia says in the show: "I made about 100,000 yuan ($14,207) a month by selling limited-edition sneakers when I was a freshman. It is a culture, which is crazy."
  He co-launched the sneaker reselling brand in 2013 with two friends who shared a passion for athletic shoes. They began their shoe collections in their teens, and later were fired up with entrepreneurial zeal when they realized how profitable it could be.
  The depiction of youth trends has attracted many.
  One viewer, nicknamed Xiaoyu, comments on Sina Weibo: "It's a true, uplifting portrait of youth culture. In many ways, I learned about the notion of 'youth culture' although I am not a big fan of sneakers."
  The Chinese singer-songwriter Liu Boxin, who is also known as Lexie onstage, was featured in the episodes, directed by Emmy-nominated director Christine Yuan, exploring reggae culture, from music to dreadlocks.
  The 20-year-old Liu, who was born in Changsha, Hunan province, visited Shanghai, New York and Los Angeles while filming the show.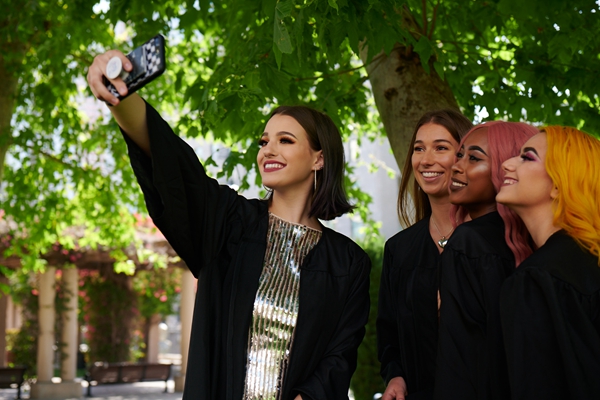 A scene from the episode focusing on beauty and makeup trends among the young women around the world.[Photo provided to China Daily]
  She is one of the five celebrity guests invited to participate in the program. Other guests are Victor Ma and Hu Tianyou, crossover model Wu Jiaye, and model-singer Zhu Jingxi.
  Liu recalls: "I went to some old-school barber shops in Shanghai, where older people go. It offers me a different side to a metropolis that is generally considered modern and international."
  Together with the documentary production team Liu also went to Tokyo and Jamaica during the shooting of the episodes featuring reggae culture.
  When she arrived in Tokyo, Liu met and talked with people sporting dreadlocks.
  Then she flew to Jamaica to explore the appeal of dreadlocks which are universally identified with Jamaica and reggae culture.
  The people she met in Jamaica were warm and friendly, making her feel at ease and reassured.
  "We went to a party, which was held in a shabby garage. We danced with local people and I also sang together with local reggae musicians, which was fun," she says.
  "Despite cultural differences, we shared fun moments together."