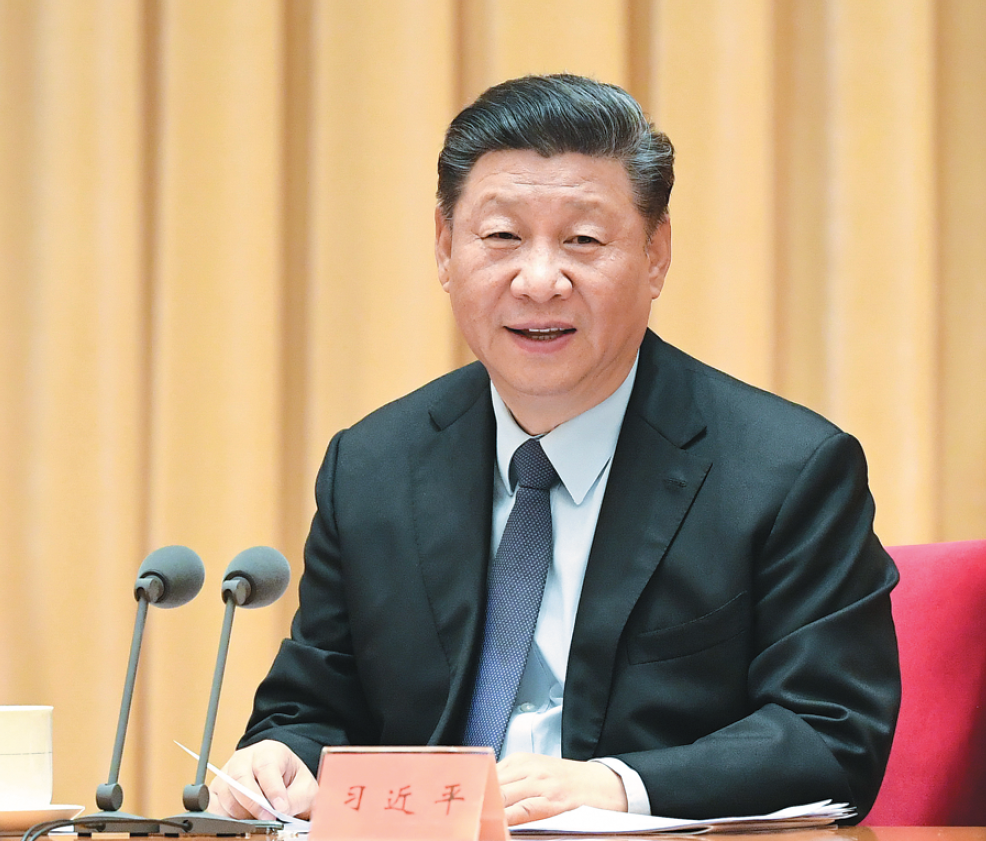 President Xi Jinping addresses the Central Economic Work Conference in Beijing. The conference was held from Tuesday to Thursday. [RAO AIMIN / XINHUA]
  Xi outlines main tasks as annual work conference emphasizes meeting goals
  The country will focus on economic stability in 2020, maintaining its proactive fiscal policy and prudent monetary policy to ensure high-quality growth, a statement issued after the annual Central Economic Work Conference said on Thursday.
  Xi Jinping, general secretary of the Communist Party of China Central Committee, Chinese president and chairman of the Central Military Commission, reviewed the country's economic work in 2019, analyzed the current situation and outlined key tasks for 2020 during the three-day meeting held in Beijing that started on Tuesday.
  Next year will be the last year of China's 13th Five-Year Plan (2016-20), through which the country plans to build a moderately prosperous society in all respects. It leads to the beginning of the 14th Five-Year Plan (2021-25), so performing economic work well is crucially important.
  The statement listed several key areas for next year, such as improving high-quality development, ensuring the poverty alleviation target can be achieved on time, maintaining a stable macroeconomic leverage level, producing a three-year reform plan for State-owned enterprises and stabilizing employment. All measures should ensure that economic growth stays within a reasonable range.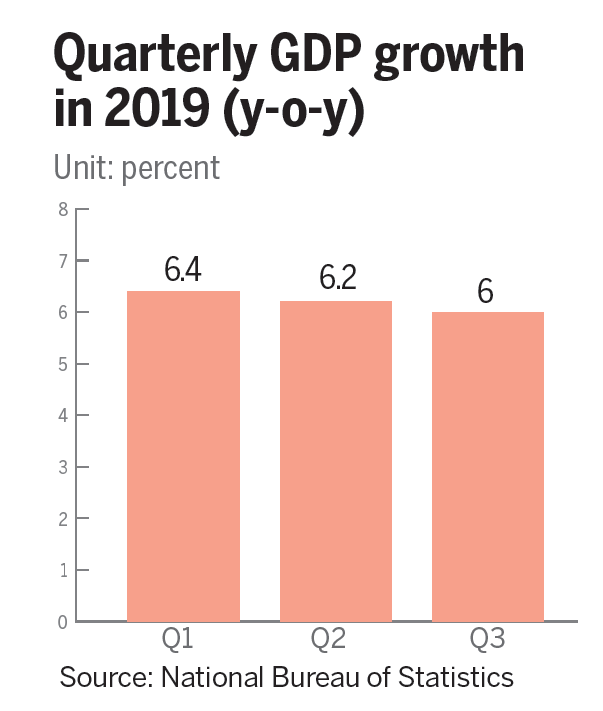 Source: National Bureau of Statistics. [Photo/China Daily]
  Economists predicted that GDP growth this year will be stabilized at above 6 percent, but it may drop below 6 percent in some quarters next year in light of China-US trade disputes and other external headwinds.
  China's economy expanded slower in 2019, as GDP growth fell from 6.4 percent year-on-year in the first quarter to 6 percent in the third, while it registered 6.6 percent annual growth in 2018.
  Some experts expected the government to adjust next year's economic growth target to "around 6 percent", compared with "between 6 to 6.5 percent" in 2019.
  Policymakers are concerned about further downward pressure from exports as there was widespread evidence of front-loading of exports until October, according to Goldman Sachs economist Maggie Wei and her research team. Researchers expected the government to act to boost growth and accelerate infrastructure construction.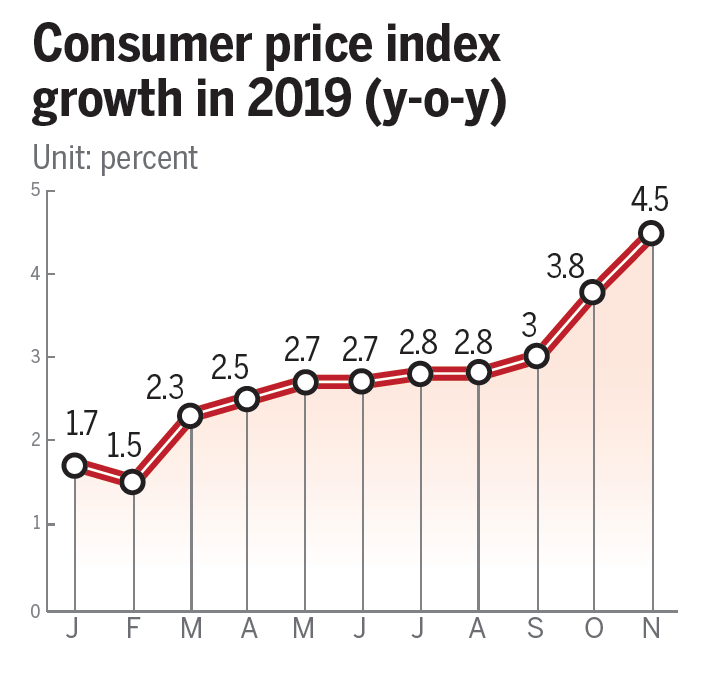 Source: National Bureau of Statistics. [Photo/China Daily]
  "Continuous enhancements in the quality of growth are enabling economic prosperity in the long run," said Cheng Shi, managing director and chief economist at ICBC International Holdings.
  Productivity is rising amid stepped-up efforts to reform economic institutions and advance technological progress. In addition, consumption expansion is showing resilience despite slower growth as more balanced income distribution and better social security policies are unlocking consumption potential, Cheng said.
  The meeting emphasized continual implementation of proactive fiscal policy and prudent monetary policy, and economic adjustments will be more forward-looking, targeted and effective.
  Lou Feipeng, a senior economist at the Postal Savings Bank of China, said that the stability of macro policy means monetary policy will not adopt the "flood irrigation type of easing".
  While generally staying steady and neutral, monetary policy will be more flexible and efficient to transfer more funds into manufacturing, infrastructure and small and micro enterprises, Lou said.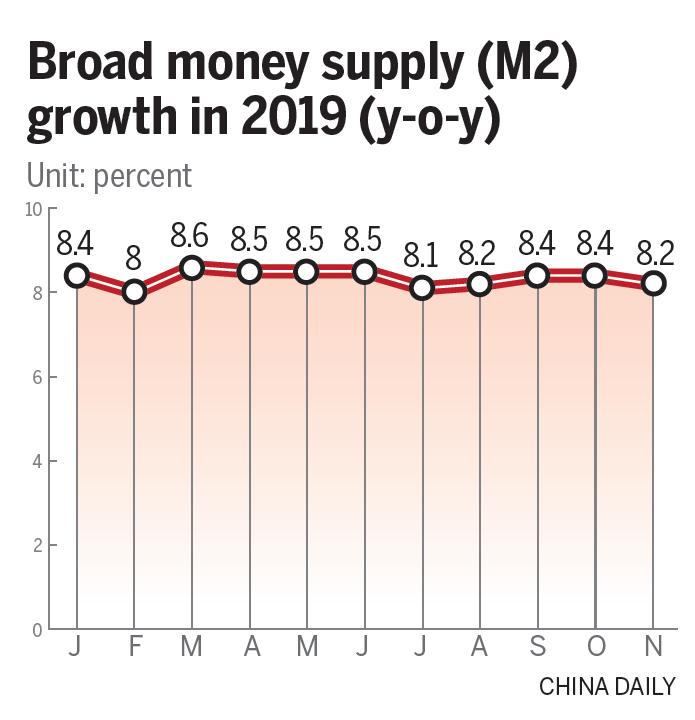 Source: National Bureau of Statistics. [Photo/China Daily]
  In fiscal policy, the government needs to reduce general administrative expenditures but ensure sufficient spending in key areas, the meeting's statement said.
  Prudent monetary policy should be flexible and appropriate, along with reasonable and adaptive liquidity. The growth of credit and total social financing, a broader measure of financing to the real economy, should be in line with the pace of economic development.
  The high-level meeting also urged improvement in the legal environment for private enterprises and in the policy framework for supporting development of small and medium-sized enterprises.
  Commercial banks, especially small and medium-sized ones, should replenish capital to ensure sufficient lending to the real economy, said Lou.
  Some regional credit risks should be watched, Lou added, to maintain financial stability and prevent systemic risks.