长沙市通泰街的一个地方,铁架上、树枝上挂了很多还没熏制的肉、鱼、鸡,路过的行人,总要驻足看看,把它们当作一道风景来欣赏。(图、文/阿信)
Many meat, fish, and chicken are hanged on the iron racks and branches which have not been smoked yet, in Tongtai street in Changsha city. Many passersby stop to enjoy the average scenery of old days of citizens in Changsha.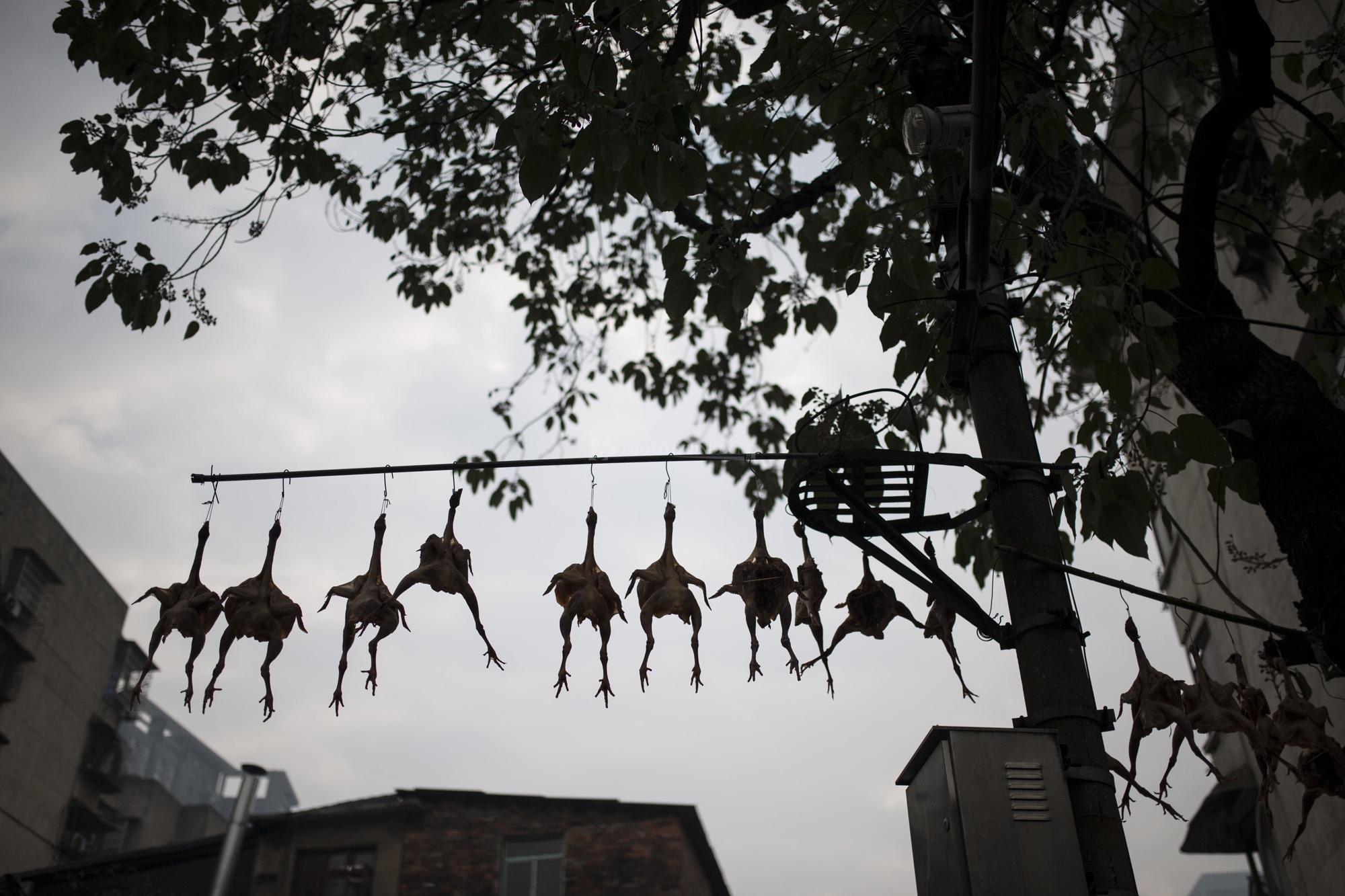 2019年12月15日下午,尽管天空灰蒙蒙,几乎没有太阳,架子上、树上还是晒了很多肉、鱼、鸡。
Many meat, fish, and chickens are hanged for drying on shelves and the branches of trees, even it is a cloudy day on December 15.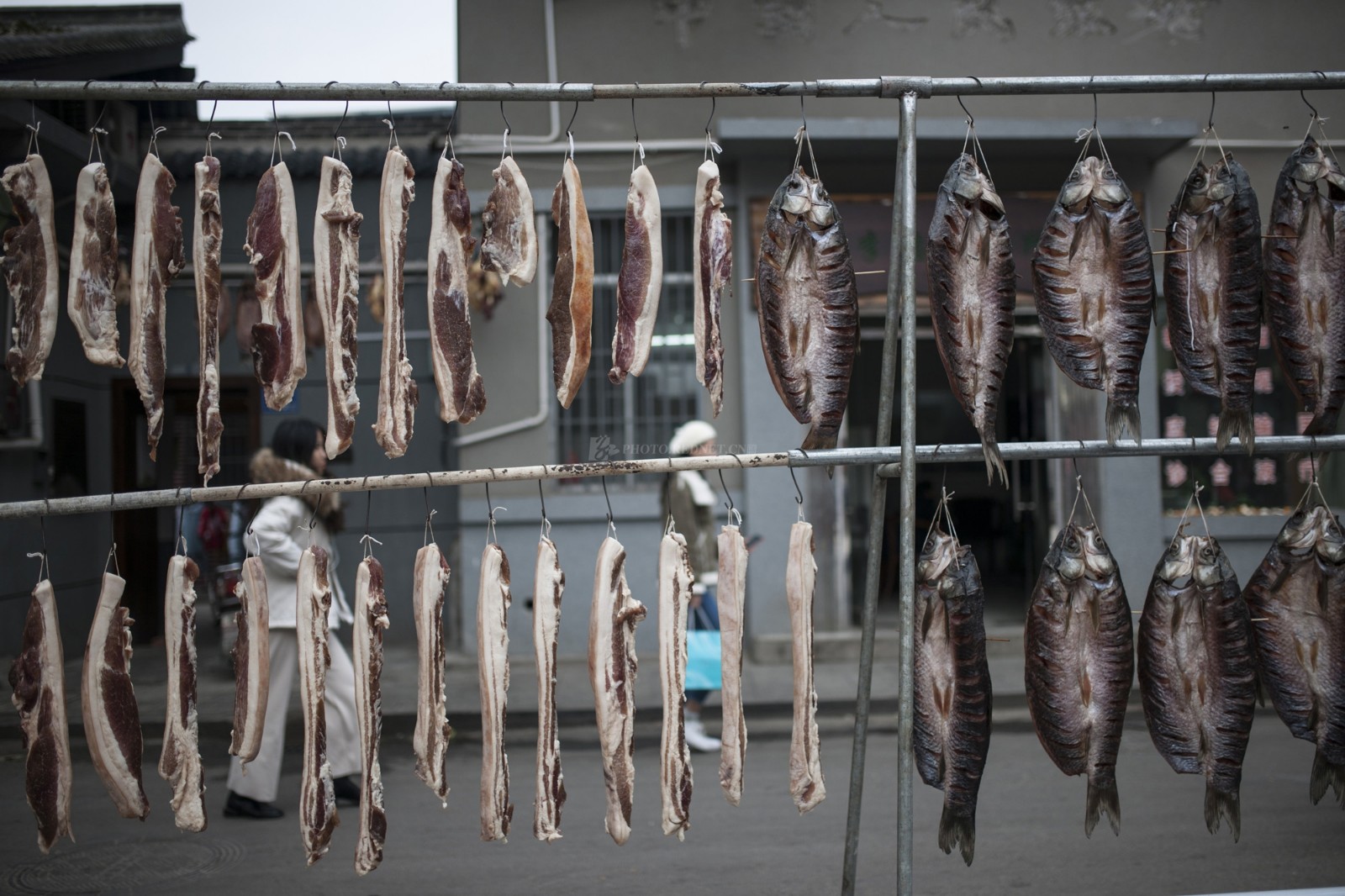 做腊制品,在熏前,必须晒干。
Cured products must be dried before they are smoked.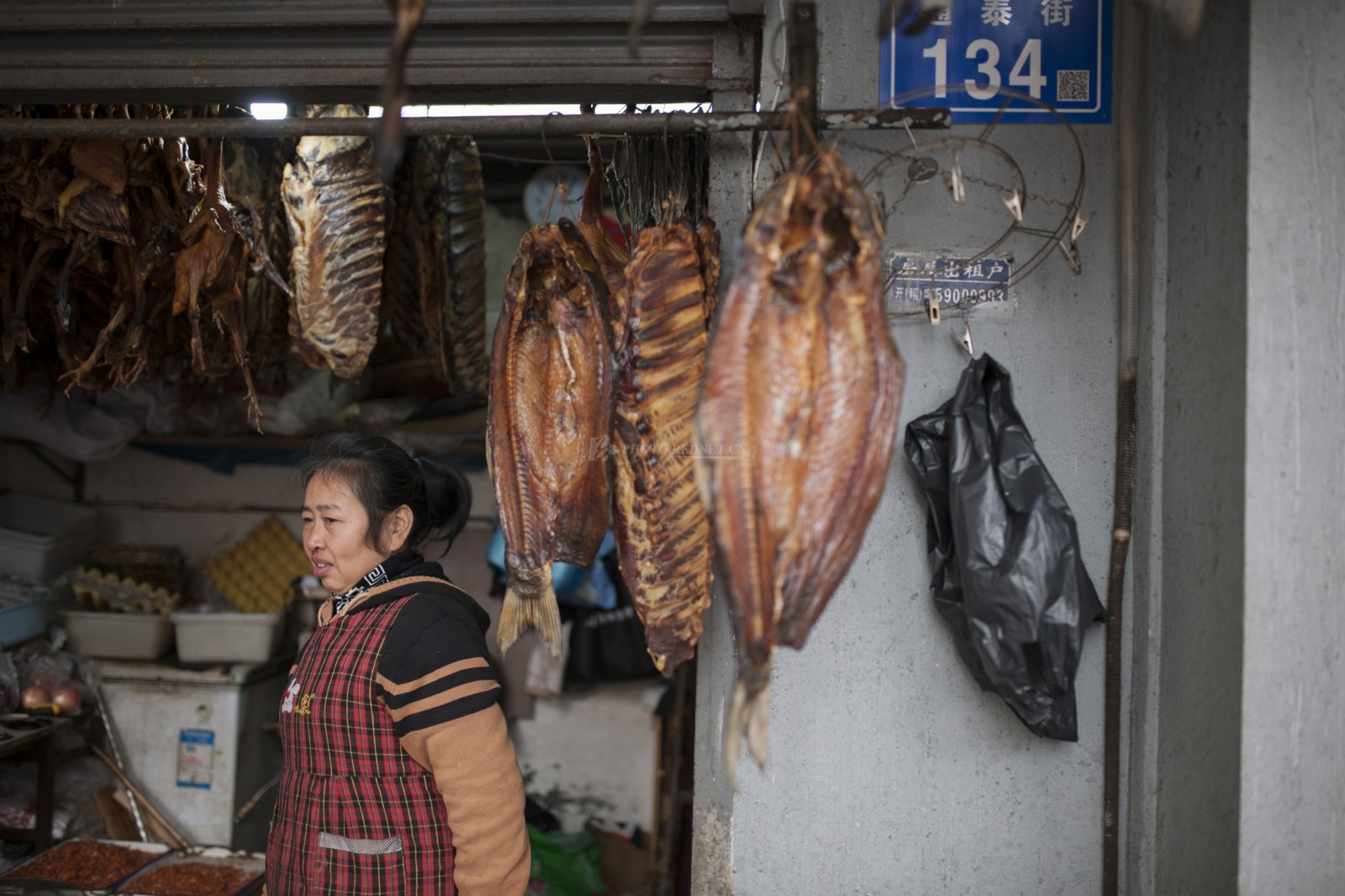 原来,这是134号腊味店老板晒的。这是一个开了20年的腊味店。经营这家店的是一对来自湖北监利的夫妻,男的叫王永红,女的叫黎新军。
These chicken, meat, and fish are cured by the bacon shop of #134 on Tongtai street. It is a preserved food shop that has been open for 20 years. The shop is run by Wang Yonghong and Li Xinjun, a couple, from Jianli of Hubei Province.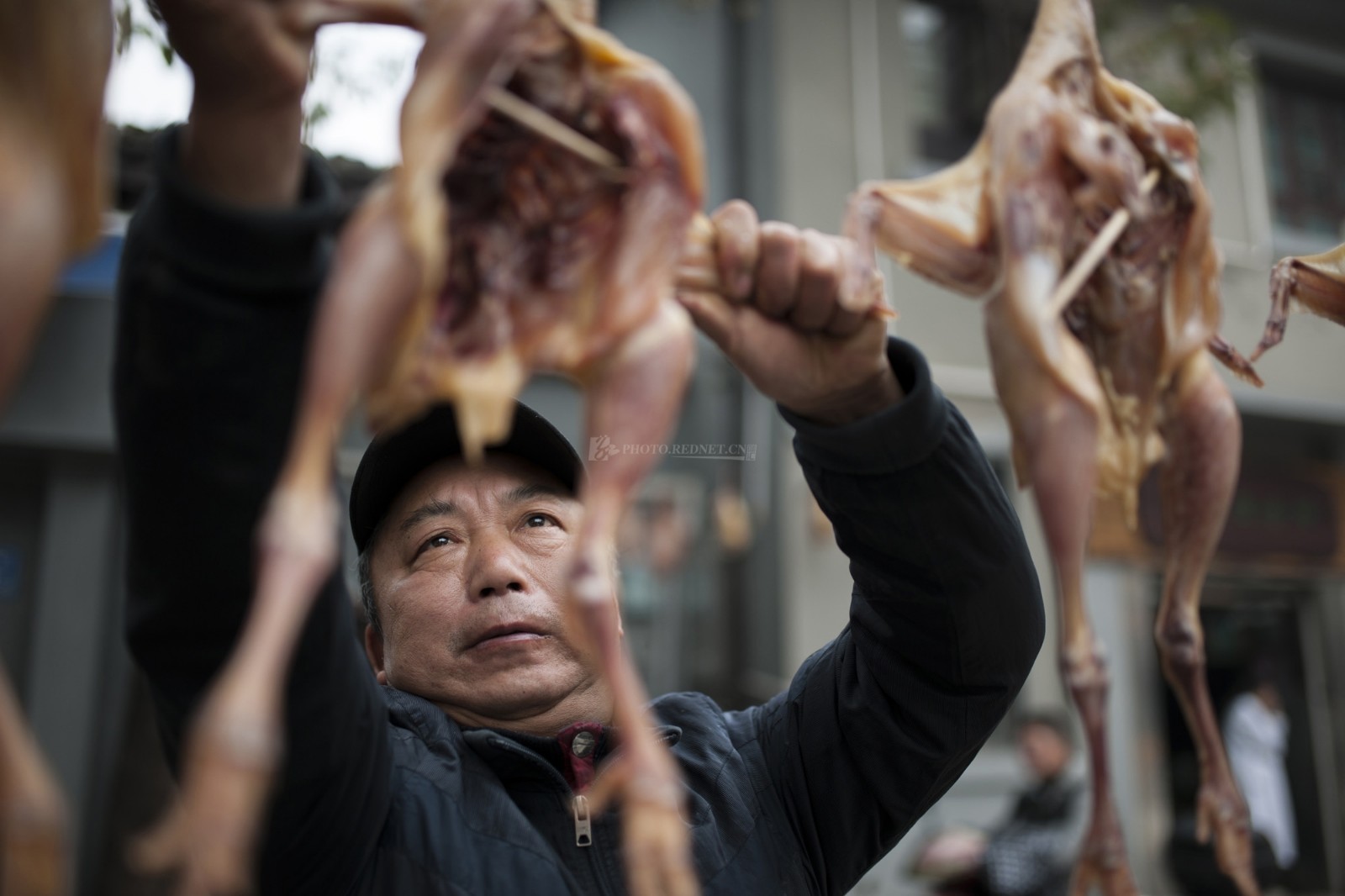 夫妻俩在他乡谋生20多年了。王永红说,往年他们要做二三千斤腊肉,今年肉漲价了,只做了百来斤。
The couple has been making their living in Hunan for more than 20 years. Wang said that they made two or three thousand Jin of cured products in the past, but they only made serval hundred Jin of cured products.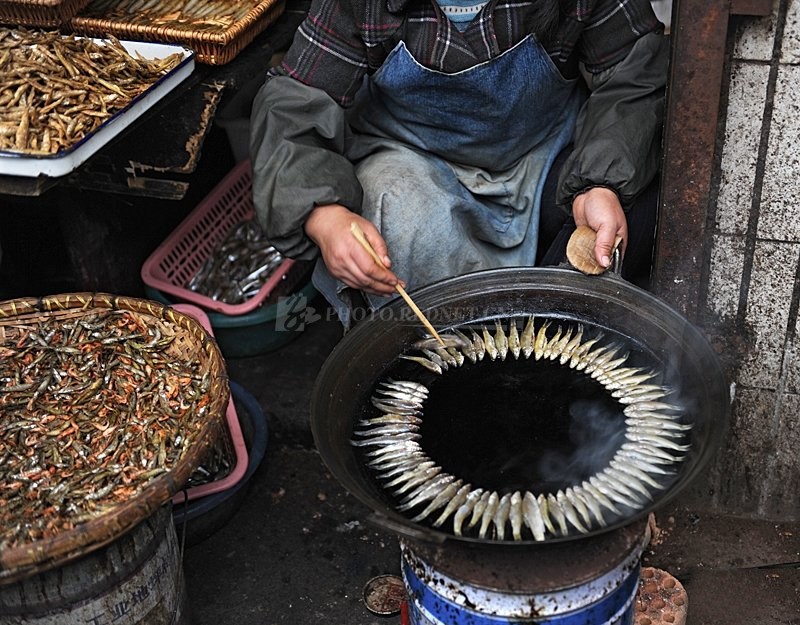 腊味店最大的特点是夫妻俩自制腊味品。由于质量放得心,店子在附近小有名气,生意一直好。此片拍于2014年。
The shop serves homemade products with a good reputation due to its good quality. The photo is shot in 2014.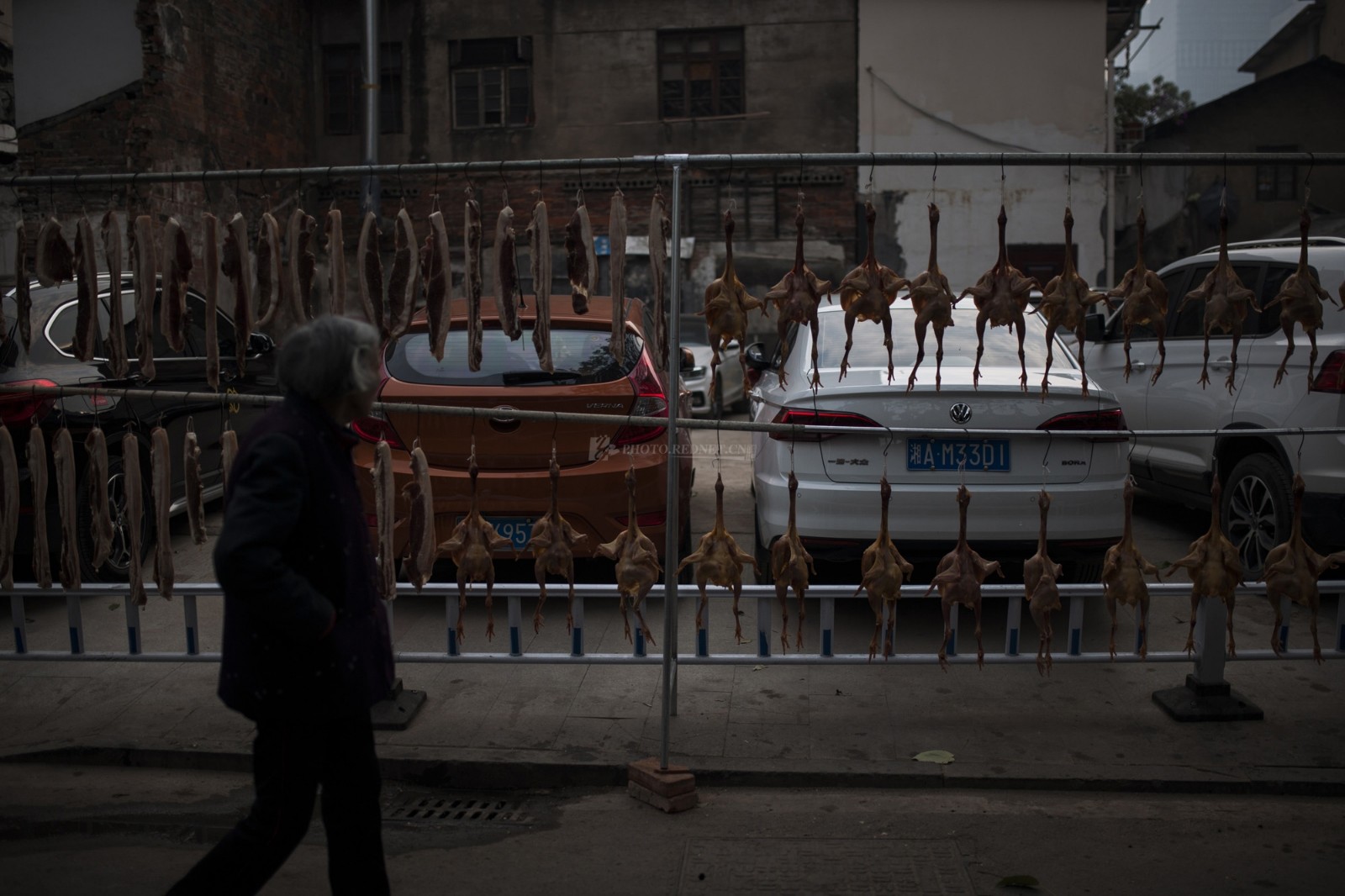 每年的冬天,只要出太阳,腊味店对面的铁架上、树上就挂满了鱼、肉、鸡、鸭。今年他们没有做腊鸭,因为鸭子涨价厉害。
Every winter, as long as it is sunny, they hang their fish, meat, chicken, duck on the tree for drying. They didn't make cured duck this year because the price of duck is very high.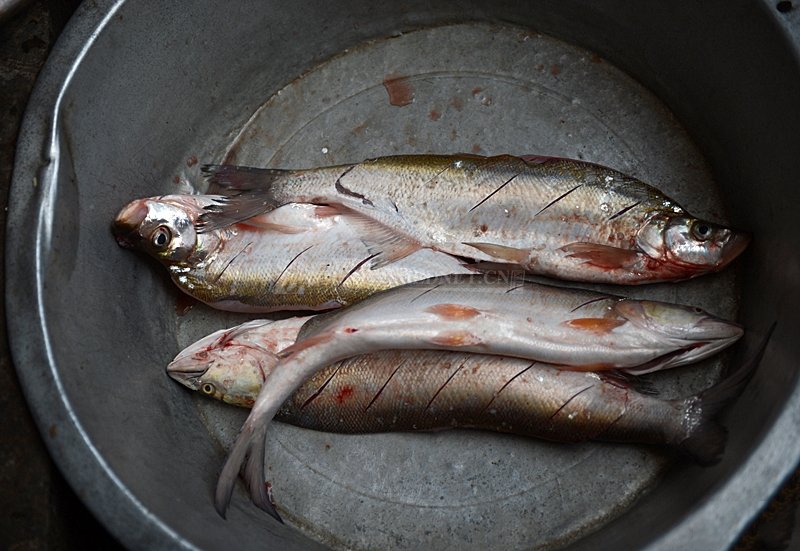 早在2014年的时候,王永红就告诉我: "刁子鱼1斤剖得9两,草鱼1斤剖得8两。烘干还要失称。我们是赚点加工费哦。"此片拍于2014年。
As early as 2014, Wang said: "a fish is dried with 20% of losing weight. We just earn some money for processing." The photo is shot in 2014.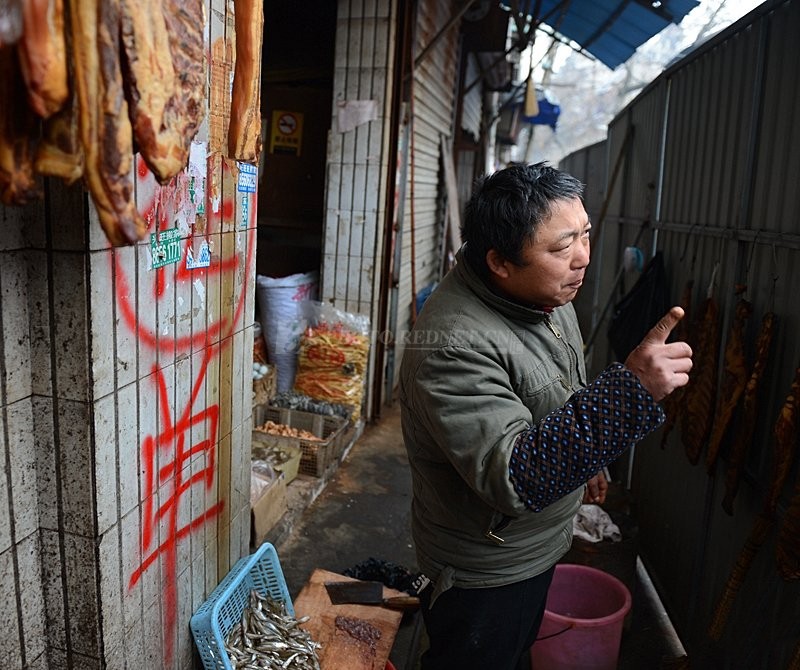 王永红竖起一个手指说:"一鱼养三家。就是说一条鱼要养活打鱼的、贩鱼的、制鱼的三家。我们直接到湘江边渔民手上买鱼,赚了两家的钱。哈哈哈。"此片拍于2014年。
Wang raised a finger and said: "A fish raises three families. It means that one fish benefit s the families of fishermen, sales, and bacon shops. We directly buy fish from fishermen and earned the money by skipping sales." The photo is shot in 2014.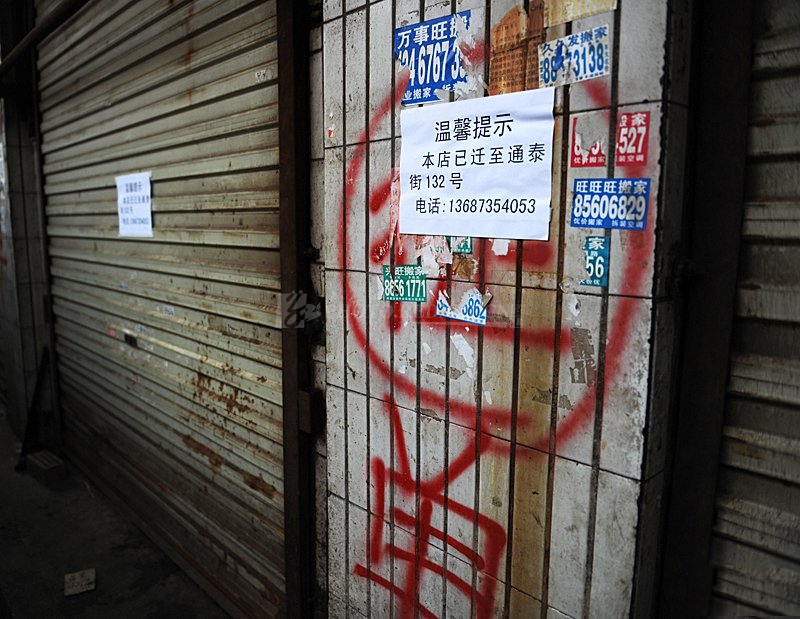 北正街拆前,他们在通泰街3号做生意。北正街拆除时,连同通泰街拆了一截,3号被拆。于是,他们先搬到132号,后又搬到134号,继续他们的"腊味人生"。此片拍于2014年。
Before the rebuild of Beizheng Street, they were doing business at #3 of Tongtai Street. They later moved to #132 and then to #134. The photo is shot in 2014.
夫妻俩上有老人,下有两个女儿,负担不轻。黎新军与5年前比,明显多了一些白发。看得出,"腊味"人生路,走得不容易!
They have to work hard to support a big family with senior parents and two daughters by their business. Li Xinjun grows a lot of grey hair in recent years.