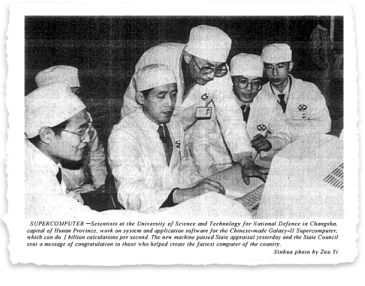 Editor's note:This year marks the 70th anniversary of the founding of New China.
  In December 1983, the country's first supercomputer, Galaxy-I, was completed at the National University of Defense Technology after five years of development and research. It was capable of more than 100 million operations per second.
  It meant China had become a country capable of independently designing and manufacturing supercomputers and had joined an elite group, including the United States and Japan.
  In 1993, the Galaxy-II supercomputer passed a key milestone by performing 1 billion operations per second. An item from Nov 20, 1992, in China Daily showed scientists working on the computer in Changsha, Hunan province.
  Through decades of development, China has made remarkable progress in supercomputing.
  Tianhe-1, the country's first quadrillion-level supercomputer was developed in 2009. China was home to the world's fastest computer from 2013 until last year when the US supercomputer Summit took the lead.
  Tianhe-1 is twice as fast as the previous record holder, Sunway Taihu-Light, China's first supercomputer to use domestically designed processors.
  The latest Top 500 supercomputer list saw China maintaining its dominance in number of installations. The country boasts 227 supercomputers, the most in the world, while the US had 117 systems.
  China is busy trying to establish a new record with a new-generation supercomputer under construction.
  It is expected to be 10 times faster than the Sunway TaihuLight. The new computer, Tianhe-3, will be a prototype exascale supercomputer and is expected to be completed by 2021, according to the National Supercomputer Center in Tianjin.
  It will be capable of making a quintillion calculations per second.
  Based in Tianjin's Binhai New Area, it is expected to herald a new chapter in the intelligent manufacturing industry in Tianjin and drive technology innovation in Beijing, Tianjin and Hebei provinces.
  Since 2009, China has built six national supercomputing centers to be innovation drivers-in Tianjin, Shenzhen, Jinan, Changsha, Guangzhou and Wuxi.