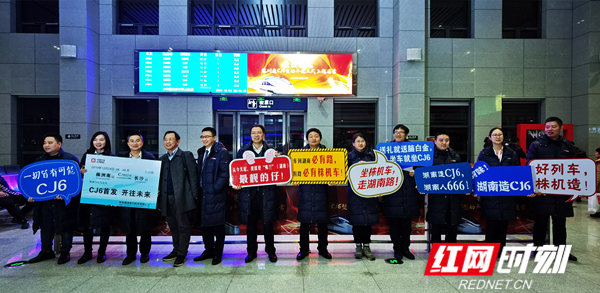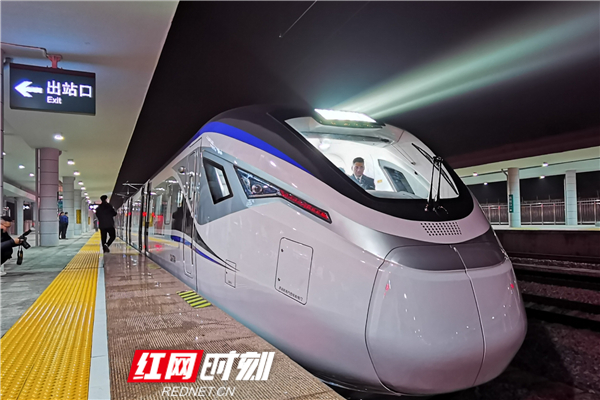 At 6:48 of December 24, the first CJ6 EMU jointly developed by Hunan Intercity Railway Co., Ltd., and CRRC Zhuzhou Locomotive Co., Ltd. began to operate in Changsha-Zhuzhou-Xiangtan megalopolis for carrying passengers. The first train C7852 departs from Zhuzhou South Station to Changsha West Station.

According to CRRC, the CJ6 EMU has the following innovation highlights:
(1) It is highly efficient. It uses a 2+2 transverse seating layout using reversible seats that have a similar level of comfort and space to that of intercity trains, with a capacity of 681 passengers and a maximum of 897 passengers.
(2) It has the high safety and the reliability. The fire protection design of the entire vehicle covers international standards, and smoke and temperature-sensitive fire alarm systems are set in key parts of the vehicle. It has completed the test with high safety and reliability for a year with 600,000 kilometers of running in Hainan province.
(3) It is energy-saving. This EMU adopts a shape with excellent aerodynamic performance; a lightweight design, and the maximum use of regenerative braking during operation.
(4) It is good for mass customers. This EMU has the characteristics of quick start and quick stop, and stations are set up along the way to facilitate passengers. The vehicle includes 20 wide-opening and double-opening sliding doors, which can realize rapid boarding, and evacuation.
(5) It is comfortable and convenient. The interior design of the EMU is simple and stylish; the door area is provided with a dynamic guiding map, and a 220-volt external power socket is provided under the seat. The vehicle air-conditioning system balances the vehicle temperature with high comfort.
The CJ6 EMU made by Hunan promotes the rail transportation equipment industry in Hunan, the integration of Changsha-Zhuzhou-Tanzhou megalopolis, and the high-quality economic development in Hunan.