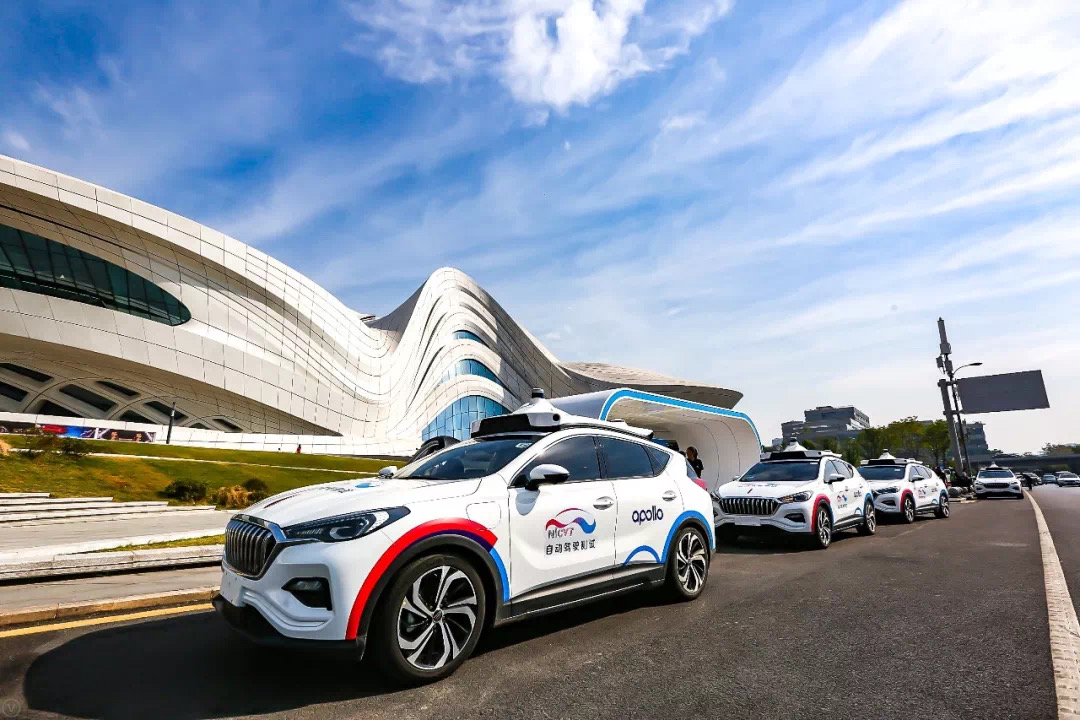 A line of autonomous driving taxis are parked on the road in Changsha, capital of Central China's Hunan province. These cars, called RoboTaxi, were launched by Chinese internet giant Baidu and domestic carmaker FAW Hongqi in September. [Photo/WeChat account baiduidg] 

Self-driving vehicles have started to test carrying passengers in six Chinese cities, including Beijing and Shanghai, The Beijing News reported on Monday.
Other cities include Guangzhou in South China's Guangdong province, Changsha in Central China's Hunan province, Wuhan in Central China's Hubei province and Cangzhou in North China's Hebei province. Test plates have been issued in Shanghai, Wuhan, Changsha and Cangzhou.
Baidu has received passenger-carrying plates for self-driving vehicles in three Chinese cities, including Wuhan, Changsha, and Cangzhou.
Other companies such as SAIC Motor, BMW, Didi Chuxing, and Haylion Technologies have also obtained such plates for passenger-carrying tests.
Strict rules were made to regulate self-driving vehicles' passenger-carrying tests in Beijing, where detailed rules have been launched for road testing of autonomous vehicles. For example, self-driving vehicles should be freely transferred to driver mode. Volunteers participating in the test must be above 18 years of age and have full capacity for civil conduct.
Meanwhile, drivers participating in this test must have more than 100 hours of normal road testing experience for the same vehicle type.
Industrial insiders said as more Chinese cities start passenger-carrying tests, more companies can benefit. With a better testing environment and more data accumulation, China will make more breakthroughs in the autonomous driving industry.
Statistics show road tests for self-driving cars are available in over 20 provinces and cities in China, the report said.