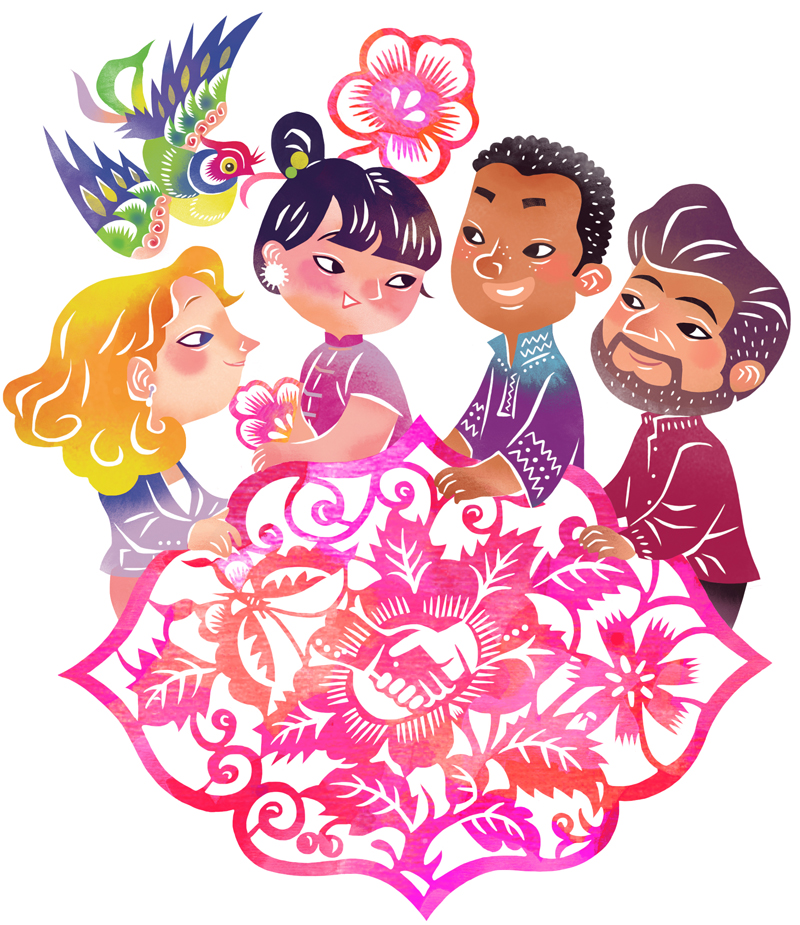 [Li Min/China Daily]
  While trade disputes, rising populism and global economic uncertainties caused turbulence in many parts of the world in 2019, China continued to make efforts to stabilize the global economy and promote multilateralism and free trade. To this end, President Xi Jinping visited many countries and regions to attend global and regional meetings and forums while China hosted several conferences and expos, which saw the active participation of many economies and international organizations.
  Xi's overseas visits helped China strengthen pragmatic cooperation with many countries and regions, starting from Europe, where China reached a consensus on protecting multilateralism and deepening bilateral cooperation with Italy, Monaco and France. Beijing and Rome also signed a memorandum of understanding to jointly promote the China-proposed Belt and Road Initiative. China is set to deepen cooperation with Kyrgyzstan, Tajikistan and Nepal, too, under the Belt and Road framework.
  Xi's visits to neighboring countries also deepened mutual political trust while strengthening strategic coordination in the field of communication, which could help China safeguard its national security and further stabilize the regional situation.
  The president's visit to the Democratic People's Republic of Korea in June not only reinforced the partnership between Beijing and Pyongyang but also demonstrated China's determination to resolve the Korean Peninsula nuclear issue.
  Xi's meeting with leaders of many countries and regions, including the United States, Russia, France, India, Brazil and South Africa, helped deepen coordination at multiple levels to maintain peace across the world, boost global economic growth, safeguard regional and global security and promote fair global governance.
  Xi's overseas visits helped increase mutual understanding between China and other economies, including those in the Mediterranean, South Asia and Latin America. At his meetings with foreign leaders and while attending international conferences, Xi emphasized that China is committed to safeguarding globalization, promoting multilateralism and win-win cooperation, and opposing unilateralism and protectionism. He also made it clear that China will continue to take active part in global governance.
  To boost the global economy, China will strive to synchronize the Belt and Road Initiative with the United Nations 2030 Agenda for Sustainable Development, and improve the use of the South-South cooperation assistance fund and China-UN Peace and Development Trust Fund, in order to create more development opportunities for developing countries.
  Furthermore, China has agreed to advance high-quality development in tandem with the other BRICS member states (Brazil, Russia, India and South Africa), triggering a new round of industrial revolution featuring biotechnology and artificial intelligence.
  To reform the global governance system and make it fairer and more representative in these fast-changing times, China needs to make intensified efforts to promote global collaboration in the fields of economy, security and environmental protection.
  In accordance with the theme of peace and development, Xi has proposed establishing a new type of major-country relationship and building a community with a shared future for mankind. The reflections of a community with a shared future could be earlier seen even in the Shanghai Cooperation Organization, China-Africa relations and China-Latin America relations, but Xi has given it a distinctive shape and character marked by openness and inclusiveness, innovation-driven development, better connectivity, and mutually beneficial cooperation.
  As Xi has said, China's stances and proposals have helped the international community better understand the country, and promoted interactions between China and other countries, which in turn have helped to defuse tensions across the world. And, as expected, increased peaceful interactions will create more opportunities for co-development.
  Moreover, China is taking measures to further open up its economy to not only promote its own development but also fulfill its obligations as a responsible power, and continue to make special contributions to the world economy and global governance.
  The author is dean of the School of International Relations, Beijing International Studies University. The views don't necessarily represent those of China Daily.