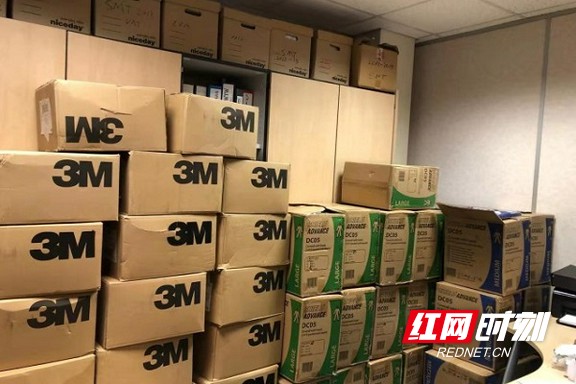 Donations from the British Fellows Association.
Information from Hunan Federation of Overseas Chinese, byFebruary 3, the federation launched a donation of 7.325407 million Yuan, and the medical supplies worth 28.217453 million Yuan, of including 99405 protective clothing, 5033528masks, 361018 pairs of gloves, 3866 shares of clinical alcohol, 7285 pairs oof goggles, 1000 pairs of medical shoe covers , 368, 21 clinical thermometers, and 44400 operating caps.
Helping supplies arrived in hunan
In the provincial joint headquarters meeting for epidemic prevention and control, Hunan deputy secretary of the PPC, governor Xu Dazhe said, "It is necessary to give full play to the role of overseas Chinese, Hunan-fellow entrepreneurs and other groups, as well as the overseas channels of Xiangya Hospital and other units, so as to contribute to the fight against the epidemic in Hunan province and guarantee the materials supply such as protective clothing."
Hence, On January 27, Hunan FOC issued an initiative to mobilize overseas Chinese associations at all levels in the province, returned overseas Chinese and their families and overseas Chinese to actively raise materials and funds and contribute to the epidemic prevention.
The staff of Hunan FOC clearly divided the work, connected the transportation and supply information of donated goods at home and abroad, and invited experts in the field of medical devices to evaluate whether the protective materials met the medical standards. At the same time, it also actively connected with the health commission of hunan province, changsha customs, Hunan Red Cross Society and other institutions to ensure the rapid clearance of overseas donated materials, providing continuous power to the frontline of fighting against epidemic.
On January 31, nearly ten thousand people were diagnosed in China, and the consumption of medical protective materials increased by several times. Under the situation of severe material shortage, the federation once again issued a proposal to overseas Chinese at home and abroad, asking them to actively find sources of goods, make great efforts to help transport goods, call for donations, and do a good job in self-protection.
At present, the federation takes the initiative to contact overseas Chinese associations and provide online services at any time, without missing any batch of materials or any source of goods.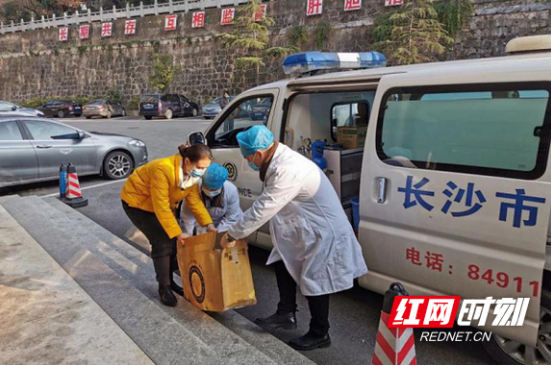 Changsha fFOC delivered medical supplies donated by overseas Chinese community for medical staff.
State and provincial FOC cooperating and aids pouring in
After the initiative issued, all FOC in Hunan publicize relevant policies and instructions by means of WeChat groups and SMS messages, and coordinate county and district overseas Chinese associations with overseas Chinese at home and abroad to actively search for supplies of medical materials, docking targeted donations.
Changde International Students Association has set up a 30-member translation volunteer team, which has translated the instructions of masks, protective clothing and goggles from 11 countries and regions, including the United States, Luxembourg, Canada, New Zealand, Spain, Germany, Thailand and Vietnam.
On January 26, the Youth Committee of Hunan FOC started solitaire, raising funds and medical protective materials to help the frontline.
On January 25 and 27, Shengxiang biological, an overseas Chinese enterprise, donated emergency supplies , worth of more than 10 million Yuan, to the Red Cross Society of China, including automatic nucleic acid extraction apparatus, new coronavirus nucleic acid testing reagent and supporting supplies.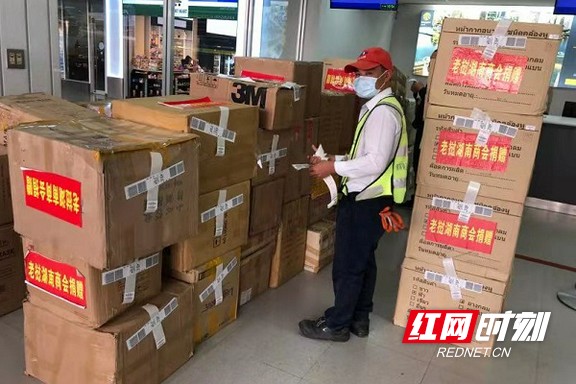 Donations from the Chamber of Commerce in Laos arrived on February 3.
Overseas Chinese launch "global purchase"
The Danish general chamber of commerce in hunan oorganized donations and looked for anti-epidemic supplies. The Hunan Fellows of New Zealand raised funds and supplies. The Federation of Hunanese in Austria actively raised medical supplies. After the federation issued two initiatives, overseas Chinese heard the "news" and immediately switched tothe "sweeping mode", ran around the world pharmacies and suppliers, seeking to buy medical supplies, strive to before the plane stopped flying will be collected supplies to hunan, for the frontline medical staff to build a good "protection network".
By February 3, three batches of goods arrived in Hunan.
Li wenke, President of the Lao Hunan Chamber of Commerce, and Tang Kai, general secretary, organized the collection of 153,000 surgical masks, 4,800 pairs of medical gloves and 24,400 medical caps, with a total value of 350,000 Yuan.
Tang Yongsong, executive President of Thailand Hunan Chamber of Commerce, donated 2,980 sets of protective clothing with a total value of about 300,000 Yuan. Vice President Zhu Juncheng donated 349 sets of protective clothing, 160 3MN95 masks and 800 pairs of medical gloves worth 80,000 Yuan.
Australia Chinese Xiang Xingyu donated a total of 1387 medical security eyepatch, 685 pairs of medical safety goggles, 900 Proshield N95 masks, a total of 3000 Mediflex disposable surgical masks, 150 Bastion surgical masks, 7500 clinical gowns, 800 medical protective screens, 1200 pair of medical gloves, 280 masks of Proshield anti - fog level 3, 159 Proshield Super fog triple Super anti fog masks, 300 Proshield Elite Visor Loop masks, with a total value of 533,622 Yuan.