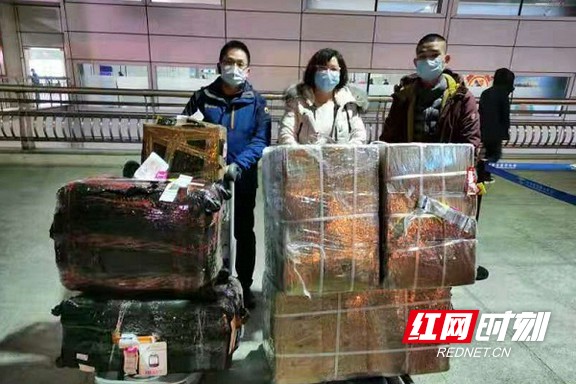 Early in the morning, the first batch of overseas donated materials arrived in Changsha. Volunteers were responsible for receiving the goods and customs related affairs.
On the evening of January 27, Hunan federation of Overseas Chinese issued an initiative to mobilize overseas Chinese associations at all levels in the province, the families of returned overseas Chinese and overseas Chinese to actively participate in the prevention and control of the epidemic and contribute to the strength of the overseas Chinese community.
At 1 o 'clock on the 28th, Ms. Liao Liping from the provincial Overseas Chinese Bu.
siness Association arrived in Changsha with ten boxes of surgical masks and donated them to hunan provincial health commission as soon as possible.
After the initiative was issued, overseas Chinese associations of cities and prefectures, overseas Chinese groups, and overseas Chinese enterprises responded positively, carried out relevant work quickly, and actively donated money and materials to their hometown. So far, a total of 300,000 Yuan has been raised, including 7,840 sets of protective clothing, 1,290 pairs of goggles, more than 600,000 masks, 310 pairs of gloves and 700 sets of shoe covers. Shengxiang biological, overseas enterprise , donated new coronavirus nucleic acid testing reagent, automatic nucleic acid extraction equipment and other emergency supplies worth more than 10 million Yuan; The sponsors contacted by Chang Qi, president of United Arab Emirates Chamber, donated Shaoyang and Yiyang around 2 million Yuan of masks and protective clothing. Overseas Chinese groups such as Hunan fellow association of Washington State, Hunan Fellow Association of Florida, Hunan Fraternity of America, Hunan Fraternity of Southern California, Hunan Fellow Association of Britain, Hunan Overseas Chinese Youth Committee, Overseas Chinese Business Association of China, Special Committe.
of Hunan FOC are still collecting relevant protective materials.
Overseas Chinese also actively provided relevant medical supplies, protective supplies, including masks (N95 masks, surgical masks, disposable surgical masks), operating caps, protective gowns, protective glasses, disposable latex gloves and other protective materials procurement channels. At the same time, professor Ren Nan from Hunan Provincial Hospital Infection Quality Control Center was invited to evaluate the protective materials to ensure that all the protective materials used in the hospital have the effect of medical protection.
After Hunan FOC issued the proposal, overseas Chinese community in Hunan responded quickly with donations and donations. Hunan FOC actively matched and coordinated the passage of donated materials and the procurement channels of protective materials, ensured the rapid clearance of prevention and control materials, implemented rapid inspection and release, fully implemented the epidemic prevention and control work, and resolutely won the outbreak prevention and control resistance war!