The price of a mask has gone up like a stock." This is the most frequently said sentence by overseas Chinese in recent days.
On February 7, the number of confirmed cases of pneumonia caused by the new coronavirus reached nearly 30,000 across the country. At the same time, overseas Chinese are still in the world's second "scavenging", unremitting search for supplies, for the medical staff to erect a solid protection barrier.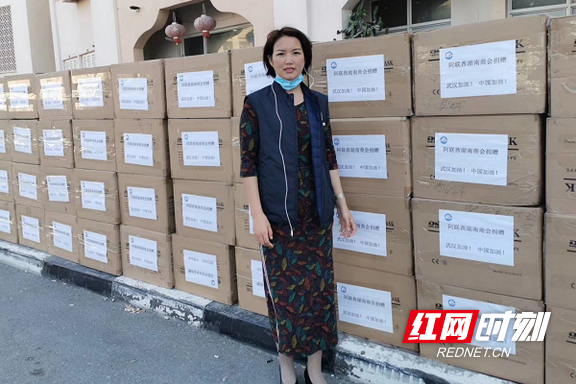 Materials donated by Chen Linghui, President of Hunan Chamber of Commerce in UAE and HCCUAE.
Chen Linghui, leader of the United Arab Emirates Hunan Chamber of Commerce: we are duty-bound to contribute to the fight against the epidemic
Hearing of the national difficulties, UAE Hunan Chamber of Commerce acted quickly, actively coordinated and jointly proposed with hunan commercial representative office in the Middle East, calling on overseas Chinese and Chinese enterprises of hunan nationality in the united Arab emirates to actively reinforce their homeland, donate materials in urgent need of anti-epidemic, and share the difficulties with compatriots at home to fight against the epidemic.
As a result of rapid consumption, anti - epidemic frontline medical protection supplies were in short supply. The HCCUAE quickly contacted the health and epidemic prevention departments and medical institutions of the united Arab emirates with foreign resources to seek medical protection materials, and begged foreign friends to urgently purchase medical supplies from neighboring gulf countries.
In order to send the first batch of 60 cases of surgical masks to China, Chen Linghui, President of the HCCUAE contacted China southern airlines eagerly, and finally caught the last flight before the plane was grounded.
At present, the second batch of 5,400 sets of medical protective clothing worth 550,000 Yuan is being coordinated logistics transport, and will be sent to the Hunan Red Cross Society.
Materials donated by Xiang Xingyu from Australian.
Xiang Xingyu, Australian overseas Chinese: the young overseas Chinese of Hunan nationality with the largest amount of individual donation
During the Spring Festival, Xiang Xingyu, an Australian overseas Chinese who returned to his hometown , learned of the outbreak of epidemic and returned to Australia. The first thing he did was to contact suppliers.
With the help of the Hunan FOC, the donations finally took off three hours before Australia announced a ban on all but permanent residents and citizens. It took only 16 hours from packing to departure.
Xiang Xingyu donated 1,387 pairs.
of medical safety patches, 658 pairs of medical safety goggles, 900 Proshield N95 masks, 4,000 medical surgical masks, 7,500 isolation suits, 800 medical protective screens and 1,200 pairs of medical gloves, with a total value of 533,622 Yuan, making it the largest donation in the name of an individual.
After the materials arrived, they were sent to Xiangya Hospital and the Fourth People's Hospital of Yiyang.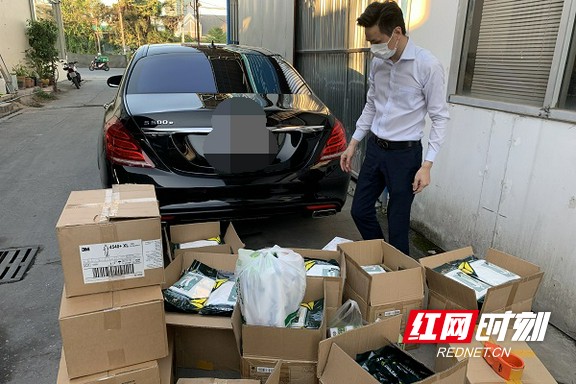 Materials donated by Zhu Juncheng from Thailand.
Zhu Juncheng, overseas Chinese from Thailand: the resumption of work was postponed to fight against the epidemic
On January 26, the spread of the epidemic accelerated, and Zhu Juncheng, an overseas Chinese from Thailand, decided to return to Thailand immediately to purchase medical protective materials.
So far, Zhu has donated 2,029 pieces of protective clothing, 440 N95 masks, 1,000 pairs of gloves and 50,000 Yuan to Chenzhou. Zhu also donated 500 pieces of protective clothing to Zhangjiajie and 100 pieces to Wugang.
Zhu Juncheng also donated 100,000 Yuan from the company's pillow sale to fight agsinst the epidemic in Hunan.
By 15:00 on February 6, Hunan FOC had made a donation of 8.178136 million Yuan to fight against the epidemic, and had donated 29,649,481 million Yuan in medical supplies, including 100,730 pieces of protective clothing, 5397,308 masks, 526,518 pairs of medical gloves, 33,926 shares of medical alcohol, 7,563 pairs of goggles, 1,000 pairs of medical shoe covers, 368 thermometerS, 421 pieces of disinfectant and 56,400 pieces of clinical caps.