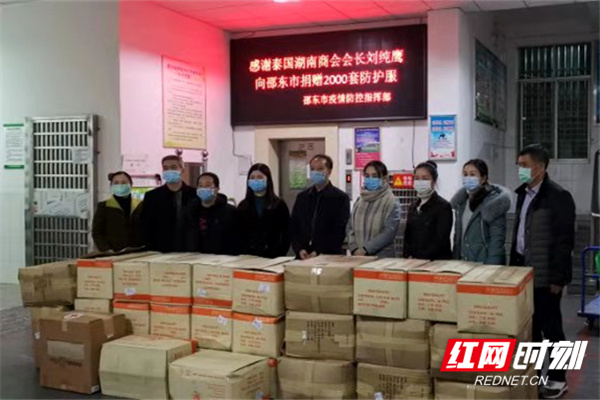 Liu Chunying and the supporting materials dondonated to Shaodong from HCCT.
On January 27, receiving the initiative from Hunan FOC, Liu Chunying, from Hunan Chamber of Commerce in Thailand(HCCT), responded at the first time, and contacted the multinational Chinese leader to help purchase the epidemic prevention and control materials, and organize part of HCCT held an emergency meeting, set up the procurement emergency response teams, mobilized all donations will enthusiastically, looking for disease resistance in Thailand supply channels.
In addition, Liu Chunying also contacted Thai companies to raise about 450,000 medical supplies to return to China through commercial channels to help with the prevention and control of domestic epidemic, and organized shaodong luggage garment industry association and longyuan pioneer park enterprises to raise a donation of nearly 200,000 Yuan for overseas procurement of medical protection materials.
In order to speed up the procurement of medical protection materials, Liu Chunying actively cooperated with Shaodong United Front Work Department procurement team as a good consultant in a number of material procurement groups, to capture and provide global material information, at the same time to avoid the risk of payment, communicate with leaders, product quality control. As batches of anti-epidemic materials landing in the country, anti-epidemic materials for Shaodong have been basically sufficient.
With the joint efforts of HCCT and overseas enterprises, up to now, more than 3 million Yuan worth of materials have been purchased, including more than 16,000 sets of medical protective clothing, more than 200,000 masks, 3,000 pairs of gloves and 500 latex pillows. Among them, HCCT donated 5,000 sets of protective clothing, 100,000 face masks and 500 latex pillows, worth more than 1 million Yuan.
At present, the materials have been shipped back to hunan in five batches, respectively to Shaodong, Changde, Shimen, Anhua, Zhangjiajie and other places.
"As long as the epidemic outbreak is not over, our responsibility will not stop." Liu said.