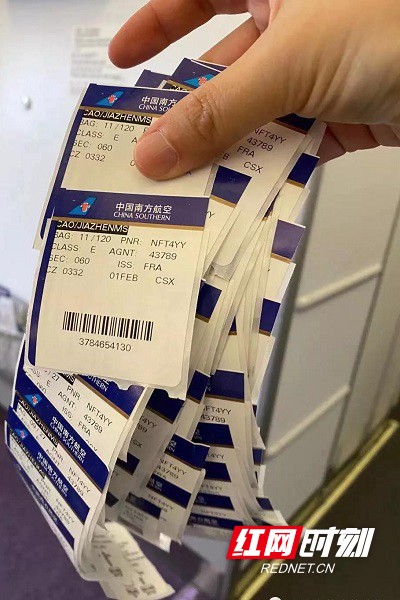 Supporting materials in carry-on luggages.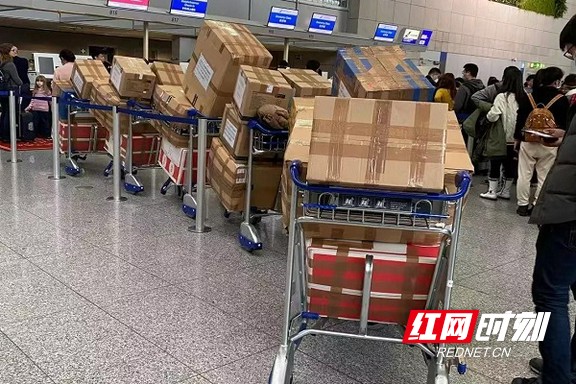 Materials donated by German Hunan Fellow Association.
At 15:00 on January 24, Li Xianqiu, who was in Germany, received a telephone call from hunan. On the phone, Sun minsheng, vice president of Hunan FOC, told Li about the latest situation of the current epidemic, and hoped that the German Hunan fellow association could mobilize overseas Chinese in Germany to help purchase medical protective materials and provide immediate assistance. After receiving the notice, Li immediately rushed to the local pharmacy, but was told that supplies have been snapped up.
As President of German Hunan Fellow Association and German Hunan Business Association, Li Xianqiu organized an emergency meeting of Frankfurt council members on 25th, arranging material donation, procurement and other matters. On the 26th, the association issued an initiative, calling on the council members of the association and overseas Chinese in Germany and hunan to donate money and materials, and mobilizing everyone to actively "sweep", do their best to search for medical protection materials.
The epidemic continues to spread, the supply of goods in all countries are in a state of tension. Some supplier cancel orders, and even provided expired masks and other materials. Li felt helpless and anxious.
When supplies were in short supply in various channels, fellow members contacted a group of high-quality medical supplies through friends in Switzerland. As the delivery duty could be unpredictable, Li,Xianqiu decided to drive straight to the factory and get back in 10 hours, and finally smoothly delive the supplies back to Hunan.
"Thanks very much for the supplies donated by German Hunan Fellow Association, Hengyang city did not have sufficient protective materials, these protective clothing as rare as national treasure, came in time." Hengyang party NFWD secretary after receiving materials said.
"I am very happy to help ," Li said.
It is the wish of every Chinese at home and abroad not to let medical staff fight without protection.
Li xianqiu mobilized members of the association docking agencies, unimpeding transport channels. As a result, batches of medical protection materials across the mountains and rivers reached Hunan. At present, there is a batch of goods and materials stored in Li's hotel to transport, more than a batch of goods and materials stranded in various countries, waiting for transport back.
Up to now, Germany Hunan Fellow Association has shipped four batches of materials back to Xiangya Hospital, Changsha First Hospital, Changde CDCl and other medical institutions and units in Hengyang.