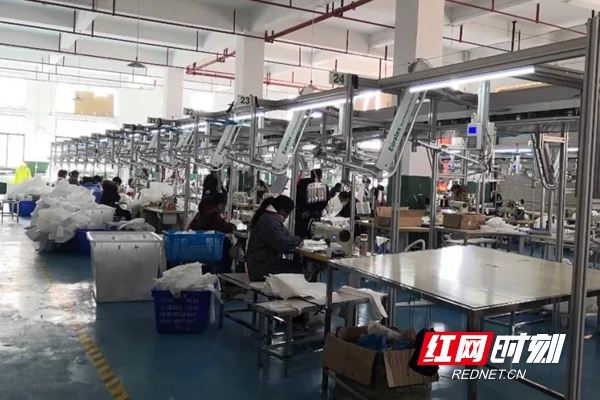 Protective clothing production line.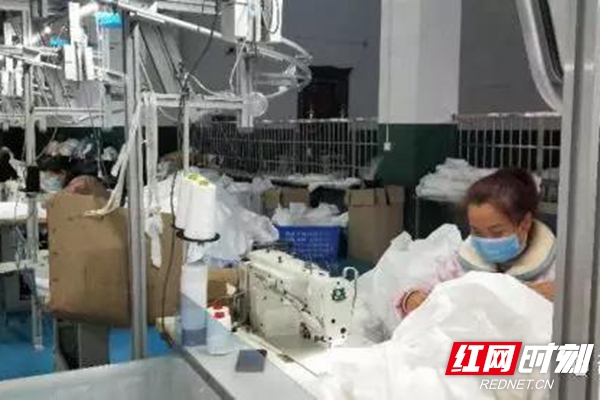 The workers are on the workingline.
On February 20, Liu Chunying, President of Hunan Chamber of Commerce in Thailand(HCCT) and chairman of longyuan trading co., LTD., introduced the production capacity of medical supplies in Longyuan small and medium-sized enterprise pioneer park.
Since the outbreak of the epidemic, Liu Chunying quickly realized the "role transformation" : he donated epidemic prevention materials worth 450,000 yuan to Shaodong and purchased prevention materials worth more than 2 million yuan for the government through various channels. Faced with the shortage of medical supplies, on February 14 this year, he quickly established Hunan Baolikang medical equipment co., ltd. and entered the medical industry. With the help of relevant functional departments, the relevant examination and approval procedures went through the emergency examination, and the license of epidemic prevention materials, and the production license of class I and class ii protective clothing was quickly obtained.
More than 100 workers were quickly put in place for the intense production. Just four days later, the first batch of protective suits was successfully trial-produced, with a daily production rate of 1,000.
"The factory has designed six production lines, all of which can produce 2,000 units per day." Liu said the company has also purchased new production equipment for masks, which is expected to arrive at the factory at the end of February. The equipment and disinfection of the dust-free workshop and the purchase of raw materials have been completed, and the daily production will reach 100,000.
At present, the opening rate of enterprises settled in Longyuan small and medium-sized enterprise pioneer park has reached nearly 70%, and will reach 100% in the next two days.
Shaodong local government did a good job in preventing and controlling the epidemic situation in enterprises, and promoting the resumption of production of the city, providing free disinfectant, thermometer, masks and other materials.