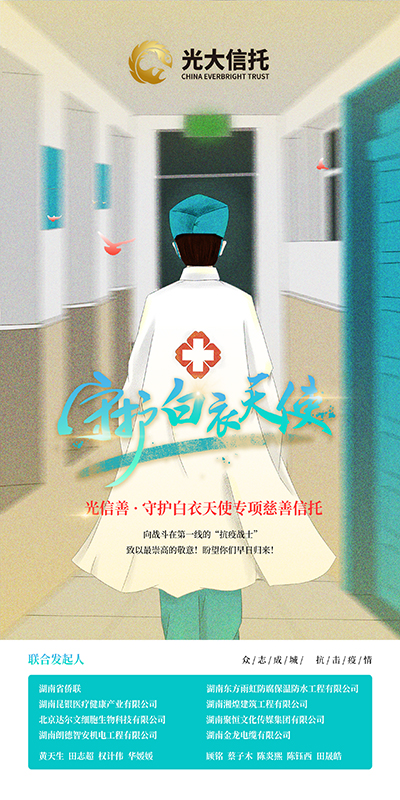 In order to pay tribute to the medical staff fighting against the epidemic, Everbright Trust launched its first order "special charity trust to protect medical staff, which is committed to helping the medical staff and their families who are maimed or killed on duty.
Hunan FOC, Hunan East Yuhong anti-corrosion insulation waterproof engineering co., Beijing Darwin cell biology technology co., LTD., Hunan Kunyin medical health industry co., Hunan Poly constant culture media group co., Hunan achieves construction engineering co., Hunan Lagangdezhian mechanical and electrical engineering co., Hunan Jinlong cable co., and other enterprises and Huang Tiansheng, Tian Zhichao, Quan Jiwei, HuaYuanYuan, Gu Ming, Cai Zimu, Chen Yanxi, Chen Juexi, Tian Shenghao, and Zuo Fei are jointly sponsors for special charity trust "Guardian Angel" project.
At present, the first batch of "Guardian Angel" trust will be issued with the scale of 1 million Yuan and the term will last forever. The special funds raised will help the frontline medical staff in anti-epidemic areas and help the medical staff involved in the prevention and control of the outbreak of the new coronary pneumonia to overcome difficulties.