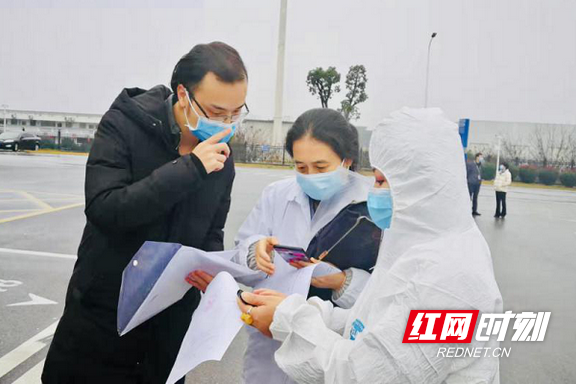 Transfer of epidemic prevention materials.
Vonlunteersare Ccarryingepidemic prevention supplies.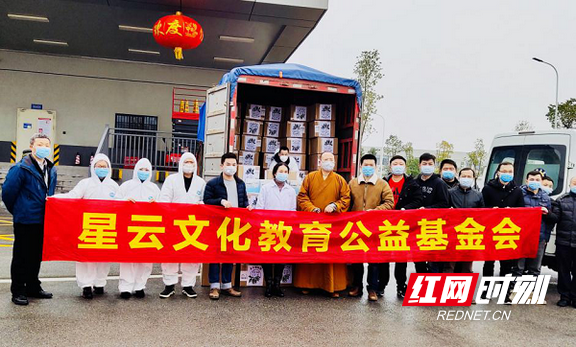 Epidemic prevention supplies are distributed to Xiangya Hospital and Changsha First Hospital.
"The first batch of disposable surgical masks donated by Xingyun Culture and Education Foundation to Xiangya Hospital and Changsha First Hospital have arrived at Changsha Airport customs office. The secretary general of Xingyun Culture and Education Foundation, Zhang Jingzhi, has established working group via Wechat, to handle the material handover procedures at the airport." On February 1, Li Li, deputy to the hunan provincial people's congress, member of the standing committee of Hunan FOC, director of Hunan Lili Spiritual Education Center (Zhihigong party's "spiritual aid" base) and director of Hunan Lechuang public welfare and charity development center, brought good news to everyone in the "Li epidemic prevention working team".
On January 28, Li Li, who was alone at home, noticed a message on her mobile phone. Hunan Xiangya hospital emergency department was on lack of basic protective materials, especially N95 masks and medical protective clothing. Sheng Yan, a charity colleague in Beijing, hoped Li help the hospital apply for material assistance from Alibaba Cainiao Network.
After confirming the information, Li contacted with Professor Lei Guanghua, the president of Xiangya Hospital. In the reply, the President asked Li to help find protective resources to meet the urgent need, and informed her of the contact information of relevant personnel of the hospital.
On the other hand, Li contacted Wang Aimin, director of Changsha First Hospital overnight, and learned that changsha first hospital, as the main hospital for designated patients in Hunan, was also facing a severe lack of emergency medical supplies.
Li rapidly launched a working team, by WeChat and other sms tools, and set up the "supply side" and "demand side" working groups, responsible for docking donors, the supplier and demand units respectively. Li was in charge of the overall arrangement.
On the morning of January 29, Li quickly reported to Zhang Jingzhi, secretary general of Xingyun Culture and Education Foundation on the epidemic situation in Hunan and the urgently needed medical supplies, hoping to get strong support. Zhang jingzhi immediately agreed to try best for Hunan's first-line hospitals to organize donations of medical supplies in short supply.
On January 31, Xingyun Foundation decided to donate 50,000 disposable surgical masks to Xiangya hospital and Changsha first hospital respectively through the China Charity Federation. On the afternoon of February 1, the goods arrived Changsha as scheduled.
Hunan Lechuang public welfare and charity development center, the demand side working group of Li team, contacted China Social Welfare Foundation and obtained the first donation of 680,000 yuan to purchase anti-epidemic materials such as surgical masks, focusing on supporting relevant personnel and service objects in hunan's civil affairs field, as well as areas with severe epidemic and shortage of materials such as Wuhan. This donation provides a powerful and quick guarantee for the demand side working group to purchase urgently needed materials. At present, the second phase of cooperation between Li-team and China Social Welfare Foundation is on the way.
After receiving the first donation, the two working groups of "supply side" and "demand side", made concerted efforts and made rapid connections. Through various channels, they inquired and verified the surgical masks that met the relevant national standards.
By 15:00 on February 2, the "supply side" working group of Li team had purchased more than 560,000 disposable surgical masks, which were expected to arrive in changsha in 3 to 4 days.
On January 31, the Communist Youth League of Hunan provincial party committee contacted with Li, proposed a project named "outbreak, starting from the heart", which was a volunteer psychological service platform meeting requirement from people affected by the outbreak of epidemic.
After receiving proposals, Li quickly organized the psychological education experts team. Starting from February 2, from 10:00 to 22:00 every day, the expert volunteers of psychological assistance WeChat service group worked online to solve the psychological distress caused by pneumonia caused by the new coronavirus infection for adolescents across the province. On the day of opening, more than 200 people seeked advice, and experts answered a variety of consultation more than 1000.
In the fight against epidemic, Li-team's responsibility and rapid action, concerned wide attention and support.