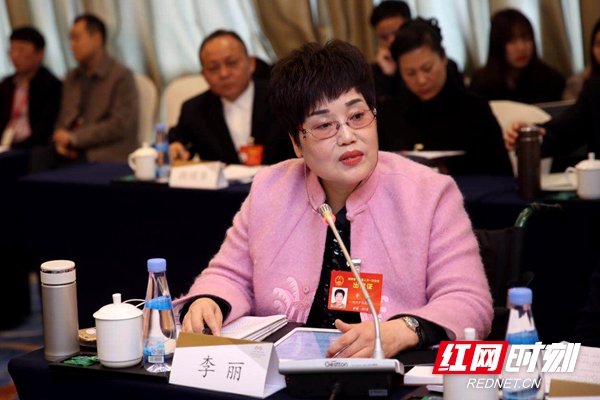 Li Li won the moving China Award of 2007.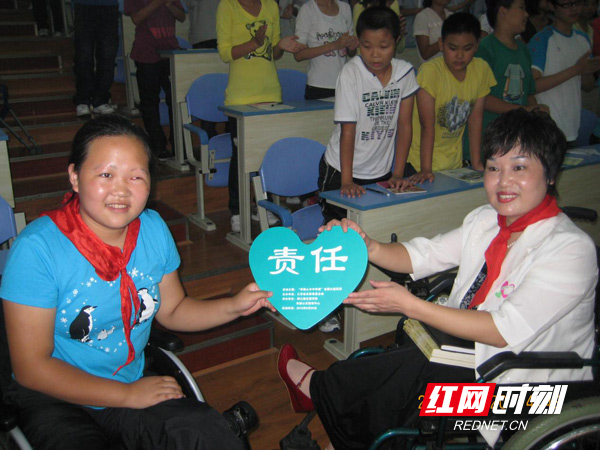 Li Li and students attending her lecturein Dujiangyan Second School, September 2010.
Li li, a native of hengyang, hunan province, was stricken with polio at the age of 1. At the age of 40, she suffered another bad luck. A car accident left her completely paralyzed from the bottom of her body and she has been confined to a wheelchair ever since.
Li Li won the moving China Award of 2007. Although she never stood up in her childhood, Li made many people in trouble "stand up". This has given us an inspiration to look in and see the boundless power of sincerity and kindness.
She founded the "Hunan Li Li mind education center ", aiming at psychological education and youth work, long engaged in public welfare undertakings thorough both in numerous schools, enterprises, communities, the obligation of the prison. She lectured family education and psychological health education for public, helped learning disabilities children return to school, as well as students suffering Internet addiction to set up confidence. Li's good deeds have enabled more than 200,000 people to get spiritual baptism, known as the "angel of Thanksgiving", "Zhang Haidi of Hunan", "Helen Keller of China".
Li Li always tries her best to warm and influence every heart and soul. She tries her best to bring more love and more warmth to the helpless left-behind children.
Li Li led the team to innovate constantly, focusing on emotional management, interpersonal communication, inspirational education and other contents, relying on the psychology of painting, through professional teams and university volunteers, the quality of education resources will be lowered to the grassroots, to serve poor children.
Li Li Center launched the "grapefruit classroom" children's sex education public welfare project, serving primary and secondary schools with a high proportion of the poo. The project is committed to carrying out a wealth of sex education theme activities, accurately guide rural children learn to respect others, know how to protect themselves, so as to achieve the purpose of preventing and reducing sexual assault. At present, the project has set up support mechanisms in more than 20 primary schools in more than 10 poor counties in hunan, providing over 1,000 sex education courses for children and over 100 workshops for parents of sex education every year.
Hunan Li Li spiritual education center founded was awarded the "national advanced social organization" by the ministry of civil affairs and the provincial "Tongxin project" demonstration base by the united front work department of the CPC hunan provincial committee. The "Rich heart project" initiated by Li won the third hunan charity award; "Kaizhu" public welfare project won the annual public welfare project award of the 8th China public welfare festival in 2018.
"I am honored to be invited to attend the upcoming 8th hunan provincial congress of returned overseas Chinese and family members of overseas Chinese. I sincerely wish this congress a complete success." Li said that she would actively perform her duties, "give full play to the exemplary leading role of the country's advanced social organizations, and bring better public welfare projects to the people who need them most. To internalize and externalize the care of the party and the government and the warmth of the overseas Chinese federation; We will never forget what we set out to do, strive to fulfill our sacred mission of "enriching the hearts and minds of more people, and actively contribute to the strength and wisdom of the overseas Chinese community."