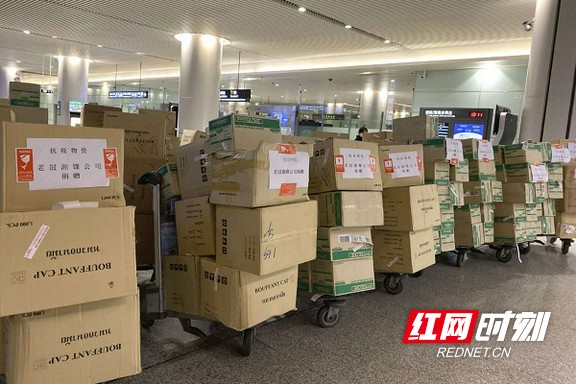 At 2 am, Song Jiefeng, member of the standing committee of youth committee of China federation of overseas Chinese, overseas consultant of Hunan FOC, permanent honorary President of Laotian Hunan chamber of commerce and chairman of Laotian Xiangfeng company, was also actively coordinating and coordinating with the materials group.
Song Jiefeng has been staying up late for more than a month.
As early as January 21, Song, who was celebrating the Spring Festival in his hometown, was aware of the epidemic prevention and control in Hunan. He immediately managed to raise more than 200,000 surgical masks and sent the medical supplies back to hunan on January 27 for epidemic prevention and control work.
Song actively contacted overseas Chinese leaders, overseas Chinese and associations, vigorously launched his own overseas "circle of friends", assisted the Hunan provincial government to open up international transport channels, helped coordinate and solve the problem of epidemic prevention materials shortage in Hunan, and made contributions to the fight against the epidemic.
The routes to China and hunan from various countries have been tightened since the epidemic outbreak, and the shortage of materials has gradually increased. Lao airlines has grounded all routes to China because of the epidemic, and the two international routes operated by song jiefeng are also under consideration.
"There may still be a lot of medical supplies to be shipped back to Hunan, and we need to keep going." Song knew that, in this critical moment facing the shortage of anti-epidemic materials, the airline was the "lifeline". When he received the informing letter from Laos government, Song still said, "although we are losing money every day, we should bear in mind the overall situation and share our worries for our country and hometown. We would rather lose money than stop flying."
After his unremitting efforts and coordination, the Lao ministry of transport finally agreed to maintain the Vientiane to changsha route, and urged Lao aviation to strengthen the screening and testing of inbound and outbound passengers. This route became the only international route maintained by Lao airlines during the outbreak without reducing its flights.
Song Jiefeng resisted the pressure and made sure that the anti-epidemic materials purchased in Laos, Thailand and Vietnam could be shipped to Hunan in a timely manner. He guaranteed and handled the relevant documents at the airport of Laos and paid the relevant handling fees, thus exempted all anti-epidemic materials from the international transport cost of more than 200,000 yuan.
On the evening of February 28, the vientiane government of Laos and the Laotian Xiangfeng company jointly donated 111 boxes of medical supplies worth 390,000 RMB to Hunan province and arrived in Changsha. Up to now, Song and his companies have donated epidemic prevention materials worth about 1.3 million yuan to Hunan, transported and escorted more than 1.2 million masks, more than 400,000 pairs of medical gloves and nearly 170,000 medical caps, goggles and other protective materials.
"I am confident that with the strong leadership of the CPC central committee and the great strength of all the sons and daughters of the Chinese nation, we will be able to win the fight against the epidemic as soon as possible." Song Jiefeng said confidently.