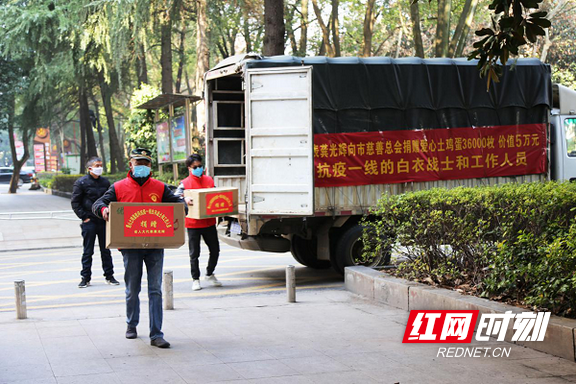 The poultry industry has been hit hard by the outbreak of pneumonia, African swine fever and avian influenza.Hunan Tanzhushan Poultry Industry worked hard on preventing epidemic on one hand , and ensuring the safety of production on the other hand, to ensure the success of the poverty alleviation project, while providing daily supplies for the frontline epidemic prevention personnel.
Gong Guanghui, deputy of the provincial people's congress and general manager of Hunan Tianzhushan Poultry Industry, responded to the call of the provincial federation of overseas Chinese and donated 36,000 love earth eggs to the charity federation of loudi city.
Gong gave up overseas high salary and returned to his hometown to become the "chicken commander". Together with his father, he founded Hunan Tianzhushan Poultry Industry, which integrates poultry raising, incubation, feed processing, organic fertilizer processing, product sales and technical services.
In 2014, Gong adopted the mode of "cooperative + base + peasant households" to implement poverty alleviation, signed assistance agreements with poor households, led to the development of 1,500 poor households, and distributed more than 1 million chicken seedlings in 26 villages in more than 10 townships on a pilot basis.
Affected by the outbreak, workers from Guangdong and Henanfacing difficulties in returning to work, it would directly affect the project schedule. On February 21, ensuring the health of employees, the project "village enterprise construction" resumed work, and the project is progressing smoothly.
After the resumption of work and production, Hunan Tianzhushan Poultry Industry shall carry out strict closed management, carry out investigation, make early preparation for the resumption of work according to the operational rules for epidemic prevention and control of the enterprise, and ensure the stable quality and stable production of the project. At present, tianzhushan poultry industry has raised large and small chickens 350 thousand feathers, consuming 200 tons of feed every day, producing 20 thousand eggs, the company's production operation is normal.