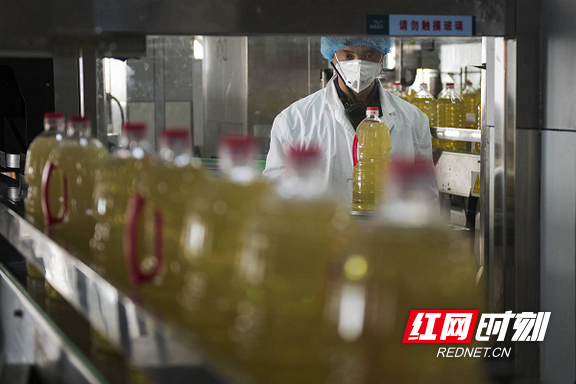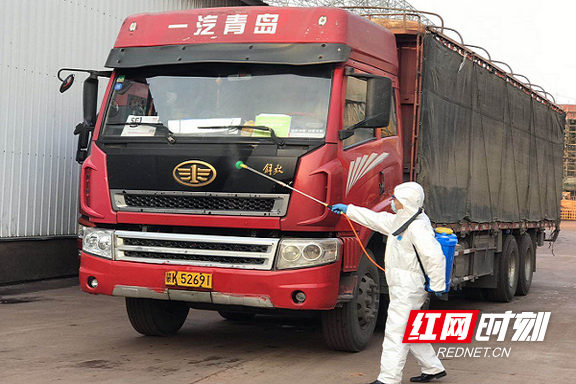 As a grain and oil production enterprise, as early as February 10, in Yihai Kerry (Yueyang) grain and oil Industry co., LTD. (hereinafter referred to as "Yihai Kerry (Yueyang)") part of the staff went back into the production line to resume full load production to ensure market supply.
Preparing for returning to work and production, Yihai Kerry (yueyang) quickly established the prevention and control mechanism, formulated the emergency plan and response measures for the prevention and control of the epidemic, made clear the division of labor and responsibility to the people, and implemented the factory closed management, set up temporary isolation area and vehicle disinfection site. At the same time, the staff returned to the post for thorough investigation, prepare adequate epidemic prevention materials, to ensure the safety of all staff.
For the personnel in the hydra-high cleaning area, Yihai Kerry (Yueyang) requires the staff to wear disposable masks, hair nets, clean protective clothing, shoe covers, after hand washing and disinfection, before entering the production workshop; Different disinfection methods are adopted for different environments of general operation areas and closed operation areas to ensure the safe production of enterprises during the epidemic period and to let the people eat "safe oil".
While doing a good job in the epidemic prevention work, Yihai Kerry (Yueyang) take the initiative to assume social responsibility, from the existing epidemic prevention materials, help hospitals, schools to do a good job in epidemic prevention, help enterprises to resume production.
In the fight against the epidemic, Yihai Kerry (Yueyang) donated a total of 500 barrels of 10 tons of disinfectant to the Yueyang municipal government, which were sent to enterprises, hospitals, schools and other places in the central city. This batch of disinfectant can be mixed with water in a ratio of 1:99 to conduct disinfection operations, which effectively alleviates the shortage of disinfection materials in some enterprises resuming production.
At present, Yihai Kerry (Yueyang) rework rate of about 96%, and each production line is running steadily, and "golden arowana" products continuously flow to the market to meet the market demand.