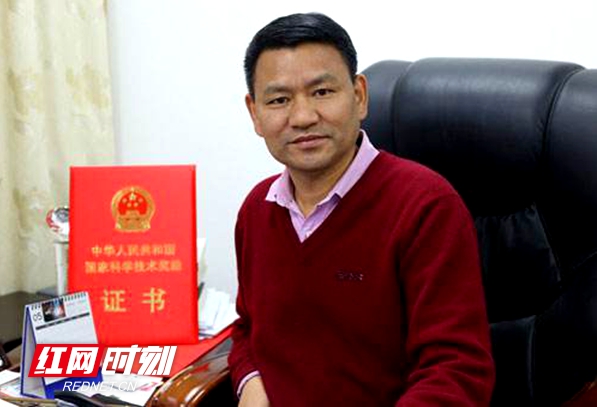 Tan weihong, academician of the Chinese Academy of Sciences and vice President of Hunan University, is dedicated to tackling cancer cells.
Tan Weihong, an academician of the CAS and vice President of Hunan University, has been working on cancer for 30 years.
Tan Weihong hometown in Yiyang, after finishing high school, became an educated youth to rural farming. In 1977, when the national college entrance examination was resumed, Tan Weihong, who had been an assistant to his sister, was admitted to the chemistry department of Hunan Normal University. After graduation, he went to the CAS to read a master's degree, then went to the University of Michigan for a doctorate's degree, became an outstanding professor of the university of Florida.
In 1993, Tan Weihong was keenly aware of China's scientific fever. He decided to return to his homeland to work on the worldwide problem of cancer.
In 2009, Tan Weihong returned to China to set up the biomedical engineering center of Hunan University and became the dean of the school of biology. At the end of this year, the 365th Xiangshan scientific conference on "aptamers and biomedical applications" was held. Since then, national ministries committed and supported more and more in nucleic acid fitness field research.
In June 2009, Tan's mother was diagnosed with leukemia and died just before he returned home. Tan made more effort in the field of biomedicine and in the determination.
"In 1996, I felt I could do in the United States what I couldn't do in China; After 2011, I felt able to do in China what I couldn't do in the United States." Tan Weihong said.
After returning to China for 10 years, Tan Weihong promoted nucleic acid aptamers from basic research to applied research. cancer. Cells are evolving, and drugs should also be innovated. Fighting cancer is like "building a sand castle by the sea". Every time it is built, it would be pulled down and started all over again.
Tan said that at present, the team has completed the safety evaluation of three drugs in nucleic acid aptamers, and has been doing relevant clinical trials.
"We can use nucleic acid aptamers to more sensitively detect whether there are cancer cells in our blood samples." Tan says that the team is now really pushing this research into hospitals and working closely with doctors to promote the clinical use of nucleic acid aptamers in patients. Targeting cancer cells with nucleic acid aptamers and targeting them with drugs can shorten a patient's treatment cycle and reduce side effects.
In recent years, Tan's team has been looking for "smart" molecules that can kill cancer cells without harming normal cells. Their research into targeted drugs against cancer is like trying to find the key to a lock.
"Work Hard, Work Smart, Work Together, Be Happy." these words were on the wall of Tan Weihong's laboratory.
In his years as vice President of Hunan University, Tan Weihong has always spent time talking with students and attending student defense sessions, no matter how busy he is. Since he promised to supervise students, he was responsible, and he was responsible for the future of the research.
"It takes time and time, but no one can tell you how to generate innovation, which is only belonged to those who really work hard." Tan Weihong said.
Returning from abroad for many years, Tan has been concerned about the development of Hunan. In his mind, for Hunan, to speed up the construction of an innovative, creative talents is the key. To support the core competitiveness of Hunan will continue to play a role in developing. Academicians in Hunan and from Hunan can play the role of a high-end think tank, play the pioneer role in the transformation of scientific and technological achievements, and play the agglomeration effect of high-end talents, so as to help hunan lead the innovation and open up.