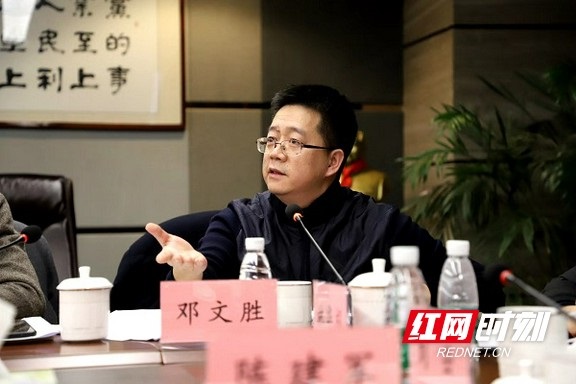 Deng Wensheng.
Deng Wensheng has been practicing law since 1994. He has been practicing law for 25 years and has witnessed legal changes in economic and social development for more than 20 years. As the number of cases increased year by year, Deng began to make her mark in his peers.
As soon as receiving the case, Deng Wensheng would always at the first time discuss the case with the client, to grasp the key points, and develop appropriate case handling strategy to protect the legitimate rights and interests of the client. Staying up late to study cases is daily routin for him. "Behind every case there is a heavy burden of trust from the client," Deng said. "I have to do my best." Deng has distinguished himself in corporate legal counsel, real estate project operations, economic contract disputes, and criminal defense.
In 2002, Deng joined Kaifu district FOC as a family member of American overseas Chinese. It was his first contact with FOC. After joining the district overseas Chinese federation, he took an active part in relevant activities in the overseas Chinese community and gave full play to his expertise to serve the masses in the overseas Chinese community. In 2013, he became the vice chairman of Changsha FOC, providing high-quality legal services to the overseas Chinese community and enterprises. Due to his outstanding performance, he was elected as a member of the legal advisory committee of hunan federation of overseas Chinese when it was established in 2006. "I will try my best to help the people in the overseas Chinese community when they meet difficulties." As a member of the family members of overseas, Deng understood the difficulties of overseas Chinese families in legal field, provided free consultant service for returned overseas Chinese and the family members of overseas Chinese and oversea Chinese enterprises, studied concerning with more than 10 cases of complicated, worked as several concerning enterprise legal adviser at the same time, participated in the regulations on the protection of the rights and interests of overseas Chinese returned overseas Chinese in Changsha city legislative research and argumentation.
Deng Wensheng was awarded "advanced individual of returned overseas Chinese family members in Hunan". In June 2008, he was awarded as "advanced individual in protecting overseas Chinese" by Hunan FOC, "the third top ten lawyers in Hunan", "advanced worker in protecting consumers' legitimate rights and interests in Hunan", "May 4th medal of Hunan youth", "advanced individual in reception of lawyers involved in legal complaint reporting" and other honorary titles. Deng said he would continue to spare no effort to serve more people in the overseas Chinese community.