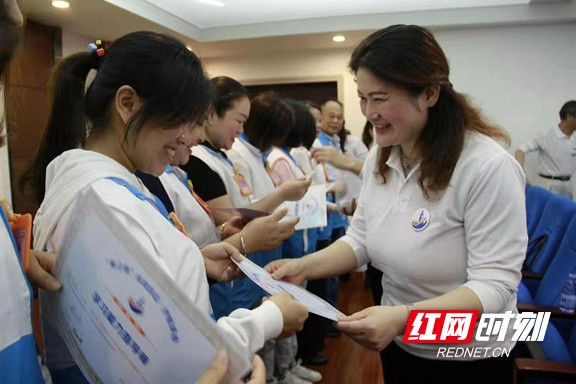 Wei Mary is a member of the 12th committee of the CPPCC of Hunan, a member of the 3rd council of the association of overseas Chinese business of Hunan, a deputy director of the social service committee of Hunan Democratic League, a part-time vice chairman of the association of overseas Chinese of Kaifu district, and a national second-level psychological consultant... But to children, she is a soft-spoken, warm-hearted, story-telling "mother Wei"; For young parents, she is an understanding sister who can answer their questions. To the community residents and colleagues, she is a very reliable "teacher Wei."
In everyone's impression, Wei Mary is a capable educator, but also a public welfare person with feelings.
Since her return from Singapore in 2007, Wei has devoted herself to adolescent psychological education and founded a child development center, which not only teaches children emotional management through picture book reading and film appreciation, but also actively promotes family education.
After returning to China, Wei found that the educational environment at home and abroad could not be generalized, and the domestic society's emphasis on preschool education and the level of preschool teachers were generally low. Wei Mary focused on grasping the construction of teachers team, and stressed the family education by improving quality of teachers and parents. Holding more than 100 "happy parents" lectures to the communities, and opening "emotional intelligence" course for parents, Wei helped many parents, especially mothers find the trick in peace, effectively promote the harmonious development of the parent-child relationship.
Wei Mary combined with their own work actively devoted to public welfare. Wei Mary has been rooted in community, carried out nearly a thousand activities, enriched the lives of the residents.
In 2015, Wei personally invested 300,000 yuan to set up a library for the community, which became the first person in Changsha to donate the library.
"We hope that more public welfare activities can influence more parents to pay attention to their children's preschool education and adolescent mental health problems, so that their children can grow up more healthily." "Said Wei Mary.
As a member of the 12th committee of the hunan provincial committee of the CPPCC, her committee office has become the main position to collect public opinion and serve the residents. During the 2018 NPC and CPPCC sessions, Wei's proposal on popularizing psychological education and emotional intelligence education for teenagers has attracted wide attention from the society.