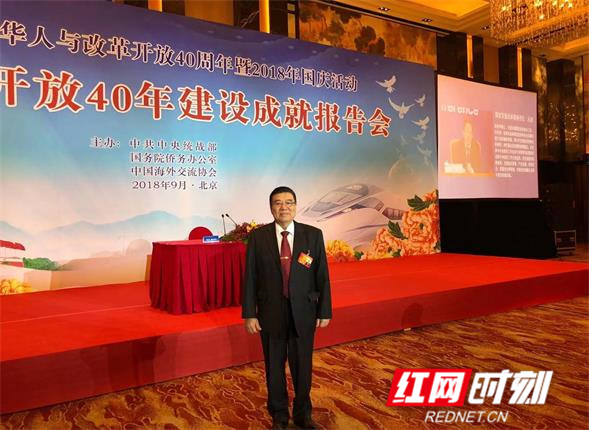 Xu yuquan.
Xu yuquan is an Indonesian Chinese of the third generation. Although his ancestral home is in Guangdong, he is often mistakenly referred to as Hunaness.
With a smile, he introduced himself as a son-in-law from Hunan as his wife is a native of Changsha.
On the night of Nov. 25, Xu, who speaks fluent Chinese, told reporters about his "education history" in Indonesia.
Xu Yuquan is the founder and executive chairman of Indonesia Subei China Social Association, the vice chairman of the board of directors of Subei Chaozhou Association, and the chairman of the board of directors of Sundonicoras primary and secondary school, a famous Chinese school in Indonesia.
In Indonesia, when it comes to Chinese education, many people are familiar with Xu Yuquan. So far, he has opened two primary and secondary schools in Indonesia, one Chinese higher education institution, while three schools are run by his association. The schools are making him a well-known "Chinese education expert" in the Indonesian education sector.
Why he is so enthusiastic about Chinese education? Xu Yuquan admits that it is related to the history of Indonesia and his own growing background. Xu believes that Chinese education must not be broken in the hands of his generation. Hence, in 1998, he and fellows from Guangdong began to restore the fellow association. After that, he began to prepare for Chinese education schools.
"With a population of more than 200 million, the Chinese make up about 8 percent of Indonesia's population. When people ask me where I'm from, I say I'm Chinese, and I just think my roots are in China," said Xu Yuquan.
It has been 21 years since the school started, and Xu Yuquan's students are all over the world. After graduating from his Chinese school, some students went to other universities to study Chinese, and then became teachers and schools themselves.
Xu yuquan's school is known as the "Chinese education cradle" of Indonesian citizens, including some chinese-funded enterprises in Indonesia, which also need outstanding graduates. In particular, he has made great efforts to build a bridge between Chinese and Indian languages and cultures.
These years, Xu Yuquan frequent attended activities in China, at least four times a year. "Because of the cooperation with South China Normal University, I often go to guangdong". Xu yuquan has four children and nine grandchildren. "although they have received western education, they are interested in Chinese culture."
Xu received an invitation to celebrate the 70th anniversary of the founding of the People's Republic of China. He admitted that he "felt very proud" during those days in Beijing.