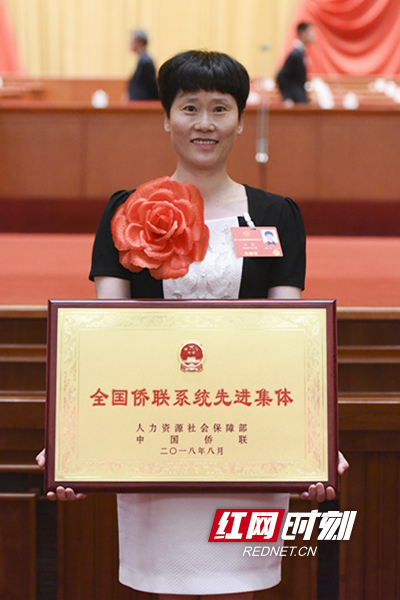 Liu Hui.
In 2013, Liu Hui made a promise at the 7th congress of returned overseas Chinese and their relatives in Xiangtan that she would strive to be the "first-class overseas Chinese federation organization in China".
Liu, the party secretary and president of the association of overseas Chinese in Xiangtan, Hunan province, is a family member of overseas Chinese in Australia. In recent years, she led the cadres of Xiangtan FOC to set up the Xiangtan overseas high-level talents association, attracting nearly 200 high-level experts and scholars from home and abroad and industry leaders to join the association, which has accumulated valuable resources and accumulated sufficient momentum for scientific and technological innovation in the city. With the help of the municipal association of returned overseas students and other innovation and entrepreneurship platforms for overseas Chinese, xiangtan has gathered more than 2,000 overseas Chinese elites in intelligent manufacturing, new energy, new materials, bio-medicine and other fields. In recent years, nearly 300 overseas Chinese experts have come to Xiangtan for exchange, and more than 20 overseas Chinese projects and enterprises have been introduced to invest in Xiangtan, with a total amount of nearly 20 billion yuan.
In terms of deepening friendship and exchanges, Xiangtan FOC has set up the city's overseas Chinese heart art troupe. Relying on the brand of "affection for China" of China overseas Chinese federation, it has undertaken the activity of "affection for China, charm for Hunan, beauty for Xiangtan" and carried out cultural exchanges in Russia and Sweden. Held the "dear Chinese" overseas youth summer camp for 6 times, more than 800 Chinese teenagers came to xiangtan to experience Chinese culture and red culture. Xiangtan association of overseas Chinese won the award of "affection, China, charm, hunan" by hunan federation of overseas Chinese.
At present, the two levels of overseas Chinese associations in Xiangtan city and county have established friendly relations with 20 overseas Chinese associations, which has effectively enhanced overseas Chinese's understanding of the motherland and xiangtan, and united overseas Chinese in more fields and classes.
Xiangtan city overseas Chinese community participation in the political power is also growing. Through active efforts, the chairmen of the xiangtan and county levels of overseas Chinese associations have been appointed as members of the standing committee of the CPPCC. The number of deputies to the municipal and county levels of overseas Chinese people's congresses has increased from 10 in the previous session to 24 in this session, and the number of CPPCC members has increased from 20 to 47. Around the center of the party committee, the government's work, as well as overseas work, xiangtan overseas organization nation people's congress, CPPCC member, carry out special investigation more than 20 times successively, a total of writing papers, research reports, bill, bill, suggest that more than 300 (article), take the lead in the province in China overseas to report draft to achieve breakthrough, xiangtan overseas three times won the provincial federation of system information work advanced unit. Liu hui herself was appointed deputy director of the committee of participation and discussion of politics of hunan federation of overseas Chinese.
In the past six years, Liu has led the cadres of Xiangtan FOC to visit overseas Chinese more than 1,200 times, distribute more than 1 million yuan of sympathy money (goods), and raise more than 400,000 yuan to help 17 "accurate overseas Chinese" to solve housing, medical care, schooling and other difficulties. At the same time, we actively expand the fellowship, and strive to maintain close contact and friendly interaction with overseas Chinese communities and people in the overseas Chinese community. In recent years, overseas Chinese communities and people in the overseas Chinese community have donated more than 12 million yuan of charity money for education, post-disaster reconstruction and poverty alleviation.
In September 2018, at the great hall of the people, the China federation of overseas Chinese and the ministry of human resources and social security jointly awarded Liu Hui the "advanced collective of the all-china federation of overseas Chinese", which is the highest honor of the all-china federation of overseas Chinese. Liu hui received the plaque, filled with pride and comfort.