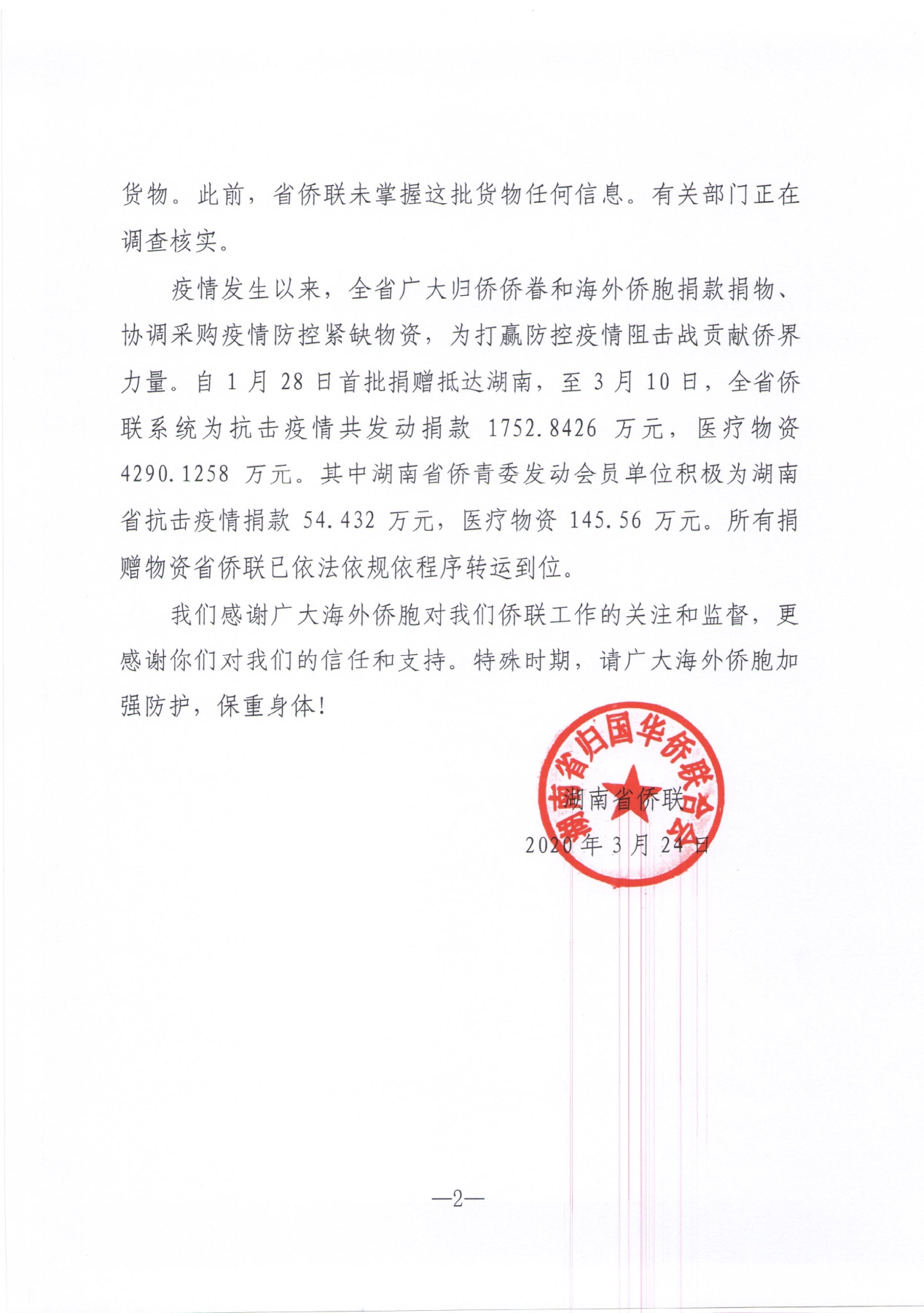 In early morning of March 24, a post on WeChat questioned Chen Senliuin, the executive chairman of the Youth Committee of Hunan FOC (hereinafter referred to as the youth committee FOC), who released resaling epidemic prevention materials in the WeChat group, and aroused the concern of netizens. On the same day, Hunan FOC issued a statement to response online concerns.
According to the statement, materials published by Forest (Chen Senlin's nickname in WeChat group) in the weChat post, were not overseas donations, but purchased by Ms Mao Binghua from overseas for epidemic prevention in Hunan. Ms Mao, vice president oof Hunan Jinlong Cable and president of Pengli Intl , was entrusted to purchase the prevention materials by relative committees and organizations and paded the cost on her own.
Affected by logistics, it took nearly 20 days for the goods to arrive in Changsha, and the client said it was no longer needed. As a result, the goods were held up at Changsha. MAO Binghua intended to resell this batch of goods to units and individuals in need after paying customs duties. Hence, Chen Senlin released resale information in the relevant WeChat group.
According to the statement, the cargo information with the words "go for China" in the post belonged to another batch of cargo, and was not related to the cargo released by "Forest".
The statement also said that since the outbreak of the epidemic, returned overseas Chinese and their families in Hunan and overseas Chinese from Hunan have donated and coordinated the purchase of materials for the prevention and control of the epidemic. Since the first batch of donations arrived in Hunan on January 28, members of Hunan FOC has donated 17.528,426 million yuan and materials worth 42.901258 million yuan for the fight against the epidemic. Among them, the youth committee initiated its members to donate 544,320 yuan and medical supplies worth 1,455,600 yuan. All donated materials have been transferred in accordance with the law and procedures.