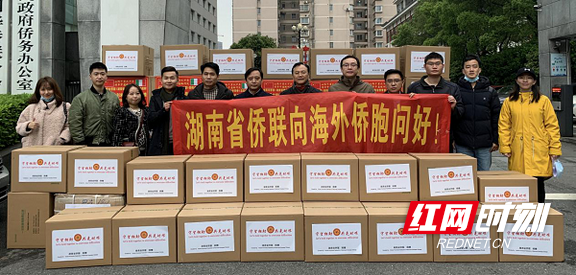 On the afternoon of March 30, boxes of epidemic prevention materials affixed with the slogan "mutual help, overcome difficulties together" were officially shipped. This was a total of 85,000 disposable surgical masks donated by Hunan FOC to 14 overseas Chinese groups in 9 countries including Tanzania, Jamaica, dominica, Sweden and Belgium.
According to Hunan FOC, 10,000 disposable surgical masks, 700 FFP2 masks to the Wencheng feFellow association of Milan donated by the provincial youth committee, as well as 46 protective suits and 3,000 disposable surgical masks for Hunan chamber of commerce in France, were also transported together with the materials donated by the federation.
In recent days, the overseas epidemic situation has become increasingly severe. Hunan FOC has contacted a number of overseas Chinese groups to learn about the overseas epidemic situation. According to the needs of different regions, the federation rationally distributed the existing materials and sent them to the countries under severe situation, which could provide a strong material guarantee for overseas Chinese groups and overseas Chinese people to fight against the epidemic diseases and help them make good protection and tide over the difficulties.
The 400,000 disposable surgical masks donated by the overseas Chinese affairs office and FOC of Hunan entrusted by party committee and the provincial government, to 46 overseas Chinese groups in 19 countries including Britain, France, Germany, the US, Austria, Japan and South Korea were shipped on March 28. Funds donated by Hunan FOC to five overseas Chinese groups in Brazil, South Africa and other countries would be allocated in the near future.