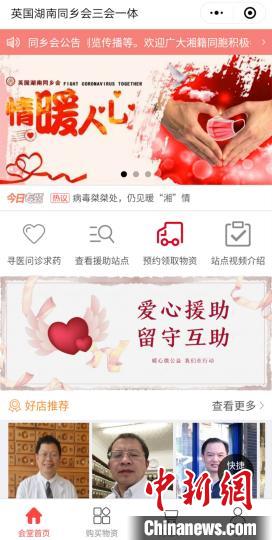 The British Hunan Fellow association, the British Hunan trade federation, the British Hunan Alumni association jointly developed an anti-epidemic app, which has been officially launched. The app covers six basic function sections, such as seeking medical consultation and medicine, online shopping platform cloud shopping, assistance site inquiry, booking and receiving materials, epidemic prevention materials purchase, real-time topic hot discussion, etc.
"These functions considerated current needs to provide quality service to fellows." Wu Lili, president of the UK Hunan Fellow association, said cities across the UK were facing a "shutdown" during the outbreak. So the British Hunan Fellow association, the British Hunan trade federation and the British Hunan Alumni jointly developed the app for compatriots in Britain and Hunan to promote public welfare by science and technology.
Select materials, fill in information, deposit verification code...... The reporter experienced the function of "booking and receiving supplies" in the app, and found that there were medical surgical masks, N95 masks, prescriptions in the prevention of the powder and other anti-epidemic supplies for choice. After successful reservation, the verification code will be automatically saved in the "personal page" under the "my reservation" information bar, the whole process is clear and fast.
Wu Lili said, in addition to free materials, app users could seek senior hunan Chinese medicine doctor for medical consultation, online purchase of epidemic prevention drugs and supplies, free appointment.
Members of the British Hunan trade association can settle in the app without any burden to get out of the short term entity business dilemma. At present, a few merchants have realized online business through the platform.
Since the outbreak of covid-19, overseas Chinese in Britain, especially Hunanese donated money and materials at the first time to help China fight against the epidemic. After the outbreak spread in the UK, the British Hunan Fellow association took the lead in setting up a temporary assistance station, a working group on prevention and treatment of Chinese medicine, and the procurement of preventive medicine kits, to provide support and protection for overseas compatriots.(Translation:Yan kun)