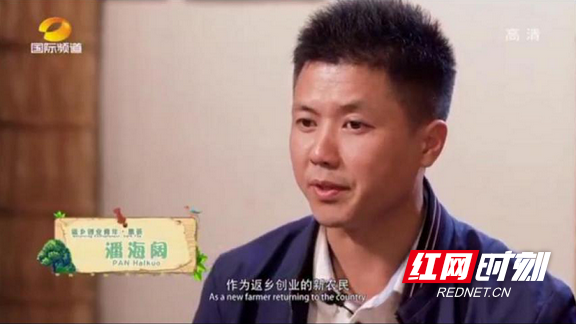 Recently, "the world to see Hunan" column successively launched "Hunan I understand you", the second season series of programs. Pan Haikuo, a post-85 the returnee from Anhua county Yiyang, told about his new farmer life, dedicating to the construction of his hometown.
Pan Haikuo had been engaged in hybrid rice experiments and promotion in Madagascar and Malaysia before returning to China, and won commendations from the local government. After returning to his hometown in 2012, he saw the tea garden in his hometown abandoned and wild kiwi fruit rotting in the mountains. He decided to lead the villagers in a different development path and make the best tea with the best raw materials.
In order to ensure the quality of tea, Pan Haikuo insisted on not applying fertilizers, not playing pesticides, and letting tea grow naturally. Because of the high altitude of Furong mountain, Pan bought his own drone to observe the growth of tea in mountain tea farms. With the support of the government's poverty alleviation policy, Pan integrated the old tea plantation of 286 mu, developed a new tea plantation of 600 mu, and repeatedly went back to Hunan Agricultural University to consult tea experts. At the same time, he visited tea masters around the country to learn tea-growing skills, and teach tea farmers organic planting techniques and picking standards, and develop high-end products. Through the integration of tea cooperatives, tea enterprises and tea farmers in the village, Pan established Anhua New Farmers Tea to develop Furong Mountain tea industry.
In addition to adhere to the development of tea, he is committed to explore the history of lotus mountain culture and natural scenery.
"I want to bring more young people to benefit my hometown with their knowledge and skills through my own efforts. Only when my hometown develops can I make education better and become a prosperous countryside." This is Pan Haikuo's wish.